PULSE EXTRA
Three years passed during which WFLA's news became a ratings competitor. Bob's efforts were rewarded when he received an offer from a much bigger market. "In '63 NBC asked me to come to Washington, D.C. to direct at WRC-TV. It was a terrific break that didn't work out. There were problems with my boss from the moment I got there. Fortunately, I hadn't moved the family, so I turned right around and came back to Tampawithout a job! I got a call from WTVT to come in and talk about a position. I didn't know anyone there so I guess they had heard about me from my work at Channel 8. I interviewed with John Haberlan who said 'we haven't got a job for you, but we'll make one. What would you like to do?' I said 'mini-docs,' like the ones I made at Channel 8.
I started working with WTVT's chief photographer Jack Cosgrove, who shot and edited and did about everything else, and reporter Ray Dantzler. Since WTVT's news was 'Pulse,' I called the segments "Pulse Extra."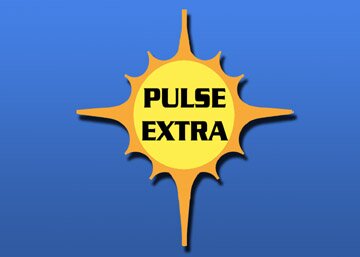 "Our time with Ray was short-lived, because he was in love with a woman at the station and didn't want to go on the road with us all the time," relates Bob.

"Jack Cosgrove suggested I take a look at one of the station's booth announcers, a tall, handsome fellow named Don Harris.

He did a great audition, and was a very intelligent guy who was good on camera.

We transferred him out of the booth and onto Pulse Extra.

Don was an excellent ad libber who could handle himself well in front of a camera, which is a necessity on the road.

"
Meanwhile, Jack Cosgrove was literally the 'Jack of all trades' behind the camerafast and accurate.

We'd collaborate on setups and camera angles to make the end result better.

He was also good at fixing things, which if you're overseas is a good thing.

Once our Nagra stopped working and Jack opened it up.

It's like a Swiss watch in there but he jumped the fuses to get it going again."
EXTRA! EXTRA!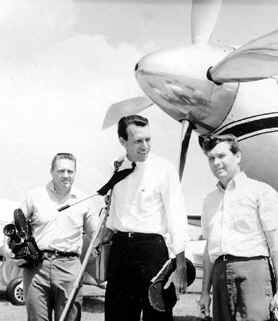 Pulse Extra's team (left to right)
Jack Cosgrove, Don Harris, Bob Gilbert
Pulse Extra was a demanding show that required advance planning because of the overlap of scripting, producing, and editing. "I would plan the next week's subjectsometimes brainstorm ideas with Bob Olson," explains Bob. "We'd shoot the whole week's worth of program, about 30 minutes running time after it was edited, and split them into 3 to 5 minute segments shown at the end of Pulse. The subjects were usually on the soft sidea way to transition from Pulse into the CBS network news. We'd do a week on fortune telling, or the Everglades. One program was our trip along the Suwannee River. Jack, Don, and I spent three glorious days shooting along the river. We'd stop and interview people like a guy who ferried cars across the river on a flatboat. Then there were some serious topics like one on unwed mothers. We interviewed these young girls who would have to choose whether to keep their babies or give them up.
We did a week on children in an orphanage, and helped get a few of them adopted. This one kid said 'I hope if I get adopted they'll take my little brother too.' It was heartbreaking."