| | |
| --- | --- |
| | Mary Ellen...Everyone's favorite Mom |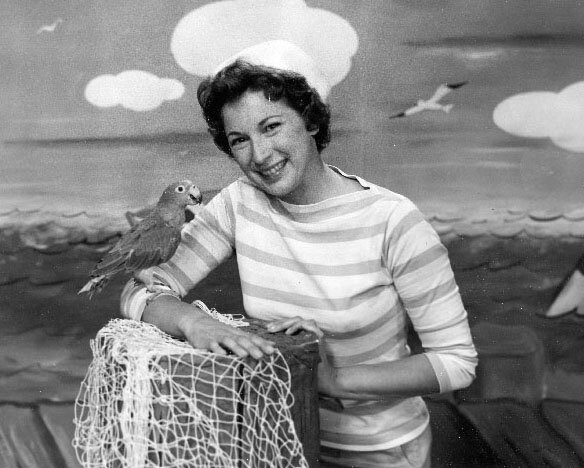 Mary Ellen and Poopdeck
"Popeye Playhouse" (1957)
Mary Ellen graced the airwaves of Channel 13 for seven magical years. Pretty, witty, and wise, Mary Ellen was like a second mom to thousands of young viewers. Like another famous Mary (Poppins), she was 'practically perfect in every way." She had the special charm of a real person who could talk to kids, but not talk down to them. As comfortable on camera as if she was in the room with you, Mary Ellen is the kind of kid show host that any station would love to have on the air, only the lucky station this time was Channel 13.

FUNNY FACES AND MAGIC PLACES

A typical Mary Ellen program would start at 5:00 on a weekday afternoon. Along with her parrot friend Poopdeck (a live bird, not a puppet!), Mary Ellen would welcome 12 to 15 kids ranging in age from around six to eleven. They would gather on the carpet or benches of her simple set...a wall filled with drawings of Hanna Barbera and Dick Tracy cartoon characters. In between cartoons, Mary Ellen would meet the kids and have them introduce themselves, play a simple game, or draw her own unique creation, the 'Funny Face.' Using a large, poster sized sheet of paper, Mary Ellen would sketch a caricature of a child using the youngsters' initials. For instance, my name is Mike Clark, so the "M" would become eyebrows and the "C" would be my nose.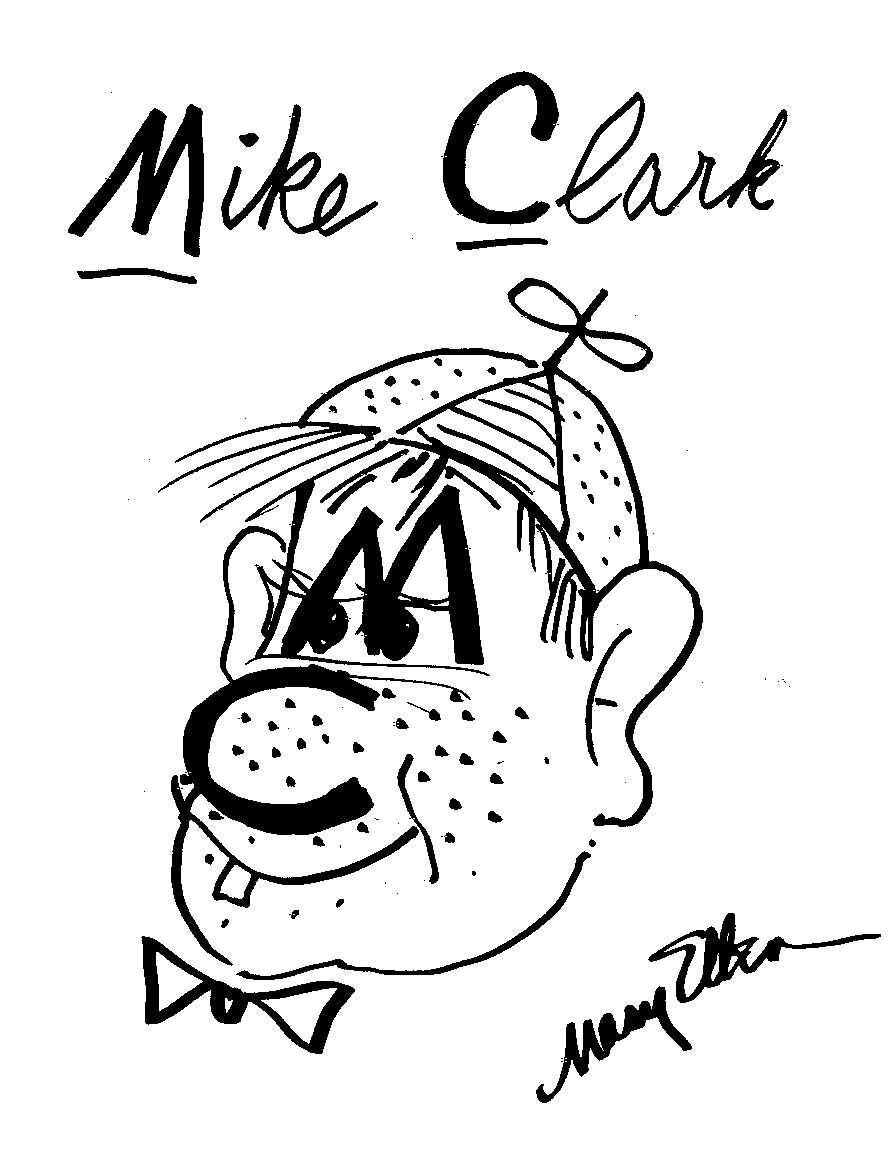 "...I love your funny face..."
Mary Ellen came out of retirement to create this Funny Face for me!
At one point in the program, Mary Ellen would have the kids look directly into the camera for the "Magic Eye." The Magic Eye was actually a special effect performed from the control room. As the camera panned from one child to the next, the director would use a circle wipe and surround the child's image with the CBS eye. When the camera stopped on the 'chosen' child, the circle would vibrate signifying that this lucky youngster was 'King' or 'Queen' for the day. The child was then adorned with a royal scepter and crown and given a prize, usually a food product from whatever sponsor was on the show that week. How often I envied the lucky youngster who walked away with an arm-sized Tootsie Roll containing several days worth of treats.
Occasionally, Mary Ellen would take some local youngsters on an adventure or travelogue outside the studio. These 16mm segments were shot silent, and often involved ghost chasing. Mary Ellen would narrate them live, and the sound man would add some atmospheric music from the library.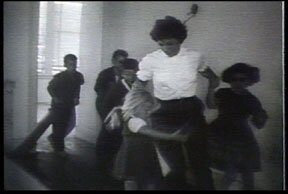 Ghostbusters! Mary Ellen and helpers scare up some laughs
Half an hour cruised by quickly, everyone had a good time, and Mary Ellen would sign off until the next day.
Mary Ellen seemed so real, and that's because she was. She never over-rehearsed, or tried to perform. She said the daily show was "a lot of fun, and a good excuse to get away from my housework, too."