Capt. Mac continued...
McCarty's decision to exit WSUN and join the new WTVT station in May, 1955, caused much consternation with the management of Channel 38. They had learned that sports director Guy Bagli was defecting to WTVT along with program director Monte Gurwit and several other WSUN staffers. Now, their biggest star was about to go from UHF to VHF!
Shortly before McCarty tendered his resignation, WSUN announced that the character of Captain Mac would be re-cast and another person would play the popular adventurer. A legal challenge brewed to determine who owned the character...WSUN, or McCarty. The case never reached a judge and was settled out of court. But the result created a mild chaos for the viewers: McCarty was permitted use of the 'Captain Mac' name and the characterization, but not the uniform or the show's format. WSUN could also use the name 'Captain Mac' and retain the adventurer's uniform and show format. The new Captain Mac would take over at Channel 38 as soon as McCarty departed for Channel 13.


Print ad telling viewers that Capt. Mac is now on WTVT.
The original Captain Mac at WTVT. Prevented from wearing his original uniform, Mac is wearing an Australian hat instead of the pith helmet.
Back at WSUN, 18 competitors line up for auditions to fill the role of Captain Mac, but it was one of the station's own who lead the pack.
Fred Davy had originally worked as a booth announcer and substitute sports reader at Pittsburgh's WENS-TV. Davy moved his family to Florida in the early 50's and found work at an advertising agency and as a part-time announcer for WSUN radio. He later went full time at WSUN radio while hosting a morning kids show at WSUN-TV. When it came time to try out for the character of Captain Mac, Davy's audition included a pitch to make the show more interesting to its young viewers.
"I told management that I would teach the kids Seminole Indian sign language," explains Davy, who owned a book on the topic. "I think that contributed to my being hired for it."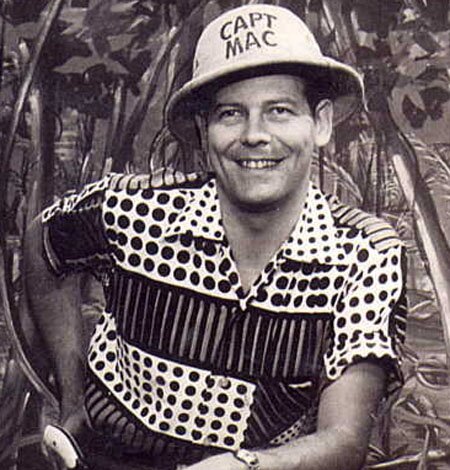 The other Captain Mac...Fred Davy
(Courtesy Fred Davy)
Was Davy uncomfortable about taking over a well-known character made popular by McCarty? "I didn't mind it too much," recalls Davy. "I was pretty much accepted by the adults and the kids. We looked a lot different, too...I'm tall, and he wasn't. I made up things and decided what to do on the air...some of them were similar to Burl. I invited the kids to bring their pets on the show. A couple of them brought in snakes...at the time, I didn't care much for snakes."
Now the Bay Area had not one, but TWO Captain Macs. McCarty, ensconced at Channel 13, wore an Australian hat instead of the pith helmet. Back at Channel 38, Fred Davy wore the familiar pith helmet, shirt, pants, and gun. The situation irked many viewers, and at one point a group of women and religious leaders gathered thousands of signatures and petitioned WSUN's owners, the City of St. Petersburg, to allow McCarty exclusive use of the Captain Mac character on the basis of his past works for charity and other worthy causes.

The situation was resolved when McCarty apparently got homesick for WSUN and ended his association with WTVT six months into the gig. McCarty returned to WSUN and resumed the role of Captain Mac.

Fred Davy was actually relieved to end his stint as Capt. Mac. "I was glad when Burl came back," says Davy. "Having four kids and then having to put with a bunch of other kids five days a week...that gets on your nerves a little bit. I was happy for Burl, too. He had a wife and family on the St. Pete side of Tampa Bay, and I know he was glad to be back." Davy remained busy at WSUN, hosting "HOLIDAY" (later retitled "HOLIDAY JET"). Debuting on Saturday, May 26, 1956, "HOLIDAY" was seen at 12 noon as a 2-hour block (later 1-hour, then 30 minutes). 'Skipper' Davy took small-fry viewers on imaginary trips, staged talent contests, and ran cartoons. "Holiday Jet" ended May 11, 1957.

Davy remained at WSUN until 1959, and after short stints at two Bay Area radio stations Davy joined the staff at WFLA-TV as a booth announcer and assistant sportscaster to Milt Spencer. He retired 25 years later in 1985.
McCarty continued to play Captain Mac until leaving WSUN in December, 1959. This time, there was no attempt to replace him. "Burl created Captain Mac," said WSUN's manager Fred Shawn. "It is so associated with him that his retirement automatically retires the character. There couldn't be another Captain Mac."
In January, 1960, McCarty went to work as a public relations director for the City of St. Petersburg. In December, 1963, he returned to broadcasting as an announcer for WDAE radio and eventually became the station's news director. Eleven years later, McCarty joined the St. Pete police department as a press information officer, retiring at age 65 in 1975.
"The most rewarding time was the 6 1/2 years I spent with the youngsters," McCarty told the St. Pete Times. "I think it was good, clean entertainment."
McCarty, an avid fisherman and boater, moved with his wife Frances to Dunnellon in 1975. He died in a boating accident there ten years later.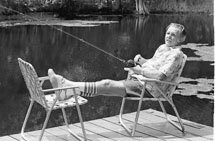 Burl McCarty retires to a house on the river
To read more about WSUN and Capt. Mac's program, see "Bob Gilbert, The Guy With Something Extra."
NOTE TO OUR READERS: SEVERAL FOLKS HAVE CONTACTED THE BIG 13 SITE TO INQUIRE ABOUT COPIES OF CAPTAIN MAC PROGRAMS. SINCE CAPT. MAC WAS A LIVE PROGRAM, NO RECORDINGS WERE MADE EXCEPT FOR AN OCCASIONAL KINESCOPE AIR CHECK.
SO FAR, NONE OF THESE HAVE SURFACED. SORRY!