Ed & Peg Scott
BEFORE, DURING, AND AFTER 3-D DANNY
A special friendship between Ed and Peg Scott and the Walker family lasted for many years. Big 13 is proud to present these rare observations from the Scotts' closest friends.
Our Ed and Peg story comes by way of Jackie Walker, who appears regularly with fashion advice on Channel 13's 'Good Day Tampa Bay'. Jackie owns and operates Option Dressing, a personal image consulting firm for individuals and corporations.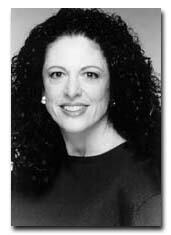 Jackie Walker
It turns out that Jackie and her husband, Neil, were good friends of Ed and Peg Scott. Jackie was kind enough to donate the photograph and drawings that appear in this article and share some history she learned about the Scotts.
"My father-in-law Ronny Walker had worked as an electrician back in the 1930's," recalls Jackie, "and one night he attended a traveling tent show produced by and starring the Rowley family. Known as "The Buddy Players," they specialized in Broadway-style revues, with Phil and Nina Rowley taking the leads. Their son Edward, or 'Buddy' as he was nicknamed, sang and danced along with his parents."
Ronny joined the show as electrician and traveled the country. He and 'Buddy' became good friends, but the day came when Ronny had to leave life on the road, settle down and start a family.
Fast forward over twenty-five years later where Ronny and his wife Celia are living in St. Petersburg, Florida. They are startled to hear a familiar voice announcing station breaks on WTVT, and place a telephone call to the station. "My father in-law asked who the announcer was," recalls Jackie. "They told him it was Ed Scott. Apparently, Ed had changed his last name along the line. Ed came to the phone and Ronny says 'Buddy, is that you?' Ed was astonishedhe hadn't been called 'Buddy' in years. "
Ed brought his wife, Peg, over to the Walker's home for a nice reunion and met the couple's young son, Neil. They promised to stay in touch and did so over the years with phone calls and holiday cards.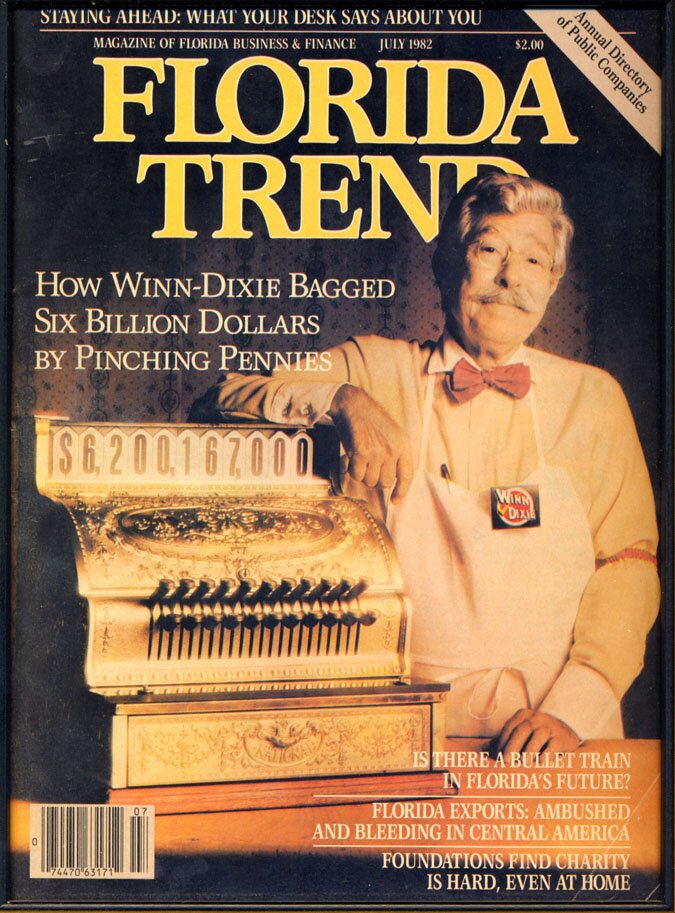 Ed Scott appears on a magazine cover in 1982.
Fast forward again a few years to 1982, when grown-up Neil spots Ed and Peg at Maas Brothers. Turns out that Neil's parents Ronny and Celia are about to have their 50th wedding anniversary and wouldn't it be great for Ed and Peg to be there and surprise them?
The surprise is a smash hit and the Scotts meet Neil's wife Jackie. A special friendship soon developed. "We became close, close friends. More like family," explains Jackie. "The Scotts never had children, just a couple of Airedale dogs they adored. We spent many holidays with the ScottsChristmas, Easter, Thanksgivingconstant visits our son Brian spent a lot of time with the Scotts. We supported each other through good times and bad times, especially when Ronny died and later Celia as well."
Jackie and Neil learned a lot about Ed and Peg's life before, during, and after WTVT. "Peg was a USO showgirl who went to Europe and entertained the troops right after the U.S. victory," recalls Jackie. "Ed spent a little time in Hollywood, and appeared in movies as a bit player with Clark Gable and Spencer Tracy. I believe Ed's short height prevented him from becoming a 'bigger' star. But he was so talented, Ed could sit down at a piano and he never had a lesson. He could sing, and his art work was amazing."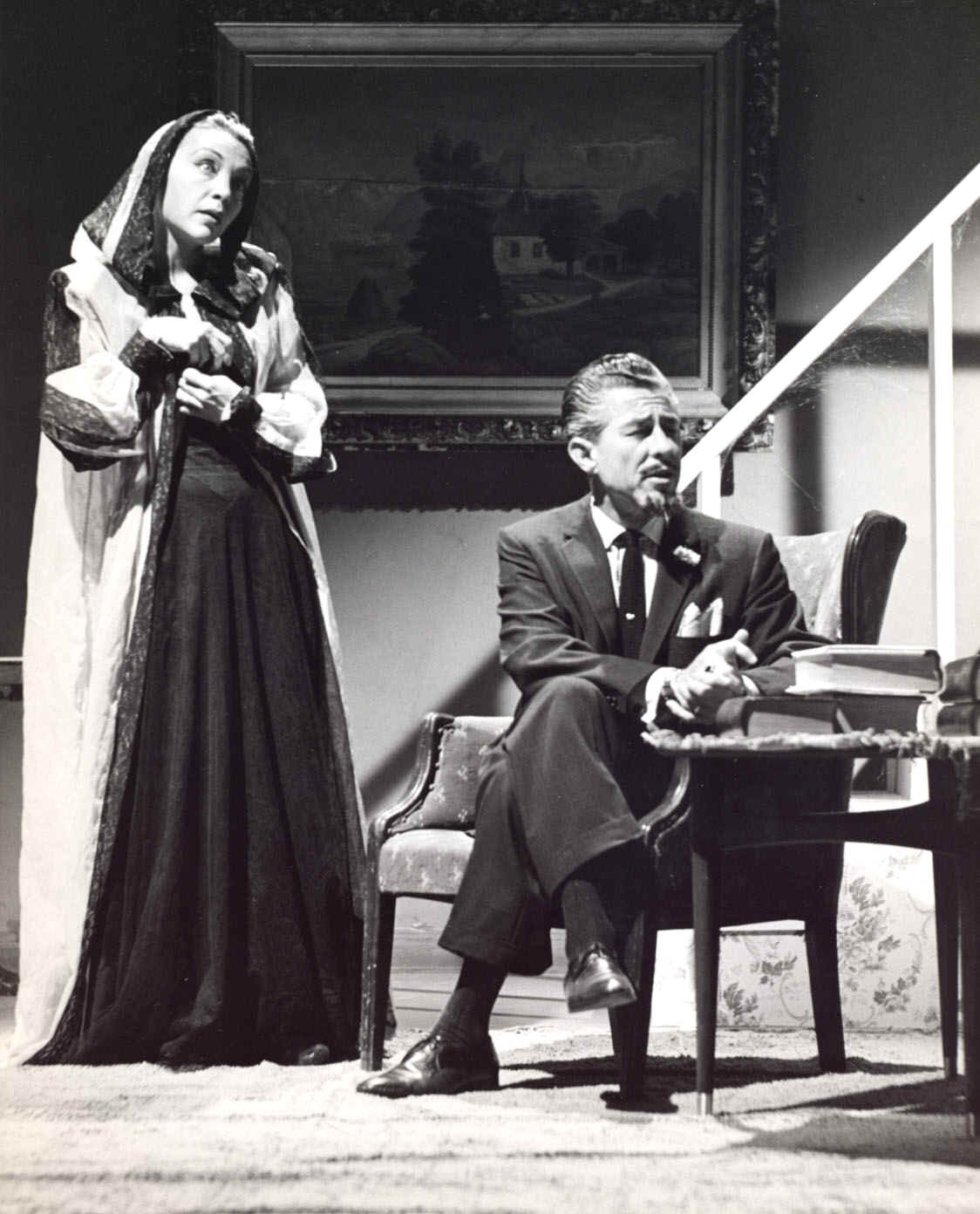 Ed and Peg on their spooky set!
(Courtesy Jayne Boyd)
Years before the premiere of "Shock Theatre," Scott and his wife Peg served as co-hosts of Channel 13's weekly horror movie package called 'The Witching Hour.' They played an eccentric, spooky couple who live in a haunted house. Like 'Shock Armstrong,' they would introduce the scary movies and appear during the commercial breaks.
Their haunted house was fairly elaborate at that time and a chore for the crew to put up each week. Realistic cobwebs were created by diluting rubber cement and applying the webs out of a makeshift paint sprayer powered by a vacuum cleaner. It was a technique similar to that used by "The Munsters" a few years later.
Ed was a booth announcer at WTVT when the part of "3-D Danny" came up in 1957. Ed dove into the role with relish, and played Danny for three exciting years. (see 3-D Danny for more information)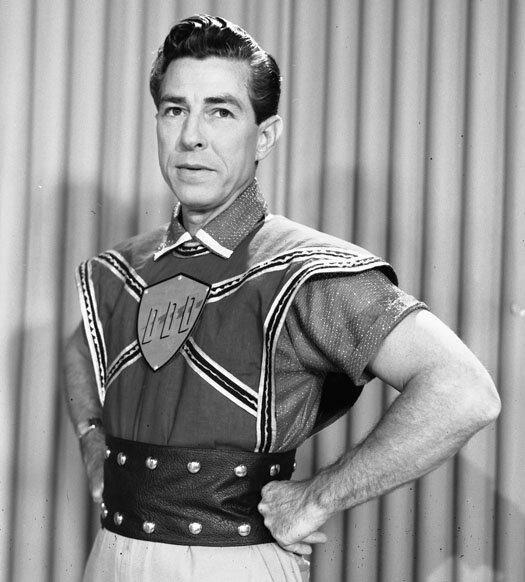 Ed Scott as Channel 13's space hero
"3-D Danny"
According to Jackie, Peg was always a forward-thinking woman who looked at the television business and saw the writing on the wall. "Peg told Ed that she thought live announcers were going to be obsolete in a few years and they had better look for something else to do. One night Ed was smoking a pipe and couldn't get it to light. He got furious, threw it against the wall and said 'You can't find a good pipe nowadays.'
Peg said 'that's it! We'll start a pipe and tobacco shop.'" They started "Edward's Pipe and Tobacco" on South Dale Mabry, just around the corner from Channel 13. A bigger store, still standing today, was later constructed on Henderson Blvd., a few hundred feet from Channel 13's studios. The Scotts eventually had shops all over the country, with a manufacturing plant on Crenshaw Blvd. making pipes and accessories. (see below for more information from former WTVT cameraman Bob Linabury). "Ed loved the tobacco shopthat was his life," explains Walker. "He loved being out front and talking to people, joking around. Peg was the brains, the business partner and Ed was the entertainer."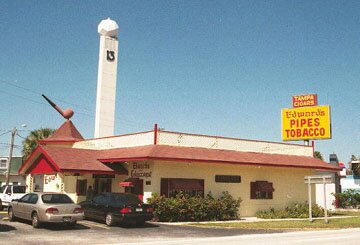 Photo: Tony Zappone
Ed's Pipe and Tobacco Shop on Henderson Blvd.
WTVT's Skytower Radar is visible in the background.

Ed's many talents included the ability to draw caricatures and cartoons. Over the years, several were presented to Jackie and Neil.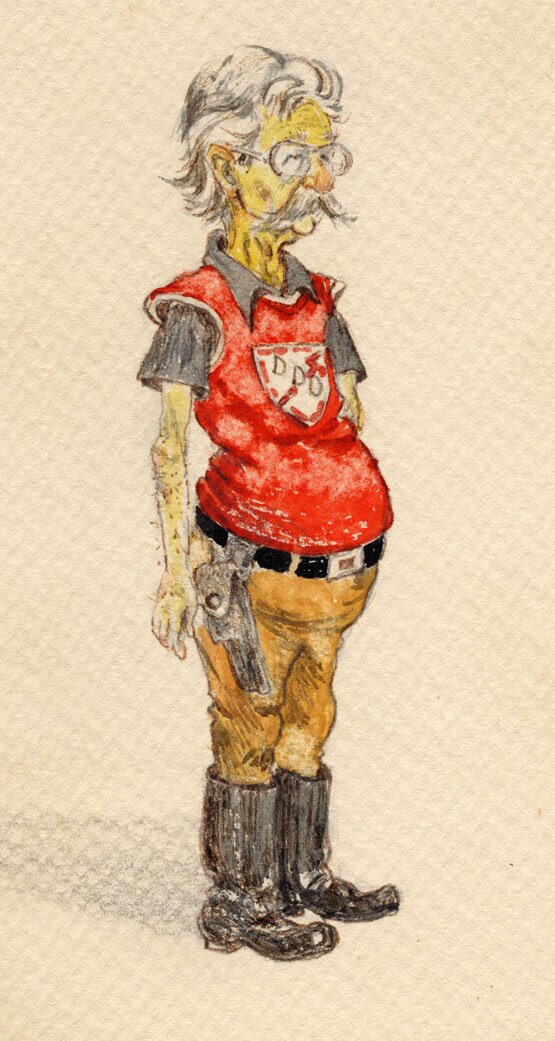 Ed Scott drew this picture of himself as 'Old 3-D Danny'.
(Courtesy Neil and Jackie Walker)
By the late 1980's, the Scotts decided to sell their business and retire to a beautiful home deep in the woods near Deland. But years of smoking had taken its toll on Ed's health.
"When Ed was older, he was gorgeous still," maintains Jackie. "Not long after they got to Deltona, he developed severe health problems with his circulation.probably aggravated by the smoking. He lost one of his legs. It was very hard for him and Peg because they wanted to travel. One of the most poignant pictures he drew for us at the time was a field of flamingos standing with their legs tucked up, and Ed is there too with his leg tucked up."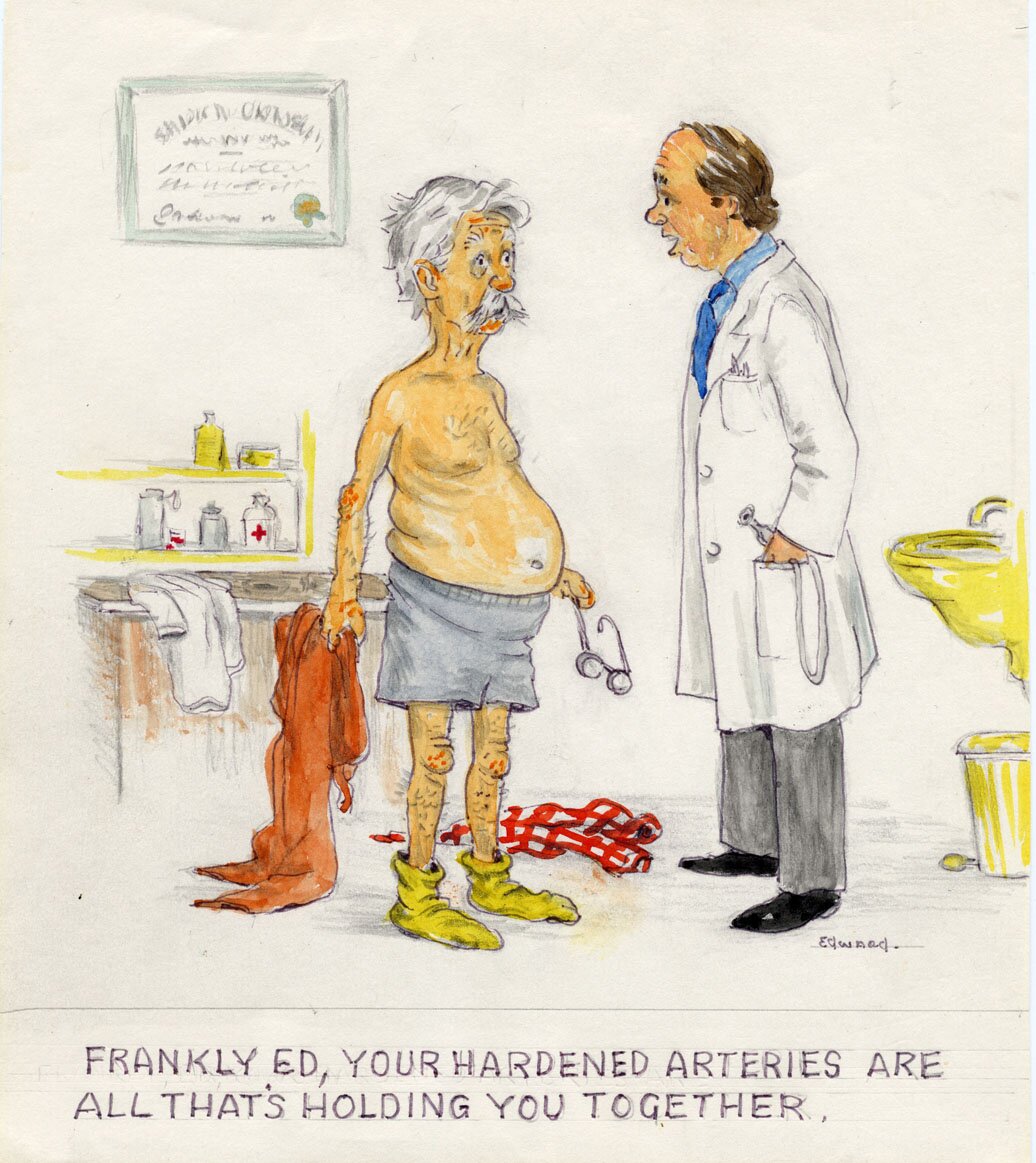 Ed Scott drew this bittersweet look at aging.
(Courtesy Neil and Jackie Walker)
Ed's health continued to deteriorate and Peg was forced to place him in a health care center. After Ed died Peg left Florida and is now deceased.
"We miss them," says Jackie. "They were like our parents for 15 years. Neil and I will always cherish the moments we shared with Bud and Peg. They were truly an amazing couple full of love, fun and talent. We think of them often and are thrilled for the many memories they contributed to our lives."
---------------------------
BIG 13 thanks Jackie and Neil Walker for sharing their stories of Ed and Peg Scott. To learn more about Jackie and her firm Option Dressing, go to www.optiondressing.com.
PULSE EXTRA
Former WTVT camera operator Bob Linabury became a friend of Ed and Peg Scott during the 3-D Danny era. Bob later was employed by Ed to help run the pipe factories in Tampa and in other parts of the country. Bob added these extra stories for BIG 13:
The very first Edward's Pipe Shop was a small storefront shop located on S. Dale Mabry. The original selling point of Ed's pipes was that there were no stains or varnishes to seal the pores of the briar. His pipes were billed as "Virgin Briar". A young artist by the name of Bob Stackhouse created a line drawing of a beautiful pixie-like female dubbed the "Edward's Virgin" which was used in all the advertising at that time.
Later on Ed's empire expanded to include 14 franchise stores in several states as well as the pipe factory on Crenshaw Blvd.


During the heyday of 3-D Danny, Ed drove a small MG sportscar. As luck would have it, the Florida license tags of the day had numerals and letters denoting the weight class of the auto and the county of issuance. His license began with "3D". The Gods of chance had smiled.

(Simulation of Ed Scott's license plate)

The Scotts used to host a 4th of July party each year for all their employees. Swimming pool, barbecue, and all the goodies including fireworks at night to cap it off. They were a class act.

Peg once told me of a time she had written several personal letters to friends before writing a rather large business check to the bank. She received a call from the bank president the next day thanking her for the personal touch on the endorsement. Much to her embarrassment she had signed the check "Love, Peg".

Thanks to Bob Linabury for these wonderful stories!
To return to 3-D Danny, CLICK HERE
To return to BIG 13 main menu, CLICK HERE