Arch found the WTVT news policies and procedures a bit stricter than he was used to back in North Carolina. He says Crawford Rice set the tone for a much more serious treatment of local news in general and he learned a lot from accepting and adopting that perspective.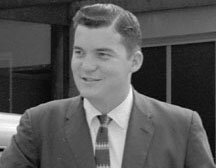 Deal was amazed by Crawford Rice's ability to memorize scripts and maintain eye contact with the camera
Crawford was a very studious individual and spent a long time going over his scripts and memorizing themyes, memorizing every word, Arch says. He had some of the greatest eye contact with the camera I have ever seen, even to this day.
Not long after Archs arrival at Channel 13, the evening news was expanded to 45 minutes and rechristened 'Pulse.' Paired with CBS Douglas Edwards and the Evening News, it was Florida's first one-hour news block. Deal remembers that despite the added 10 minutes or more of copy to read on the air, 6p.m.news anchor Rice continued to memorize his scripts with precise accuracy.
Sports director 'Salty Sol' Fleischman and meteorologists Charlie Stump and Roy Leep became friends as well as broadcast associates. Deal especially enjoyed working with reporter Marvin Scott, the head news photographer who was always focused on getting the best stories in on time for the next newscast.
Arch's professional association with WTVT would not be long-lasting. Less than a year later, WFLA-TV program director Jay Faraghan called him at the Channel 13 newsroom and vowed that WFLA was committing itself to news in a big way. They were willing to make it worth his while to change network affiliationsCBS to NBC, and move down the streeteast five miles and south one block to 905 E. Jackson Street.
At the time, Crawford was pretty well locked into the anchor position at Channel 13 and there were far more possibilities for me at Channel 8, recalls the veteran newsman. "WFLA had already made a decision to hire Jerry Harper out of Chicago to do the 6p.m. news and I would do the 11p.m. newscast as well as weekendsyes, seven days a week for four long years. And sure, I got a little raise to go over to Channel 8 but the potential for doing more in the future was the important thing.