THE SUNSHINE STATE
Bob happily ruled the directing booth at WLWT for five productive years. He earned extra income by teaching television broadcasting at his old alma mater, the University of Cincinnati. In the spring of 1953 one of Bob's students, who had come all the way from Florida to take the course, approached him about moving south. "The manager of St. Petersburg's WSUN radio took my class. They were getting ready to put WSUN-TV on the air and he wanted me to come down to St. Pete as production manager. Leaving my hometown would be hard but what made my decision easier was a call I got from Florida that April while it was still snowing in Cincinnati. The caller told me about the sunshine, how the temperature was in the 70's and how he was watching a sailboat out on the bay. I took the job immediately."

WSUN TV and radio studios were located on St. Pete's
famous Million Dollar Pier.
The TV studio's entrance faced downtown.
With his wife Shirley and daughters Lynne and Denise, Bob arrived in St. Pete at the end of April, 1953, as work was proceeding to get WSUN-TV ready for air. After an inspection of the station's setup, Bob knew there were some challenges ahead. "The studio was out on the end of the Million Dollar pier, in what used to be a trolley turnaround. In the middle of the small studio were two pillars that helped support the pier. We worked around them or even decorated them up to use them on-camera. You couldn't go to wide lens and back up very far. The pier had a large ballroom right next door, but it was hard to get permission to do programs in there even though both the pier and WSUN were owned by the City."
With Channel 38's debut only a month away, the station's General Manager, Maj. George Robinson, called upon senior staffers to put together some local programs. "We took the WSUN radio on-air staff, Harry Smith and Dave Saltzman and Burl McCarty and sat down with them and literally built the schedule," explains Bob. " 'We need a news show here, a kid's show here, a disc-jockey show here.' I directed the first show on Memorial Day weekend, "The News With Major Robinson." We didn't have a whole lot of viewers, and the fact that we were UHF didn't help. Most older sets would need a converter because they were only for VHF."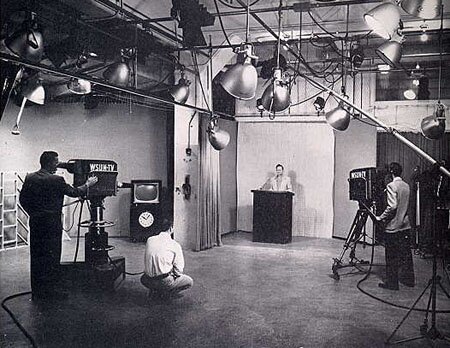 WSUN's small studio provided plenty of challenges.
Directing a non-stop schedule of live television programs in Channel 38's small studio taxed everyone's creativity. Most programs were 15 minutes long with only a station break between the end of one and the start of another. It called for extreme organization and the ability to be flexible. Bob recalls segments aired on Harry's Smith's record program where he trained a camera on a fish tank, and that the fish would usually swim to the rhythm of the music. It was a time where innovations were a daily part of the process."I felt that the studio's bayfront location lent itself to exterior work because inside the studio we could be in Chicago or Atlanta or anywhere. I'd stick performers outside on the pier with sailboats in the background. We'd do car commercials out there as well. We had no mobile unit, but the first year I was there we decided to telecast the Easter Parade in Williams Park, which is at least a half-mile away. It was amazing how Louie Link, the Chief Engineer, and Bill Codding, staff engineer, pulled this off. We ran cable all the way down the pier and past Maas Brothers to do it."