JFK, As I Remember Him
Written and Photographed by
Tony Zappone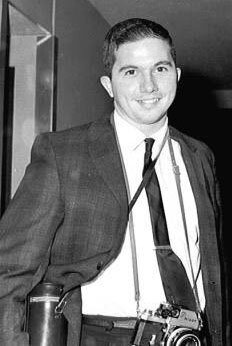 Tony Zappone was only 16 when John F. Kennedy arrived in Tampa for an afternoon four days prior to his assassination.

Zappone, already a budding newshound and photographer, managed to break out of the pack of national press photographers and capture images that are as personal as his experience. He has written a first-person account exclusively for Big 13.

(Story and Photos Copyright 1963 - 2005 by Tony Zappone)

uuuuuuuuuuuuuuuuuuuuuuuuuuuu

No visit to Tampa by any president since has stirred as much excitement and emotion as that of John Fitzgerald Kennedy on the third Monday of November, 1963. Four days later, he was no longer our presidentthe victim of an assassins bullet.

For several weeks, the people of the "Cigar City" eagerly awaited the visit of the young 35th President of the United States. Welcome banners were made and Secret Service agents scouted his motorcade routes and the areas in and around his scheduled stops. Special phone lines were installed for direct communication with the White House and other critical government offices.

School officials made plans to allow children to leave classes for a glimpse of the leader of the free world as he passed along in his motorcade and at several of his public stops.

A memo

came down from the Superintendent of Public Schools that students who brought a note from their parents could be dismissed from school at noon to view the motorcade downtown or see the President at Al Lopez Field.

I was in the 11th grade at Jefferson High School and one of the many young people who raced home each Wednesday to catch his regular press conference broadcast live from the old State Department Auditorium. Tuning in to watch that part of the President's week in real time became a ritual for me. Not many my age knew much about the issues he would address during each session, but we were mesmerized by his charisma, style, sense of humor, friendliness and statesmanship.

For security reasons, his Tampa visit wasnt publicly announced too much in advance but once I found out about it I raced to the coordinators at the Greater Tampa Chamber of Commerce. I already knew Jim Metcalfe, one of the big wigs there, but he said I still had to be representing some legitimate organization to get press credentials. So, Miss Alexine Allen, my journalism teacher, signed a letter stating I would be representing the school paper and yearbook. Back in 1963 that was enough. I got my all areas press badge which hung around my neck. It also gave me permission to leave school for the entire dayon official business.