A Moment in Time
with John F. Kennedy
by Terry Drymon

Photo: Tony Zappone
Terry Drymon has spent his adult life fulfilling childhood dreams, as: a glamour photographer; a broadcast television technician; an emergency medical tech; a videographer for FOXs Americas Most Wanted; and a computer troubleshooter. But one of Terrys dreams was realized as a very young man on a shiny Monday morning in November, 1963, when he plotted with a friend to touch the hand of the president of the United States of America.
uuuuuuuuuuuuuuuuuuuuuuuuuuuuuuuuuuuuuuuuuuu
I was an eighth-grader at Tampas Buchanan Junior High School when I heard that my hero, President John Kennedy, would soon visit Tampa. At age 14, Kennedy was the only U.S. president I had been vitally familiar with during my short lifetime. Shaking his hand was my major objective for his visit.
Me and a friend, Clem Fliss, decided the best way to get close to the president was to cover his visit for the Buchanan school paper.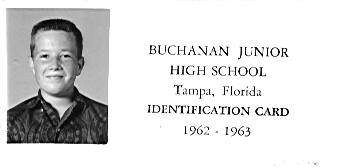 Terry Drymon's I.D. card helped him gain access to MacDill Air Force Base!