Jerry Krumbholz
Speaking of Channel 13...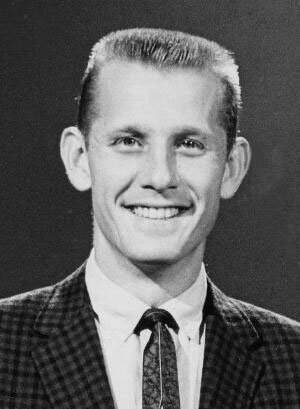 Jerry Krumbholz in a 1950's portrait.
Jerry Krumbholz arrived in Tampa in 1955 to attend the University of Tampa but quickly took the area by storm as an on-air personality at Channel 13. The handsome, well-dressed collegian doubled as booth announcer and on-air talent at a time when WTVT was emerging as one of the most highly regarded television stations in the country.
Tony Zappone spoke with Jerry recently about those early days at WTVT, when half-hour test patterns opened each broadcast day, station breaks were done from a sound booth, commercials lasted 60 seconds and were done live, and locally-hosted feature films were as much a part of television as the evening news. Jerry is as smooth and easy going as everstill has that golden TVT voice, and if youre one of his old fans, talking to him these days is like going back in time45 years or so.