THE 60's AND BEYOND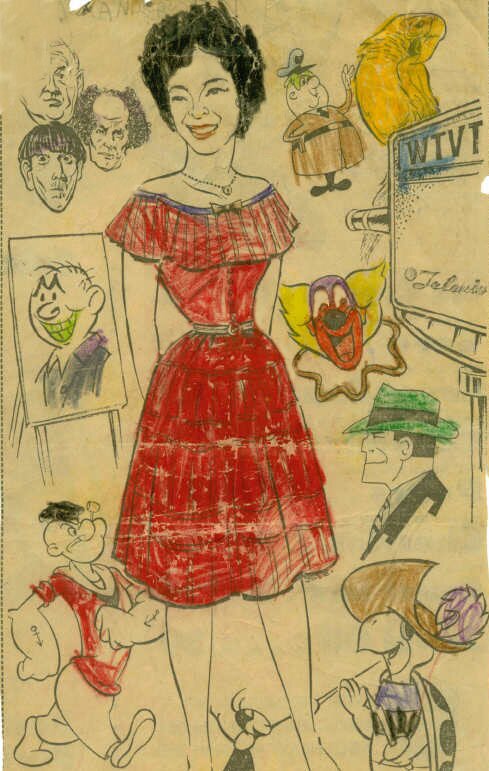 A Mary Ellen handout for young viewers to color
(Courtesy Diana Clark)
"The Mary Ellen Show" and was sometimes seen in an hour-long format. Huckleberry Hound, Quick Draw McGraw, Yogi Bear, and Dick Tracy cartoons were popular segments. A couple of puppet characters named Buggsie and Muggsie appeared semi-regularly, adding a fair amount of mayhem with pie-throwing and other physical humor.
Mary Ellen's parrot Poopdeck was more than a co-star. When Mary Ellen casually mentioned that Poopdeck loved to chew pencils, viewers sent in hundreds of them. Poopdeck, who was originally named Lolita before becoming a he for Mary Ellen, joined the show because "we needed a gimmick. What better gimmick for a nautical show than a parrot?" Although Poopdeck was popular with the public, the Channel 13 cameramen and stagehands often came away from him with finger bites and scratches, the result of the co-star's ornery disposition.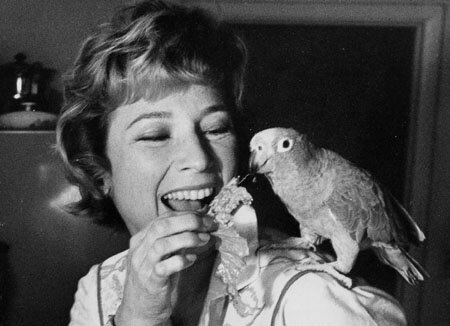 Watch those fingers, Mary Ellen! Poopdeck can be downright peckish!
Poopdeck would sometimes upstage Mary Ellen during commercials, and often during appearances. Once, he took flight from his perch and landed on the roof of shopping center. Workers had to get a ladder to bring Poopdeck back down.
Another time he grabbed all the limelight. "Is that the famous parrot who's on television?" one woman inquired. "Yes, this is Poopdeck," replied Mary Ellen. "Oh, won't the children be thrilled when I tell them I met him!" Not a word about Mary Ellen. "I was a little miffed at first," recalled Mary Ellen, "but then I realized that no matter how many people may recognize him and not me, I know how to endorse a pay check and he doesn't."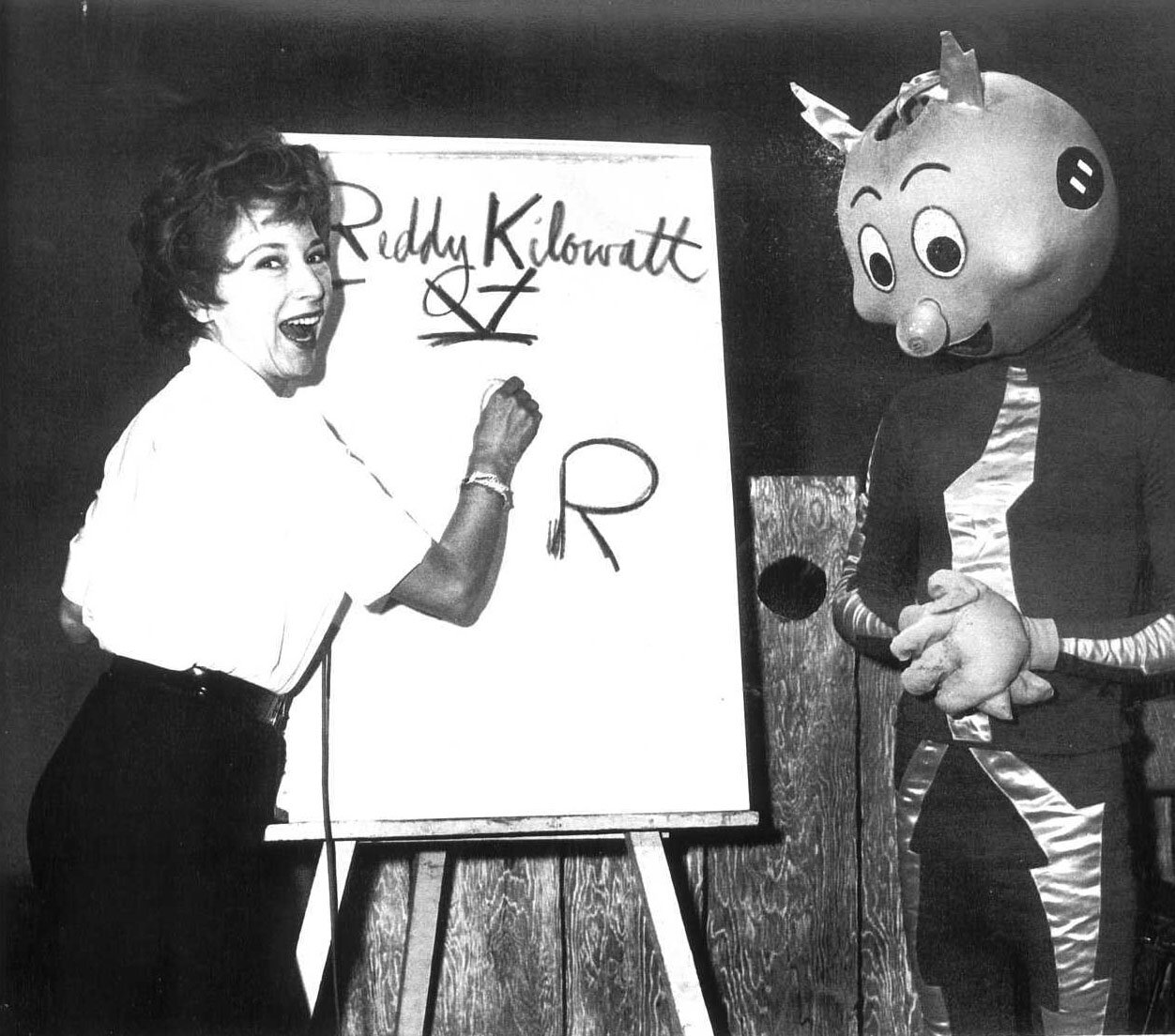 Mary Ellen gets a charge out of drawing Reddy Kilowatt's Funny Face. The Tampa Electric Company was a regular WTVT sponsor
Wherever Channel 13 scheduled Mary Ellen, she trounced the competition. Channel 8, taking note of Mary Ellen's ratings, counter-programmed with "Uncle Bruce," mirroring the competition between WFLA and WTVT news.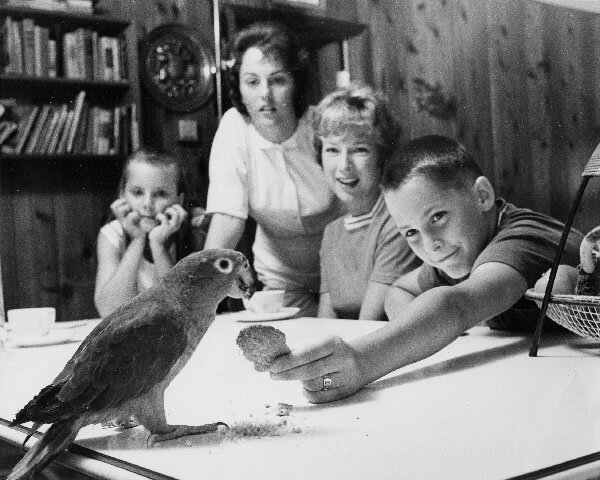 Robin, Gail, Mary Ellen, and Mark at
home with Poopdeck (1962)
At home, Mary Ellen's real-life children sometimes chafed at sharing their mom with every child in the Tampa Bay area. Trips to the store or the beach brought a constant stream of well wishers and requests for autographs and photos. On weekdays, they shared custody of Poopdeck, who returned to his owner's pet shop on weekends.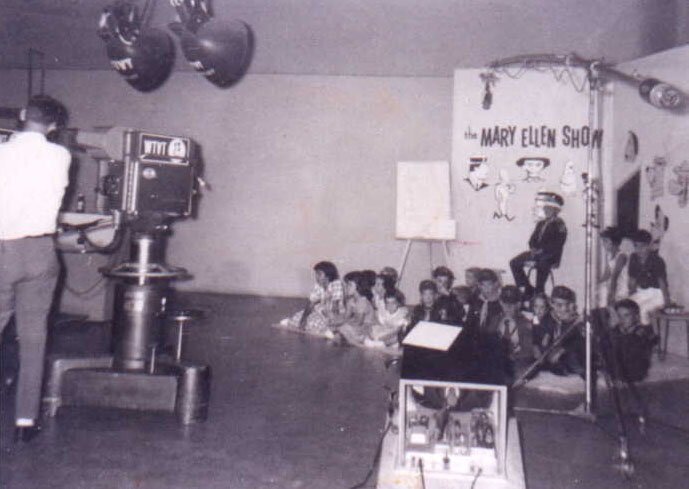 Mary Ellen's set in Studio B. I shot this on August 10, 1962.
Note RCA-TK11 camera at left, simple scoop lighting above, unmanned boom microphone at right Mary Ellen's 'Funny Face' drawing board is seen in the center. Next to the board sits the 'King' of day, a lucky boy scout in the seat of honor, a crown resting on his head. The kids could watch cartoons and see themselves on the line monitor at the lower third center of the photo. Tarnow hot dogs were being prepared off-camera that we would consume during the program.
Production requirements for Mary Ellen couldn't have been simpler. Two cameras and a floor man were about it in the studio, with the director and sound man in the booth. Cartoons (averaging three per show) were run from the master control room 16mm film chain. Mary Ellen's early 1960's set occupied the south west wall of Studio B.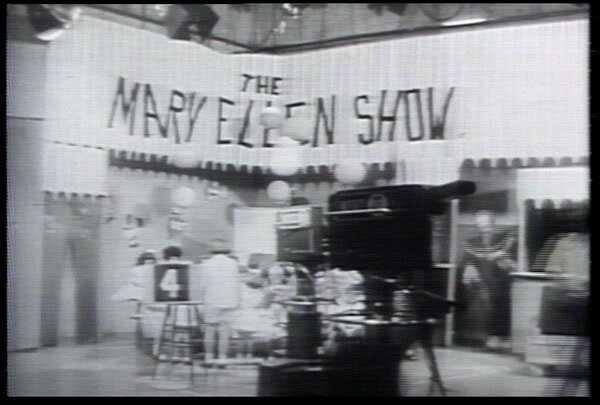 The Mary Ellen set in 1963. Bigger, better, more colorful...even in B &W!
The original wall with Hanna-Barbera characters occupies the center portion. Colorful patterns of green cardboard decorate the upper part, which covers the 2nd floor catwalk. Although Mary Ellen herself is not in the shot, "Bozo The Clown," usually portrayed by Paul Reynolds, is glimpsed towards the right next to Buggsie and Muggsie's puppet stage.
Later expanded to include a higher backing, Mary Ellen's set was moved to the Northwest corner (previous site of 3-D Danny's spaceship) and colored with green stripes.
For a short time, Mary Ellen made it into 'prime access,' on Tuesday evenings. Prime access is the time after the network news but before prime time programming. In 1962, that covered from 6:30 to 8:00 pm. Mary Ellen hosted "Cartoon Carnival," which consisted of three half hour programs...a new series from England called "Supercar," and two Hanna Barbera series, "Yogi Bear" and "Quick Draw McGraw." Mary Ellen's set was a window overlooking a carnival...only this carnival was a miniature, table- top affair. Cartoon Carnival lasted only a few months, and the three shows were returned to earlier time slots.
Mary Ellen always had 'The Right Stuff.'
Here, she suits up for a flyer at MacDill A.F.B.
At her request, the pilot flew upside down!