WFLA Channel 8 Continued...
Barney Bungelupper

Uncle Bruce was assisted with comic relief by a clown named 'Barney Bungelupper.' Barney was played by one of Channel 8's directors, Jerry Martin. Martin, who joined the staff of WFLA in 1958, directed Channel 8's news block that featured anchor Arch Deal, sports reporter Milt Spencer, and weatherman Al Duckworth. When Rodrick's show became a daily program, it was planned to add a clown character as a sidekick for Uncle Bruce. Rodrick noted Martin's upbeat attitude and thought he might be a budding performer.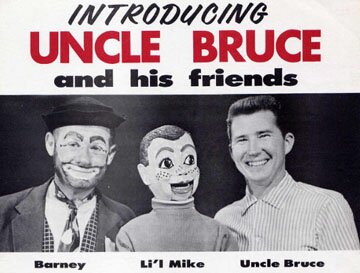 "Barney (Jerry Martin) was a floor director when I first met him," recalls Rodrick. "There was something about his mood and attitude that gave me the idea he would be great. I tried to pattern his character after "Freddie the Freeloader" on Red Skelton, and the great clown Emmett Kelley. I had that idea in mind and Jerry was incredible. He was a natural and a big boost to the show. We started filming the adventure stories, and it was about that time that the ratings started to shoot up."
"I didn't want to play the circus clown with big feet,' says Jerry Martin. "The clowns I admired seemed more like real people." Barney's costume came from a local Goodwill store, and was composed of baggy, plaid pants, a wild tie over a white tee-shirt, a red vest, black hat, and a black jacket covered with pin-on buttons with sayings and pictures. Viewers would send in pins and Martin would add them to his costume.
When Bruce Rodrick left Channel 8, Barney came into his own. His new co-host was "Hector Hambone," a freckled country bumpkin who served as Barney's straight man. Hector was played by another Channel 8 director, Jack Jarvis. It kind of makes you wonder who was left directing in the booth!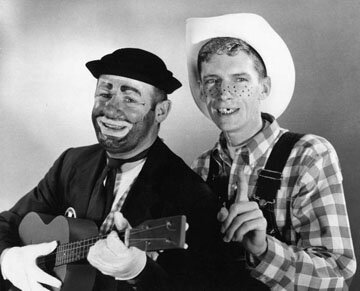 Barney Bungelupper and Hector Hambone
During the 1967 season of shows, Martin's wife Faye played a fairy princess named Marigold.
Martin was a very busy player at Channel 8, hosting their teen dance program "Hi Time," and a daily half-hour farm show "RFD Florida." Martin played Barney for nine years, and made many personal appearances with Hector around the Tampa Bay area. Both Jerry Martin and Jack Jarvis are still working together...at WCLF-TV in Clearwater.