Captain Mac and Other Bay Area Kid Show Personalities
WSUN (Channel 38)
CAPTAIN MAC'S
ADVENTURE TRAILS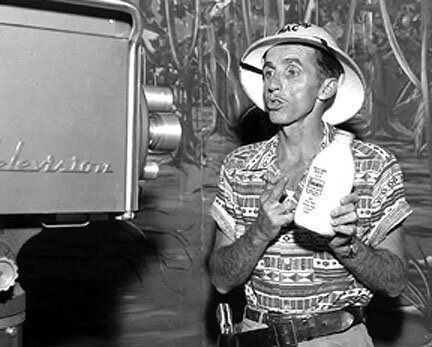 Capt. Mac (Burl McCarty) pitching Foremost Milk to his young viewers.

WSUN-TV's 'Captain Mac' was the first Tampa Bay area kid's show. Debuting with the station's sign-on in 1953, Captain Mac was a major hit with youngsters, running for six years and making a star of it's host, Burl McCarty. The show's format presented Mac as a jungle adventurer who entertained kids with games, educational information, and Crusader Rabbit cartoons and action serials. McCarty was a staff announcer and DJ at WSUN radio who fashioned the character out of spare parts. "My father was a policeman in Hialeah," explained McCarty, "and I had his .38 police special. I had a pith helmet left over from the Soap Box Derby and I had a Seminole-print shirt with riding breeches because I rode a motorcycle."
Since Channel 38 was the Suncoast's only TV station from 1953-55, the monopoly on viewers made Captain Mac's show extremely popular and influential. WSUN's small 35' X 46' studio only allowed for a daily quota of 10 youngsters, and eventually there was a six month waiting list to get on the show. Besides watching cartoons on studio monitors, the kids in Capt. Mac's studio would play simple games, such as 'The Penny Game,' which consisted of a small cup submerged at the bottom of a fish bowl. The object of the game was to drop a penny into the bowl in an attempt to have it land in the cup. Birthdays were celebrated, pets were brought in from home, and studio guests were fed with the sponsor's products.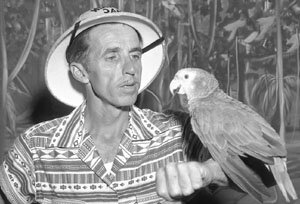 Mary Ellen's 'Poopdeck the Parrot' moonlighting?
Nope, it's some other birdsharing a frank discussion with Capt. Mac
Captain Mac was renowned for giving his young studio visitors hot dogs, milk, and ice cream. His recurring sponsors included Foremost milk, Tarnow meat products, and the popular soft drink 7-Up. With a 6 p.m. airtime, it was said that McCarty changed the eating habits of Bay Area youngsters.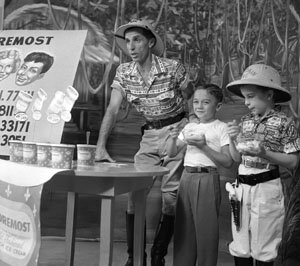 Time for a drink of Foremost Milk with Capt. Mac!
Fortunately, McCarty took his job as a role model seriously, and urged his young viewers to attend Sunday school, wash their hands, and put away their bicycles at night.

Capt. Mac in a 1957 appearance. The boy in the striped
shirt is young Frank Caldwell, whose brother Jack sent
BIG 13 this nostalgic photo.