WTOG (Channel 44)
Dr. Paul Bearer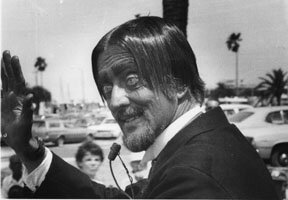 The 'eyes' have it!
Dr. Paul Bearer makes one of
his frequent live appearances

Channel 44's host of "Creature Feature" and "Fright Night" was Dr. Paul Bearer, who premiered in 1973. Bearer had quite a long run and made many personal appearances around the Bay area. The very humorous Bearer character was a pun-spewing, bad-joke-telling host who spoke in a halting speech pattern.

One typical joke started with a close up of a hammer in Paul's hand. He strikes a package of Wrigley's Spearment several times with the hammer, then looks up at the camera and says "I'm just sitting here, beating my gums." His trademark signoff was "I'll be lurking for you."
Bearer was created and portrayed by Ernest R. "Dick" Bennick. At the age of 5, Bennick became fascinated with performing after seeing his first magic act. When he turned 18, the future horror host joined an illusion show and traveled the country as a magician's assistant. By the mid 1960's, Bennick was a popular North Carolina disc jockey and developed the Dr. Paul Bearer character for a local television station.
Paul was a little bug-eyed too, due to the loss of an eye in an automobile accident. His off-kilter look was accentuated by the glass eye, which did not track in the same direction as the working eye. Viewers could frequent see 'Dr. Bearer' driving his black Cadillac Hearse along Gandy Blvd. He would always acknowledge and respond to any hail from passing cars.
Bennick worked in Florida radio broadcasting for 25 years as a sales executive, and died in 1995 after heart surgery. Unfortunately, with Ernest Bennick deceased, there is no one at present to carry on the tradition of a Tampa Bay 'Horror Host.'
You can read an excellent biography and interview with Mr. Bennick by Ed Tucker. It's part of a web site called "Nolan's Pop-Culture Review."