BIG 13's
WTVT/WFLA Reunion
by Mike Clark
Photographs by Dave Morrison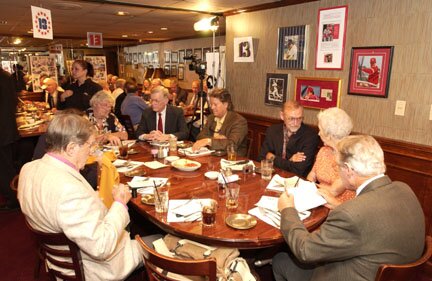 Tampa Bay area broadcasting history was made on May 1st, 2003, as 30 alumni of WTVT and WFLA gathered at Malio's Restaurant in Tampa (just around the corner from Channel 13's studios) for a reunion of old friends and former competitors. The attendees were there to celebrate, share memories, and to honor the first recipients of a brand new expression of appreciation"The Ernie."
Hosted by BIG 13's web site creator Mike Clark and the site's feature writer Tony Zappone, the event was the first-time reunion of WTVT employees who served over the last 50 years.
Among those present were Roy Leep, who served a record 40 years as WTVT's meteorologist; Hugh Smith, with 29 years in the news department; and Jim Benedict, who in 2004 was in WTVT's production department for 40 years.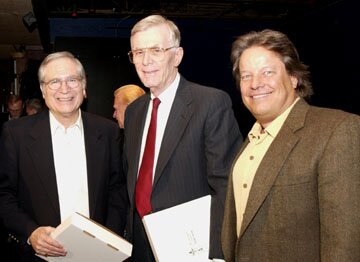 Roy Leep, Hugh Smith, and Pete Johnson
Jeri Smith, who was there the day Channel 13 signed on (April 1, 1955), attended with her husband Ken, who came to Tampa from WKY-TV in 1957 and eventually became WTVT's production manager.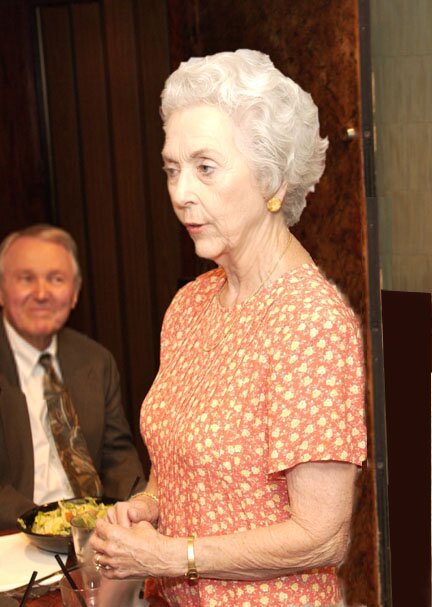 A 'Year One' employee, Jeri Smith addresses the reunion.
Husband Ken Smith appears at left.
Current and former staff members of WTVT and WFLA included 6 directors, 2 cinematographers, 3 news anchors, 2 sports anchors, and several production personnel and on-air talent.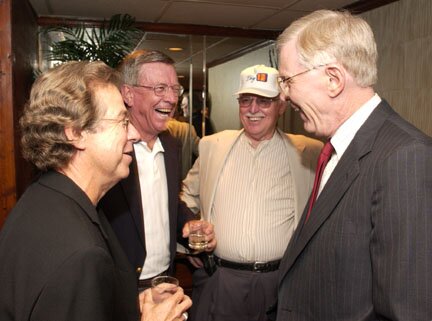 Project 13's Larry Elliston, Ray Blush, and Jule McGee
share war stories with former anchor and news director Hugh Smith
The award-winning Project 13 team was reunited as producer/host Ray Blush, photographer/editor Jule McGee, and reporter Larry Elliston shared tales of the groundbreaking series.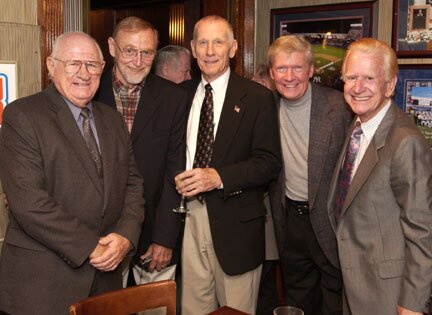 Jerry "Barney Bungleupper" Martin, Gordon Cornelison, Jerry Krumbholz,
Jack "Hector Hambone" Jarvis, and Arch Deal
Former rivals (and good friends) from WFLA were invited as a gesture of broadcasting 'glasnost'. Arch Deal, Channel 8's most high-profile anchor for three decades, was welcomed along with a historic reunion of kid's show hosts "Uncle Bruce" Rodrick, Jerry "Barney Bungleupper" Martin, and Jack "Hector Hambone" Jarvis. It was the first time they had been together for 37 years. Promotion manager and program director Doug Dupperault completed the WFLA contingent.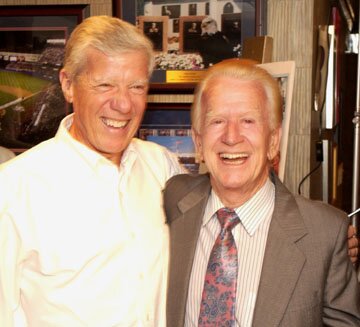 Channel 10's (and I'm talking WLCY here!) Dick Crippen joined his broadcasting peers Smith, Leep, and Dealperhaps the first time all four anchors shared the same room.