Former WFLA and WLCY sports director Dick Crippen was the next presenter to name the recipient of an 'Ernie'. Crippen said that "the next 'Ernie' goes to a guy who took brought credibility to a complicated subject. And he got it right more than most guys today that have more equipmentI think he also invented the idea of looking out the window! Weather in this market affect an awful lot of people and I think it's why myself and others always tuned in to Roy for the weather." Roy Leep's 'Ernie' inscription reads "to Roy Leep, in appreciation of his contribution to weather broadcasting and to the history of WTVT, Channel 13 in Tampa, Florida."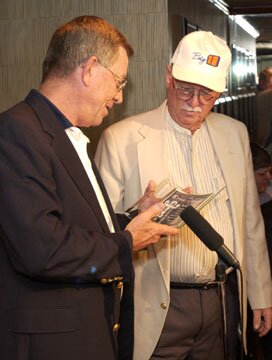 Next up was former WTVT News Director and Anchor Ray Blush, who spoke of the accomplishments of the next 'Ernie' recipient, Jule McGee. "In his forty-plus years of working in television, I can't tell you how many people Jule McGee has helped behind the camera and in front of it," stated Blush. Reading from the 'Ernie' inscription, "to Jule McGee, in appreciation of his contributions to television news and to the history of WTVT, Channel 13." "I don't know what a rookie's doing up here with all you pros," responded McGee as he accepted the tribute, "but I'm overwhelmed."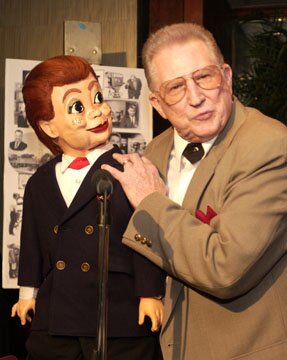 A very special presenter was up next.'Uncle Bruce' Rodrick, who had traveled from Minnesota with his lovely wife Marj. For first time in 37 years, Rodrick appeared before an audience in Tampa with his wooden pal 'Lil Mike.' Rodrick and 'Lil Mike' presented an 'Ernie' to WTVT's classic children's host Mary Ellen. "She was mighty pretty," said 'Lil' Mike. "Where is she?" Rodrick then introduced Mary Ellen, who accepted on video tape from her out-of-state home.

"It was a wonderful time in my life and I appreciate all the people who shared it with me," said the former host. "There was Bob Olson, who hired me in 1957, Ken Smith, who took care of production and brought us the talented 'Red' Koch and his characters 'Buggsie' and 'Muggsie,' and Joe Wiezycki who became our director, Jack Cosgrove who photographed our adventures, and many more. I wish I could be there with you allmy best wishes to everyone at BIG 13."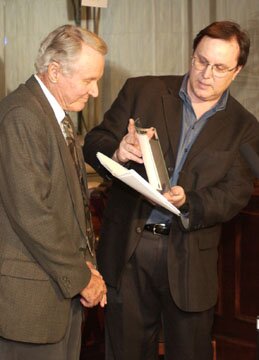 Mike Clark explained that the next 'Ernie' would be for former production Manager Ken Smith, who set a high standard for production at WTVT. Mike told that audience how he was hired by Jim Benedict, who was hired by Smithand thereforeowed him a 'thanks'. "Thanks for a great night," said Smith as he accepted the 'Ernie.'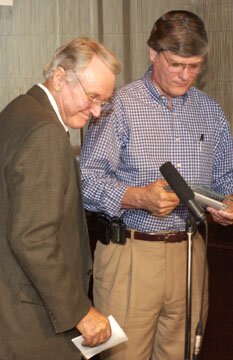 Smith in turn was the presenter for the final 'Ernie' to current production manager Jim Benedict. "One of the best things that ever happened to Channel 13 was a guy I recognized as a real TV guy...a broadcaster. He became a top director and is one of the most liked, most respected folks who ever walked into a control room." The humble Benedict happily accepted his 'Ernie', saying "I went almost 40 years without getting in front of a camera and I'm not going to stop that tonight. Thank you very much."
Before closing the festivities, Mike sought volunteers to become part of a committee to organize a larger, more inclusive reunion event in two yearsfor the 50th anniversary of both WTVT and WFLA.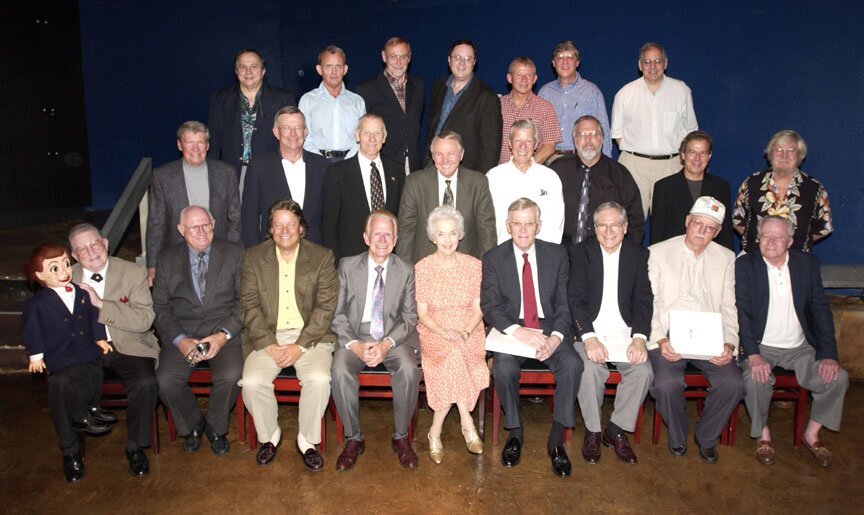 (Top Row L-R) Tony Zappone, Richard Bozeman, Gordon Cornelison, Mike Clark, Paul Koenig, Jim Benedict, Dave Rosenblatt
(Middle Row) Jack Jarvis, Ray Blush, Jerry Krumbholz, Ken Smith, Dick Crippen, Jon Hoegstrom, Larry Elliston, Jack Cosgrove
(Front Row) 'Lil' Mike, 'Uncle Bruce' Rodrick, Jerry Martin, Pete Johnson, Arch Deal, Jeri Smith, Hugh Smith, Roy Leep, Jule McGee, Doug Duperrault
At evening's end, the entire group moved to a larger room for group pictures taken by BIG 13's photo editor Dave Morrison.
The BIG 13 reunion was a grand evening full of great memories and comradeship, and one that we all hope will be repeated in 2005.
TO RETURN TO MAIN MENU, CLICK HERE