The
Amazing Journey
of
Scott Shuster
by Mike Clark
Scott Shuster was a television prodigy...By the age of 15, he was a radio newscaster and reporter. By 18, he was a television anchorman. At 22, Scott joined Channel 13 as the Breakfast Beat, Pulse Midday, and weekend Pulse News anchor and reporter. Scott's energetic on-air presence made him a popular rising staruntil his sudden departure from WTVT totally changed the direction of Scott's life and sent him on to become the producer of NPR's "All Things Considered" and later a foreign correspondent for ABC News.
And even that was just the beginning...
Even as a toddler, Scott Shuster seemed destined to be an anchorman. Appearing with neighbor children in a vintage photograph, six-year-old Scott Shuster (center) seems to be hosting a game show. "I liked radio and TV very, very much," admits the former Channel 13 anchorman. "In the picture I was already acting somewhat like a broadcaster. "
The younger of two brothers, Shuster grew up around the Milwaukee area in the early 1950's. Television programs like 'Howdy Doody' were an entertaining diversion for young Scott, but life in the Midwest during the Fifties didn't offer many creative outlets for a precocious kid. As he grew older, Shuster yearned to learn more about the outside world, and did so by radio. "I had a shortwave set and would listen to far-away radio stations like the BBC," he recalls. "I once heard an interview from Zambia, and thought 'that person's just like meoff in some remote place. Someday, maybe I'll go to Zambia.' I considered myself to be very isolated out there in Wisconsin."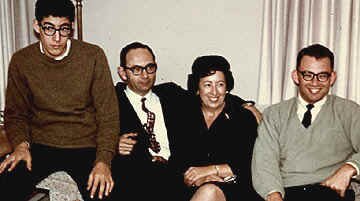 Scott with his parents Bernie and Jennie and older brother Lynn
Travel was also an important part of Shuster family life. They visited all 48 states by car and ventured into Mexico during one vacation. But it was the glow of his family's television that transported Scott to other parts of the world and fueled his desire to be part of the burgeoning medium. "I watched the local news on WTMJ and the network news with John Cameron Swayze. I very much wanted to be on televisionto climb inside the box and be part of it."