John F. Kennedy in Ten Seconds
By Tommy Eure


Tommy Eure's photography studio was immediately west and adjacent to the Big 13 studios from 1955 to 1977. Eure learned that President John F. Kennedys motorcade would be passing his studio during a November 1963 visit.



Eure prepared for that day and the result was a perfect and historic picture of the President in his famous limousine right in front of the studio, something few other businesses were lucky enough to secure.

uuuuuuuuuuuuuuuuuuuuuuuuuuuuuuuuuuuuuuuuuuu

It was almost mid-November of 1963 when I read in The Tampa Tribune that John Kennedy would be coming to Tampa, but the story was pretty general and gave no specific details. I didnt give it much thought at the time because most presidents who popped into town were whisked to a hotel, gave a speech or something, and zoomed quickly back to Washington. I assumed it would be one of those sorts of things.

The big surprise came when they released details of his visit and I learned not only that he would be spending a good part of November 18, 1963 in Tampa but that his motorcade would pass directly in front of my photo studio at 3225 W. Grand Central Avenue (later named Kennedy Boulevard).

Other people I knew planned to go see him at one of his stops but I saw no reason to do that. The important thing for me was to get a very classic and rare pictureone of the President right smack in front of my place. I wouldnt have been able to do that had I been trying to follow his steps elsewhere during his trip. I should mention here that I really liked JFK but wasnt one of these obsessed fans like some people. I had voted for him in 1960 and liked the job he was doing but I dont remember an excessive amount of excitement on my part that day. But it was important to get that picture.

We were listening to live radio coverage inside the studio of his appearances and had clipped a schedule out of the paper so I knew generally when his limousine would be headed in our direction. It was sometime after the noon hour and he was leaving Al Lopez Field, I believe, and that was my cue to go out front and wait with everybody else.

There were no giant crowds along Grand Centraljust sort of pockets or groups here and there and a single thin row of people as far as I could see. Everybody had a really great vantage point. I was on the south side of the street and saw some of the WTVT staff had come outside for a glimpse of the chief executive. I had a whole roll of film in my camera and I knew I needed only one frame to snap a picture of the President so I snapped a group standing in front of the TV station. There was a camera on top of the portico waiting to catch the happenings live for home television viewers.

I waited it seems, about 20 minutes or so before I heard the screaming sirens of the motorcade in the distance. It was time for me to ready my Mamiya Reflex camera, which contained a full roll of 2 1/4" X 2 1/4" square film with only one frame already exposedthe one I took of the WTVT employees on the sidewalk next door.

I planned the whole thing out in my mind. I would have to pan the movement of the Presidents limousine and snap the picture when it was right in front of my studio. Using a wide-angle lens might have increased my chances of getting a perfect shot because it afforded a greater margin of error, but I chose a tighter, 80mm 'normal' lens (equivalent to a 50mm lens when using 35mm film) that would fill more of the negative with Kennedy's image. I aimed the camera west down Grand Central, where Kennedy's motorcade was approaching rapidly at about 35 miles per hour. There wasnt any room at all for mistakes and this was a picture I would get only one chance at. It wasnt my typical assignment where I could get my subject to back up and make another pass.

Everything was executed exactly as I had figured in my mind. It was a matter of not more than ten seconds from the time I got the limo in my frame, snapped the picture, and then watched Kennedys car reach MacDill Avenue headed east towards downtown Tampa. I had no idea whether I had gotten the picture just right or not.

Ten seconds and it was all over and done. Four days later, the film was still in the camera undeveloped with most of the roll remaining to be exposed on other jobs when Kennedy arrived in Dallas, Texas. That Friday, I was at Frischs Big Boy Restaurant on South Dale Mabry (now the offices of Colonial Bank) having lunch when somebody ran in and shouted the President had been shot. I remember chaos erupted as women screamed and cried in total disbelief. The mood of the place changed so quickly it was unbelievable. I left my lunch and headed straight home where I told my wife, Maria, about what had happened and immediately turned on the TV. We both felt very let down, very sadI didnt want to go back to the studio. Like most everybody else, we stayed glued to the TV but things really didnt set in until Walter Cronkite announced that President Kennedy had been declared dead of a bullet wound to the head.

He had been with us just four days earlier. It was such a depressing weekendfrom the assassination to the slaying of a police officer in Dallas by the alleged assassin, Lee Harvey Oswald, to the killing of Oswald himself and then the Presidents funeral the following Monday. It was a weekend that was very hard to believe was actually happening. It was like something out of a horror picture.

We all got through it somehow, some took longer than others to deal with the loss. Later that week I processed my film and for the first time, took a look at the single frame of President John F. Kennedy. As it turned out, I got a perfect photo. It was probably 90 percent skill and 10 percent just plain luck that the limo was pictured directly in front of my place with Senator Smathers, sitting inside next to President Kennedy, pointing to the Channel 13 cameras about 75 feet ahead.

It was just sort of strange, though, he was no longer our President.

uuuuuuuuuuuuuuuuuuuuuuuuuuuuuuuuuuuuuuuuu

Assistance for this article by Tony Zappone

PULSE EXTRA: NETSCAPE USERS CAN 'RIGHT CLICK' ON THE JFK PHOTO AND SEE A FULL SCREEN VERSION.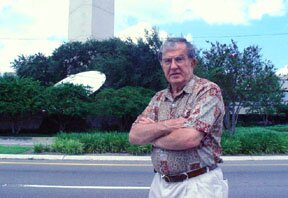 Photo: Tony Zappone
Photographer Tommy Eure poses in front of what used to be the location of his studio. This is the spot where he took the photo of President Kennedy on November 18, 1963. WTVT's Skytower and a satellite dish are visible in this 2002 scene.