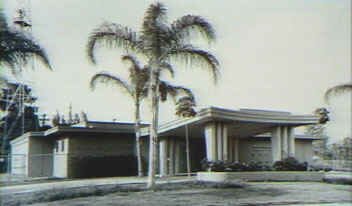 WTVT's original building
March, 1955, saw a beehive of activity at 1113 Memorial Drive as the building selected for WTVT's studios underwent a conversion for television. "They were hanging lights in the studio and unpacking the cameras when I arrived," recalls Fariss. "We spent several weeks getting UPI and AP teletype lines installed, making contacts with reporters and stringers, and creating a news format.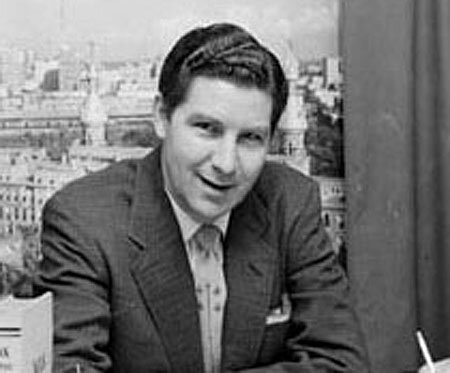 Landis Wilkinson, WTVT's original 6p.m. newsman
I was going to anchor the 11 p.m. news, and an attorney named Landis Wilkinson would anchor the 6 p.m. version. Guy Bagli was coming on board as Sports Director. We didn't have a weatherman right awayBill Stokes and Charlie Stump came a while later."
On April 1st, 1955, it was showtime as cameras in WTVT's small studio pointed towards 26 year-old Wayne Fariss. "I signed Channel 13 on the air, then introduced Mr. Tison, who made some brief comments about how Channel 13 planned to serve the community. I did a brief newscast and then Channel 13 joined the CBS network feed."
Channel 13's news was only 15 minutes long at the time. With a small staff, limited use of the mobile unit, and no sound-on-film interviews, Wilkinson and Fariss' newscasts were pretty simple. "A typical newscast would be a combination of slides, film, and live. We did the crime beat, spot news, anything that happened like a bad accident, fires, and city hall or county commission news," explains Fariss. "We subscribed to a film service that came in twice a day. They provided national news which we would unspool, screen, and edit the segments we needed. All the local news was read live to silent film. We also had teletypes to the U.P.I. and A.P., which was rewritten before airing. We employed a couple of photographers, who were occasionally assisted by Chief Photographer Dick Dale. Marvin Scott came towards the end of 1955, and was our main news photographer. We developed the 16mm newsfilm on racks with prongs sticking out that you put the sprocket holes on. The film came out of the processing as a negative, so the engineer would have to reverse polarity on the film chain. Occasionally, you would see negative film pop up on the air. The director would yell 'Change it!' and the engineer would flip a switch to positive."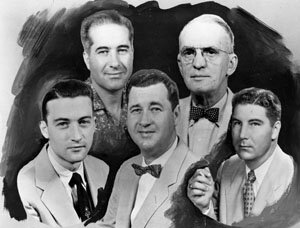 Early Montage photo of the original WTVT News, Sports, and Weather staff
(Upper Left) Guy Bagli, Howard Hartley
(Lower Left) Wayne Fariss, Charlie Stump, Landis Wilkinson