Larry, who served as set builder, painter, and production assistant on 'Satan's Children,' was able to observe his father directing the movie and handling all the production problems that arose. "Joe was real serious about moviemaking but he always treated everyone well. I never saw him get excited or madeven when we had some real foul ups."
In a rehash of worries that plagued 'Willie's Gone,' 'Satan's Children' also suffered from distribution problems. "My Dad was very trusting," says Larry. "When people tell you they're going to do somethingJoe would believe it. A lot of times people don't come through. My Dad was a victim of that. One of the movie's promoters was misrepresenting ticket sales. The film was released across the United States, but we don't really know how many theaters it was in or how many tickets were sold. And one of the 35mm film prints got stolen."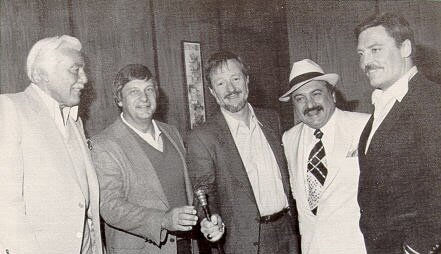 Caser Romero, Joe Wiezycki, producer Jay Bernstein, vintner Aldo Cella
and actor Stacey Keach on a busy day for Pulse Plus!
Joe gave up moviemaking for the time being and continued his position as producer and director of "Pulse Plus" for Channel 13. He gained a reputation for being able to attract high-caliber names to appear on program, including then-Presidential candidate Ronald Reagan. Nancy Reagan's first live interview as the First Lady occurred on Pulse Plus! Hundreds of celebrities appeared on Pulse Plus! during Joe's 15 years at the helm. "I know what people like and how to keep them entertained," Joe told a WTVT in-house newsletter. "when to cut off and when to let it run. It's the only way to keep people watching."