Larry grew up in Tampa and was glued to the television set in its early days. Prior to 1955, WSUN was the only local TV fare and Ellistons favorite program was Captain Macs Adventure Trails, featuring the cartoon antics of Crusader Rabbit and Rags the Tiger. His fondest TV memory from those days was an appearance on Captain Macs program when it was broadcast live from St. Petersburgs Million Dollar Pier. His second boyhood TV appearance came a few years later on Channel 13s Popeye Playhouse with Mary Ellen. Little did he know then he would work in that same building more than 20 years later.
As a young elementary school pupil, Larry was an avid fan of CBSs Sunday broadcast of Twentieth Century, narrated by Walter Cronkite, because he loved seeing the show credits at the end which featured the name Wade Bingham. Bingham was a Tampa portrait photographer who had taken Larrys baby pictures and later managed to turn his freelance motion picture work into a budding career with CBS News. Bingham concluded his long TV career in the early 80s as senior cameraman for CBS 60 Minutes."
Now 53, Ellistons baby pictures are still displayed in his mothers house. Binghams studio was just a couple of storefronts down from his grandparents drugstore, Ellistons, at Parker Street and Grand Central Avenue (now Kennedy Blvd.), just west of the Hillsborough River.

Elliston's Drug Store in Tampa
Ironically, his grandparents' drugstore eventually became The House of Seven Sorrows, a beatnik coffee house frequented by the adventurous novelist Jack Kerouac when he lived in the area. Part of the irony was that one of Kerouacs milestone novels of that period was On the Road, considered the bible of the beat generation. Larry remembers the day in 1969 when Walter Cronkite reported Kerouacs death, which occurred in St. Petersburg where Kerouacs wife and mother lived. Little did he know that Kerouac and his book would set into motion a theme that would remain with Larry, if even unconsciously, throughout his broadcasting career. He still keeps a copy of "On The Road" handy in his living room.
In another coincidence, Larry would find himself in the Channel 13 newsroom in the late 70s working with reporter Bonnie Ginsberg, niece of Kerouacs best friend, poet-activist Allen Ginsberg.
One of Larrys favorite television programs had been Rod Serlings The Twilight Zone. Drawn by the shows creativity, writing and story construction, Larry considered each episode a mini-morality play that was always brilliantly constructed. The coincidences and rare events that happened on the block where Ellistons Drug Store had stood in the forties and early fifties could be likened to an episode of that show.
Elliston attended Robinson High and the University of South Florida, where he majored in speech. In his junior and senior years, Elliston worked regularly at the school paper, The Oracle, and at USF's radio station WUSF, where he read the news on the legendary program, "Underground Railroad."
Elliston's position at Channel 8 resulted from a unique school-work program where his first year at the station was as a 'cooperative education intern.' He worked six days a week and was considered a full time employee by news director Bill Henry, even though he was technically an intern. Once the program ended, Elliston was converted to a regular WFLA employee.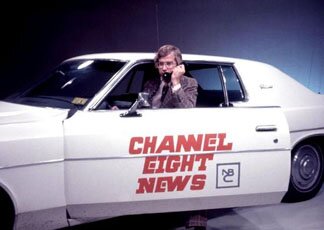 This photo was used on-air when Larry reported live and no film was available