In 1992, after producing and reporting more than 1500 stories, most of them from Floridas back roads, Larry felt it was time to move on from Channel 13.
I was getting a bit discouraged by what I was seeing all over Florida in terms of growth and how it was changing the face and character of the state I loved so much, not to mention the change that was taking place in TV news.
It was about this time that he met a wonderful lady, Joy, on a date arranged by friends. Joy was in town from New York for a job interview with the Home Shopping Network. She didnt get the job but she did get Larrys hand in marriage a few years laterand the job at HSN right after that.
Not one disposed to confining work situations, Larry let his contract with WTVT lapse. He opted for freelance video production and a move to Boca Raton with his new bride, who had accepted a job there.
In 1995, he joined Tampas Spectrum Productions as Senior Producer of Jack Hannas Animal Adventures. He now travels the world with Hanna and a crew of three, taping as many as 26 half-hour shows each year. The syndicated family-friendly show has a weekly audience of 2.5 million viewers and is aired on 325 U.S. stations and in 70 foreign countries.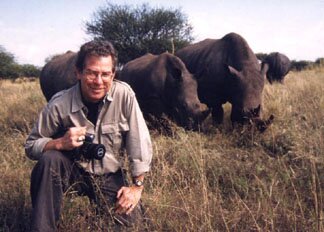 This ain't Busch Gardens! Larry Elliston on location in Africa with "Jack Hanna's Animal Adventures"
Around that time, Joy became program director for Home Shopping Network in Clearwater. Her activities included participation in high level meetings with powerful business people such as media mogul and HSN Chairman Barry Diller.
Looking back, Larry says my years at WTVT were something special. Everything I do now, including telling stories from all seven continents, I owe to having worked at one of the greatest stations in America, Big 13. It was an honor.
-30-
To contact Larry, email him at:
To Return to NEWS MENU CLICK HERE
To Return to Main Menu, CLICK HERE