| | |
| --- | --- |
| | Mary Ellen...Everyone's favorite Mom |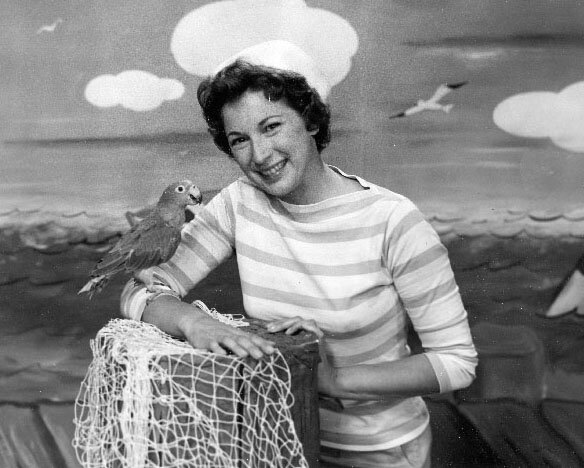 Mary Ellen and Poopdeck
"Popeye Playhouse" (1957)
Mary Ellen graced the airwaves of Channel 13 for seven magical years. Pretty, witty, and wise, Mary Ellen was like a second mom to thousands of young viewers. Like another famous Mary (Poppins), she was 'practically perfect in every way." She had the special charm of a real person who could talk to kids, but not talk down to them. As comfortable on camera as if she was in the room with you, Mary Ellen is the kind of kid show host that any station would love to have on the air, only the lucky station this time was Channel 13.

FUNNY FACES AND MAGIC PLACES

A typical Mary Ellen program would start at 5:00 on a weekday afternoon. Along with her parrot friend Poopdeck (a live bird, not a puppet!), Mary Ellen would welcome 12 to 15 kids ranging in age from around six to eleven. They would gather on the carpet or benches of her simple set...a wall filled with drawings of Hanna Barbera and Dick Tracy cartoon characters. In between cartoons, Mary Ellen would meet the kids and have them introduce themselves, play a simple game, or draw her own unique creation, the 'Funny Face.' Using a large, poster sized sheet of paper, Mary Ellen would sketch a caricature of a child using the youngsters' initials. For instance, my name is Mike Clark, so the "M" would become eyebrows and the "C" would be my nose.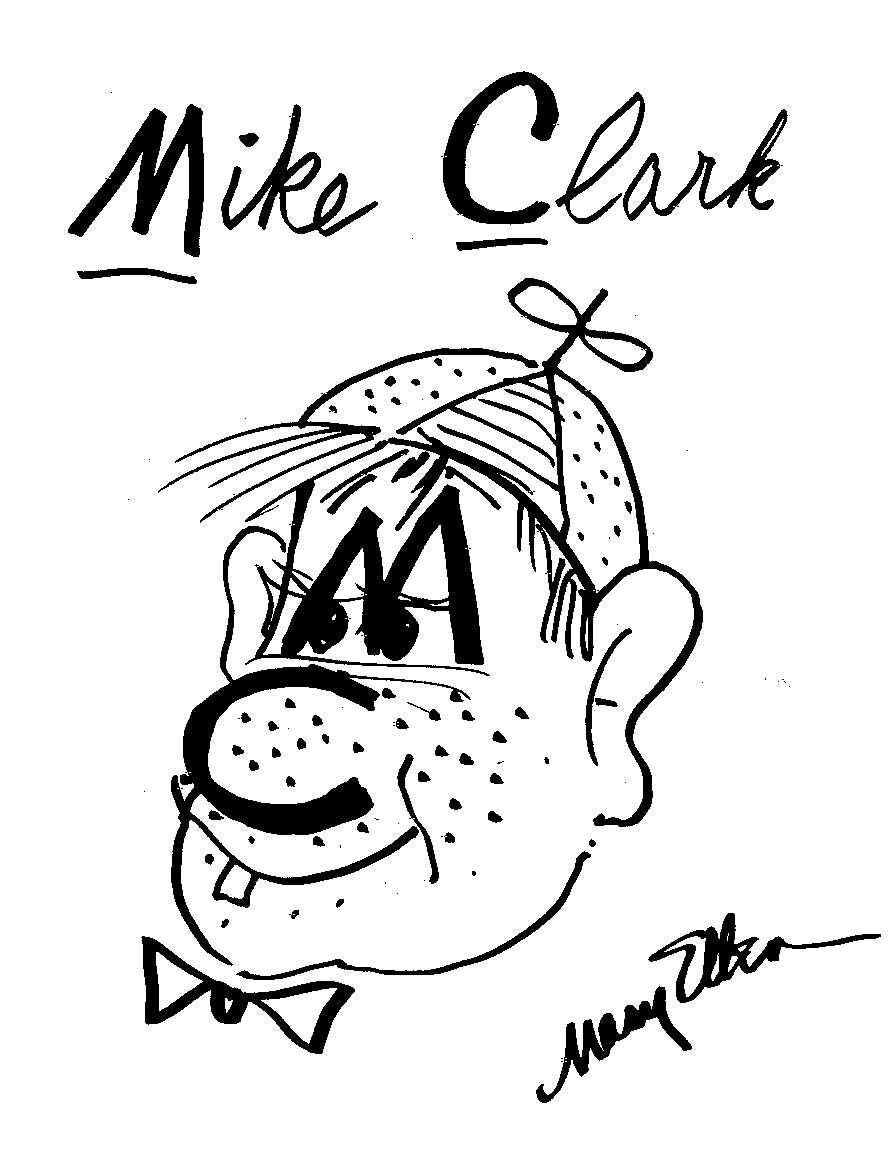 "...I love your funny face..."
Mary Ellen came out of retirement to create this Funny Face for me!
At one point in the program, Mary Ellen would have the kids look directly into the camera for the "Magic Eye." The Magic Eye was actually a special effect performed from the control room. As the camera panned from one child to the next, the director would use a circle wipe and surround the child's image with the CBS eye. When the camera stopped on the 'chosen' child, the circle would vibrate signifying that this lucky youngster was 'King' or 'Queen' for the day. The child was then adorned with a royal scepter and crown and given a prize, usually a food product from whatever sponsor was on the show that week. How often I envied the lucky youngster who walked away with an arm-sized Tootsie Roll containing several days worth of treats.
Occasionally, Mary Ellen would take some local youngsters on an adventure or travelogue outside the studio. These 16mm segments were shot silent, and often involved ghost chasing. Mary Ellen would narrate them live, and the sound man would add some atmospheric music from the library.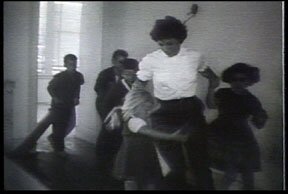 Ghostbusters! Mary Ellen and helpers scare up some laughs
Half an hour cruised by quickly, everyone had a good time, and Mary Ellen would sign off until the next day.
Mary Ellen seemed so real, and that's because she was. She never over-rehearsed, or tried to perform. She said the daily show was "a lot of fun, and a good excuse to get away from my housework, too."

GOING 'ON THE AIR'

Mary Ellen was originally from Toledo, Ohio. She got her start in television by being in the right place at the right time. One day in 1951, the attractive young commercial artist was shopping when the manufacturer of Yogurta face cream happened to be in the store. He asked Mary Ellen if she knew anything about the product. Mary Ellen was not only knowledgeable but effusive! The maker of Yogurta was very impressed by Mary Ellen and called her several days later...would she do a TV commercial?
The commercial was to be live as part of a local variety show. TV and Mary Ellen clicked, and her commercial was an instant hit. "I discovered what a ham I was," she said, "and I haven't been able to stay away from TV since. " Mary Ellen found a regular spot on the show, and in addition to commercials, she would create 'instant artwork' during songs and dance numbers. "I drew pictures to records that they would play," recalls Mary Ellen. "I would draw the picture of what it meant to me. All I did was use a regular black marker and a big drawing tablet, like I did on my show in Florida." Later on, that talent for instant drawing would be a central part of her television show.
When a local TV station in Toledo suggested that she host a children's program, Mary Ellen worked out the format, including the 'Funny Face.' Already a talented artist, Mary Ellen consulted "Mary Worth" artist Allan Saunders on developing a more cartoon style to her drawings. Her first show was called 'Fun Farm,' and ran for three years on WSPD in Toledo and another two years on WEWS, Cleveland. Mary Ellen recalled that "We had kids on the show, and a mounted policeman came in from time to time and sing. The kids always enjoyed that horse in the studio. I also worked string puppets...a boy and a girl. I would play a record and they would 'sing' to it."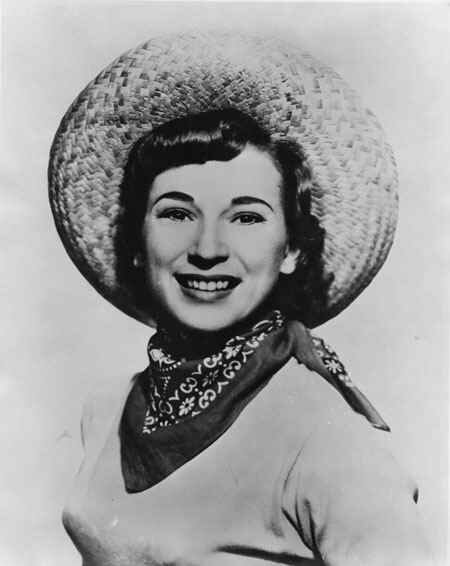 Mary Ellen in "Fun Farm" publicity photo
Somehow, a busy Mary Ellen found time to fall in love and get married. Over the next few years, Mary Ellen and her husband Clyde became parents to Gail, Mark, and Robin. Talk about having it all!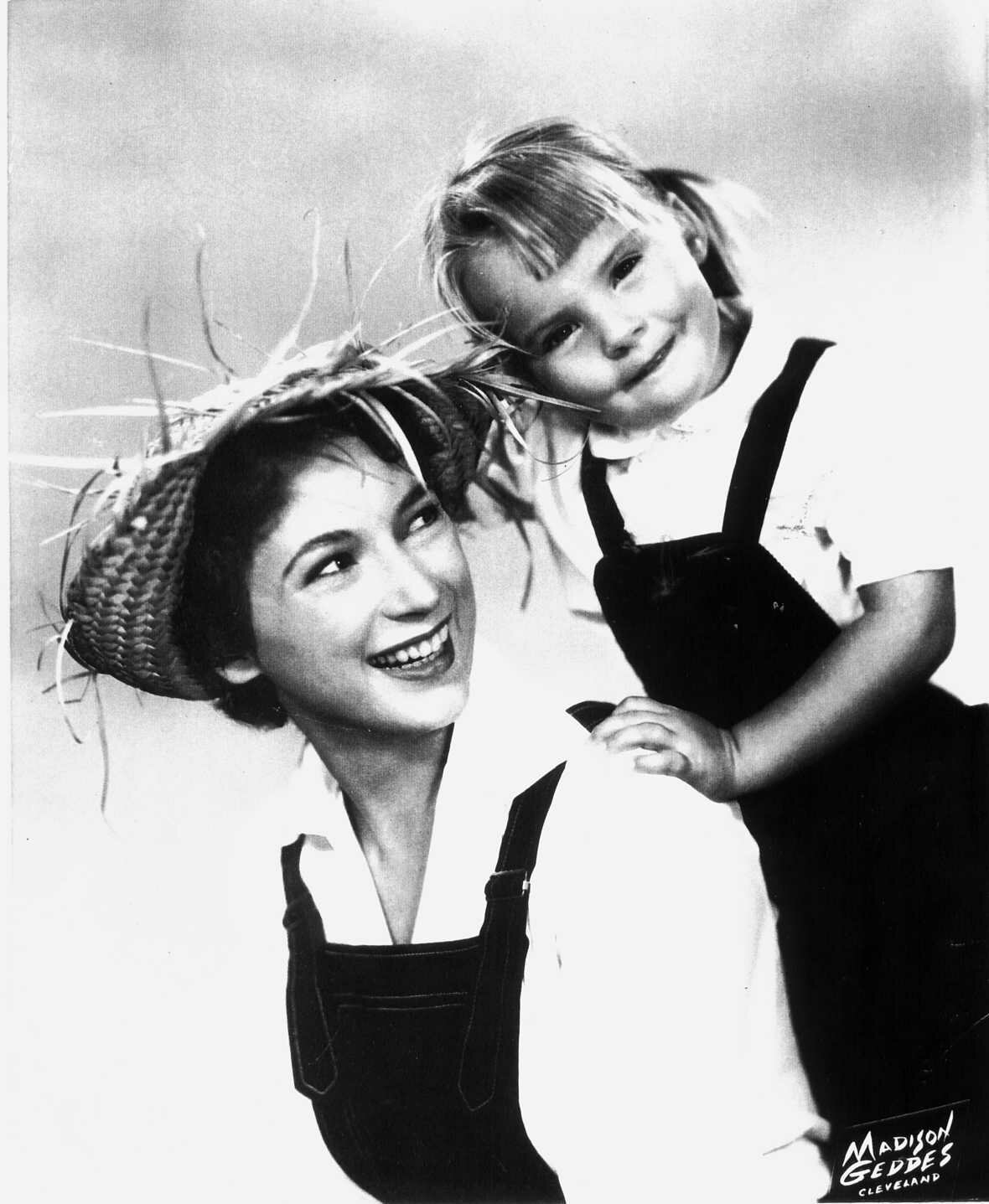 "Take Your Daughter to Work" day at WEWS.
Robin and Mary Ellen on the set of Fun Farm
POPEYE AND POOPDECK
Tiring of the cold Ohio winters, Mary Ellen's husband took a position with D'Arcy Advertising in Tampa, and the family moved to a new house on Tampa Bay. Toting a kinescope of 'Fun Farm', Mary Ellen made the rounds of Channel 38, Channel 8, and Channel 13. At WTVT, she met with operations supervisor Bob Olson. "We had been thinking of taking on the Popeye cartoon library when Mary Ellen showed up looking for a job," recalled Olson. " I talked with her for five minutes and knew she was right for the show."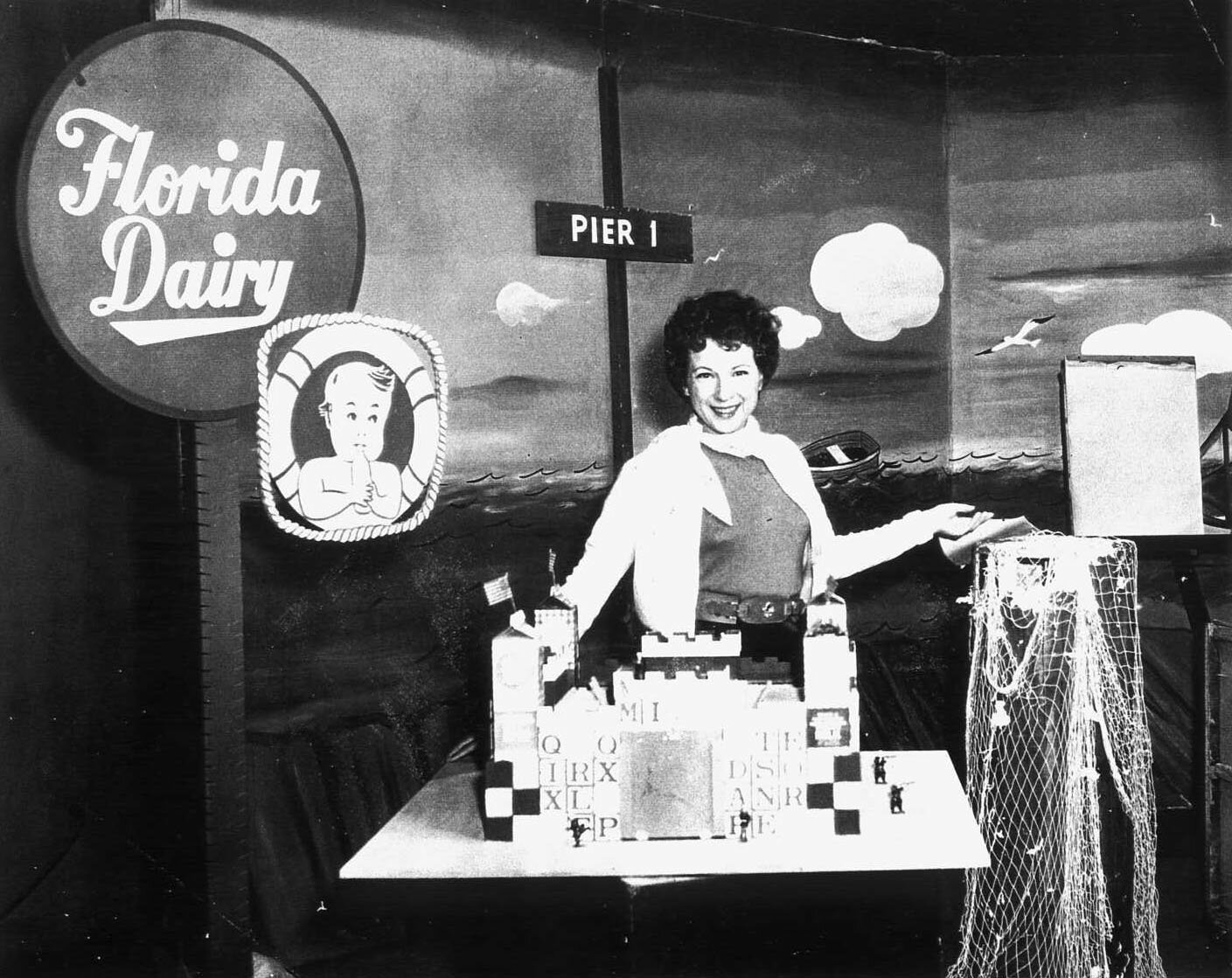 Mary Ellen pitches Florida Dairy milk at WTVT
WTVT quickly became her home in 1957, where she started a new version of 'Fun Farm' on Saturday mornings, and 'Popeye's Playhouse* with Mary Ellen' every weekday. Dressed in a sailor hat, Mary Ellen and her parrot Poopdeck started a long association with WTVT. "Popeye's Playhouse" was POP-ular from the get go, and Mary Ellen's audience was not just kids...about 40 percent of the viewers were adults. "I guess they like Popeye as much as the kids," said Mary Ellen. "I know I do."
Occassionally, live guests and visiting celebrities were welcomed to "Popeye Playhouse." In 1958 and '59, a recurring character named 'Senor Poncho,' taught viewers Spanish words, phrases, and songs. The gaucho's real name was Vernon Whitney and appeared two of three times a week. It was a very educational feature and 'Pancho' was quite a personality.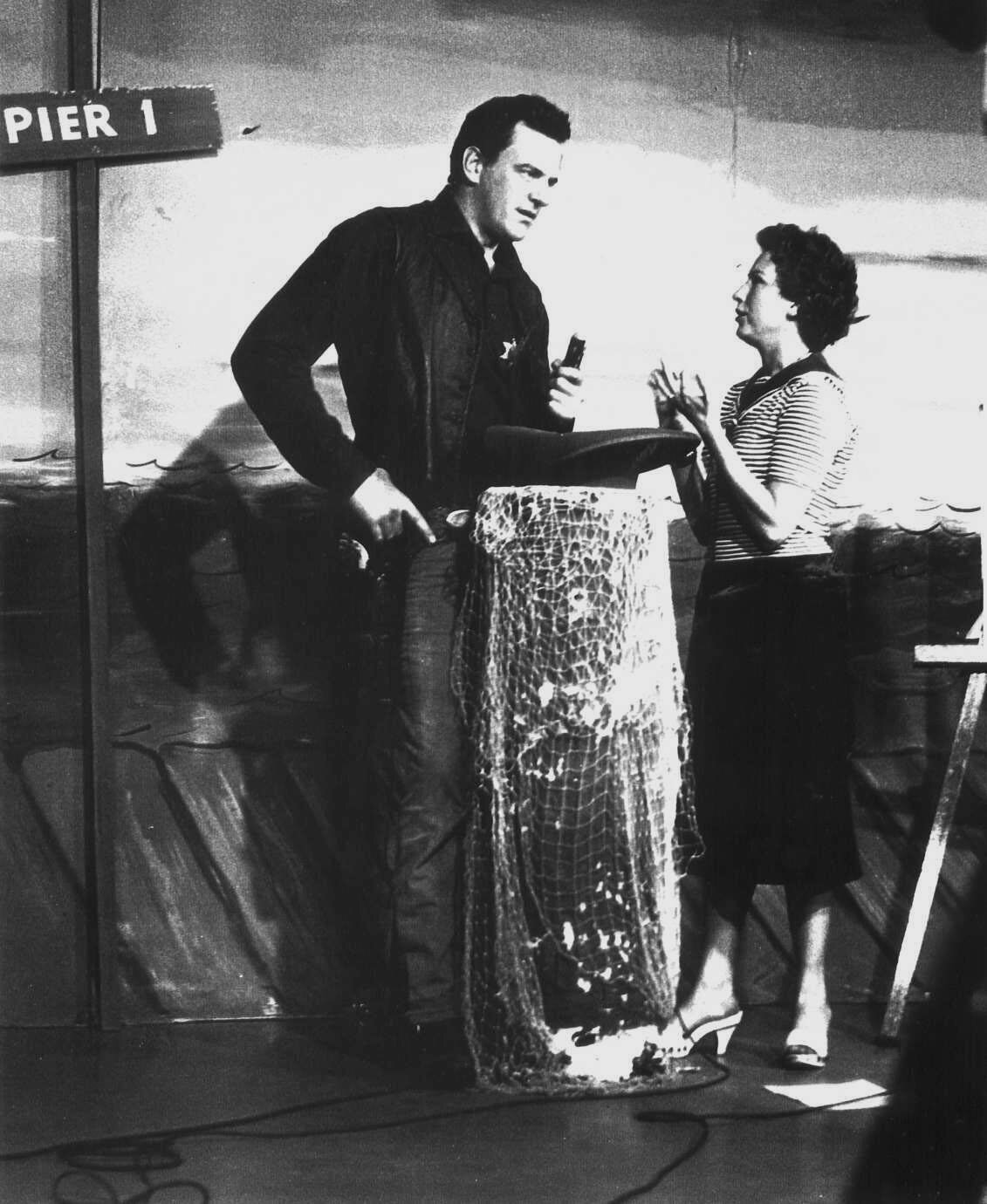 "How's the weather up there?"
Gunsmoke's big Jim Arness pays a visit to Popeye's Playhouse
THE 60's AND BEYOND
Eventually, her program became "The Mary Ellen Show" and was sometimes seen in an hour-long format. Huckleberry Hound, Quick Draw McGraw, Yogi Bear, and Dick Tracy cartoons were popular segments. A couple of puppet characters named Buggsie and Muggsie appeared semi-regularly, adding a fair amount of mayhem with pie-throwing and other physical humor.
Mary Ellen's parrot Poopdeck was more than a co-star. When Mary Ellen casually mentioned that Poopdeck loved to chew pencils, viewers sent in hundreds of them. Poopdeck, who was originally named Lolita before becoming a he for Mary Ellen, joined the show because "we needed a gimmick. What better gimmick for a nautical show than a parrot?" Although Poopdeck was popular with the public, the Channel 13 cameramen and stagehands often came away from him with finger bites and scratches, the result of the co-star's ornery disposition.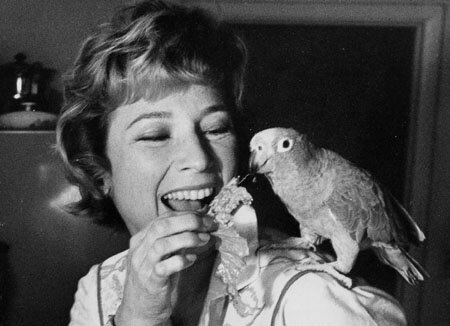 Watch those fingers, Mary Ellen! Poopdeck can be downright ornery!
Poopdeck would sometimes upstage Mary Ellen during commercials, and often during appearances. Once, he took flight from his perch and landed on the roof of shopping center. Workers had to get a ladder to bring Poopdeck back down.
Another time he grabbed all the limelight. "Is that the famous parrot who's on television?" one woman inquired. "Yes, this is Poopdeck," replied Mary Ellen. "Oh, won't the children be thrilled when I tell them I met him!" Not a word about Mary Ellen. "I was a little miffed at first," recalled Mary Ellen, "but then I realized that no matter how many people may recognize him and not me, I know how to endorse a pay check and he doesn't."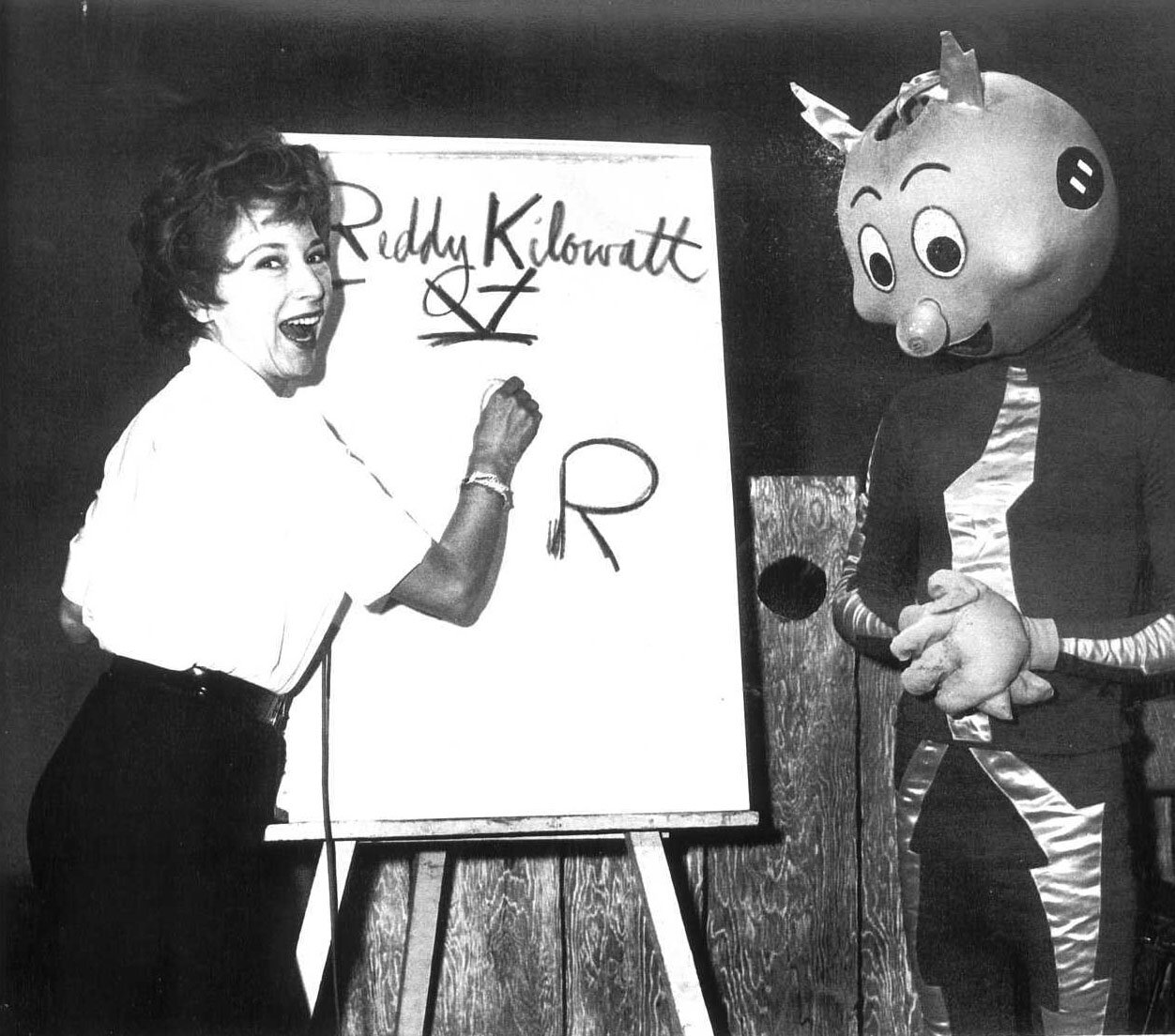 Mary Ellen gets a charge out of drawing Reddy Kilowatt's Funny Face. The Tampa Electric Company was a regular WTVT sponsor
Wherever Channel 13 scheduled Mary Ellen, she trounced the competition. Channel 8, taking note of Mary Ellen's ratings, counter-programmed with "Uncle Bruce," who would mysteriously appear opposite Mary Ellen during every time schedule change.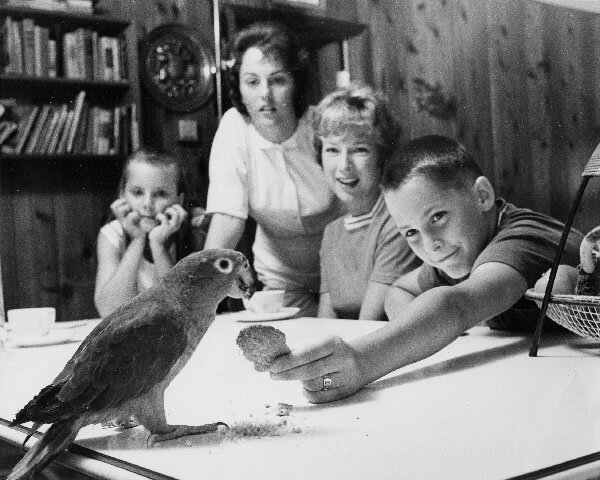 Robin, Gail, Mary Ellen, and Mark at
home with Poopdeck (1962)
At home, Mary Ellen's real-life children sometimes chafed at sharing their mom with every child in the Tampa Bay area. On weekdays, they shared custody of Poopdeck, who returned to his owner's pet shop on weekends.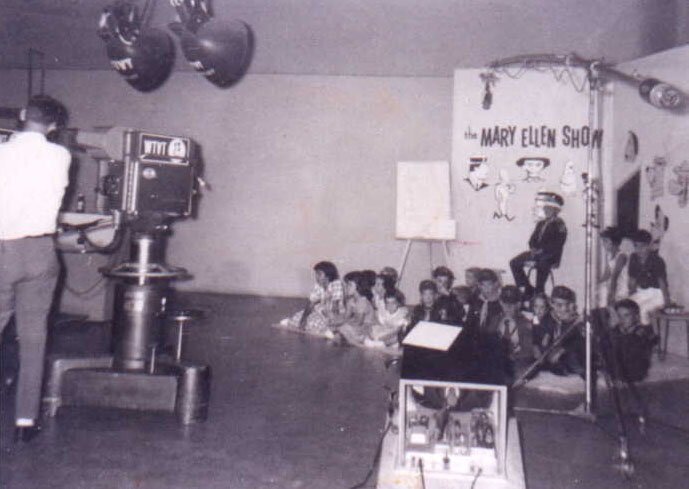 Mary Ellen's set in Studio B. I shot this on August 10, 1962.
Note RCA-TK11 camera at left, simple scoop lighting above, unmanned boom microphone at right Mary Ellen's 'Funny Face' drawing board is seen in the center. Next to the board sits the 'King' of day, a lucky boy scout in the seat of honor, a crown resting on his head. The kids could watch cartoons and see themselves on the line monitor at the lower third center of the photo. Tarnow hot dogs were being prepared off-camera that we would consume during the program.
Production requirements for Mary Ellen couldn't have been simpler. Two cameras and a floor man were about it in the studio, and the director and sound man in the booth. Cartoons (averaging three per show) were run from the master control room 16mm film chain. Mary Ellen's early 1960's set occupied the south west wall of Studio B.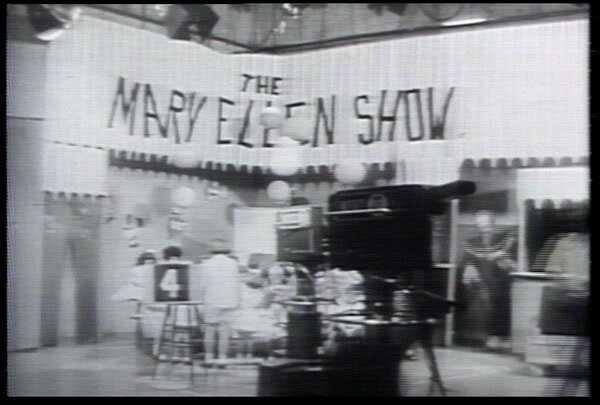 The Mary Ellen set in 1963. Bigger, better, more colorful...even in B &W!
The original wall with Hanna-Barbera characters occupies the center portion. Colorful patterns of cardboard decorate the upper part, which covers the 2nd floor catwalk. Although Mary Ellen herself is not in the shot, "Bozo The Clown," usually portrayed by Paul Reynolds, is glimpsed towards the right.
Later expanded to include a higher backing, Mary Ellen's set was moved to the Northwest corner (previous site of 3-D Danny's spaceship) and colored with green stripes.
For a short time, Mary Ellen made it into 'prime access,' on Tuesday evenings. Prime access is the time after the network news but before prime time programming. In 1962, that covered from 6:30 to 8:00 pm. Mary Ellen hosted "Cartoon Carnival," which consisted of three half hour programs...a new series from England called "Supercar," and two Hanna Barbera series, "Yogi Bear" and "Quick Draw McGraw." Mary Ellen's set was a window overlooking a carnival...only this carnival was a miniature, table- top affair. Cartoon Carnival lasted only a few months, and the three shows were returned to earlier time slots.

Mary Ellen always had 'The Right Stuff.' Here, she takes a flyer at MacDill A.F.B. At her request, the pilot flew upside down!
ALL GOOD THINGS...
After being on the air continuously for 12 years and hosting five or six shows a week, Mary Ellen left Channel 13 in the spring of 1964. When the St. Pete Times caught up with her later that year, she stated that the show ended so that she could spend more time with her family. "I've worked all my life." she said, "This is the first time I've been able to sit back and let someone else take charge. I loved working, never thought I could be happy without it. But I have neither desire no plans to return to television. Some time I might consider doing one show a week, but no more."
Mary Ellen added that her children were now teenagers who are glad to have a full-time mom. "It's much nicer for everyone now that I'm less nervous and irritable. Besides, my husband has wanted me to leave television for years. He appreciates having his meals on time when he's home."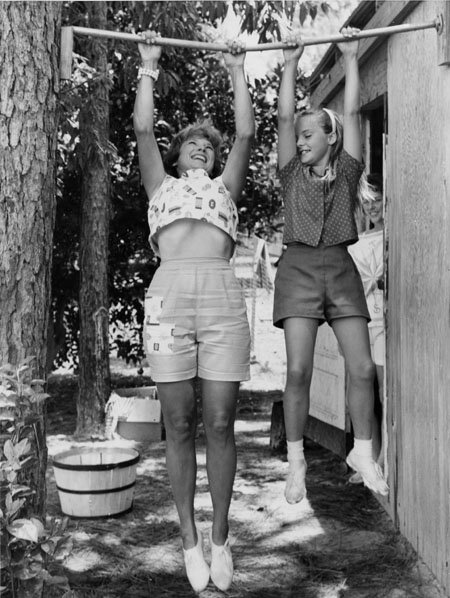 Hangin' with mom. Robin enjoys having Mary Ellen at home...live, and in color!
When not attending to her family, Mary Ellen was publicity chairwoman for the Tampa and Silver Lake Women's Golf Association. An avid Golfer, Mary Ellen walked away with several trophies.
Mary Ellen and her family lived on 8 acres of land in northern Tampa, with two acres covered by fruit trees. It was the third home that Clyde had designed and built for them since their arrival in Tampa in 1957. Clyde was in the process of building them a new home, and they would soon be moving a few miles north to Quail Hollow. After that, a new development in Pebble Creek was planned by Clyde, who moved the family again and also managed the golf course.
WHERE DID EVERYONE GO?
With Mary Ellen gone, Channel 8 had a clear field for Uncle Bruce, who spent years following Mary Ellen on the TV schedule. He also disappeared from TV screens shortly after (although his Sunday morning "Kid's Bible Club" remained for a while).
The departure of Mary Ellen, Uncle Bruce, and just about every other local kid's show personality across the country has more to do with economics than with the personal wishes of their hosts.
Companies like Hanna-Barbera would format a half hour cartoon show that needed no live host to introduce it. This means that the money a station would pay for a live host, along with the production costs, would instead go into the bottom line...i.e., higher profits. By the late 60's, local kid show hosts were mostly gone in favor of syndicated cartoons, talk shows, and game shows. It's rather sad that a youngster growing up now has no local personality to be his 'television friend.' Someone he could see live at by attending a studio show or a personal appearance. Local personalities helped define a station and connect to their audience. It's a bygone era, and TV viewers are much the less for it.
"I only know that almost all small children are good," says Mary Ellen in parting. "Only those who are too-spoiled are unmanageable. As for teenagers, I'm afraid I haven't yet learned to handle my own."
Mary Ellen was the cream of the crop, and talent like hers is not likely to come this way again, or if it did, be offered the chance to entertain and inform our young viewers.
MARY ELLEN UPDATE: FIND OUT WHAT HAPPENED AFTER HER SHOW ENDED BY CLICKING HERE
FOR A LOOK AT OTHER BAY AREA KID SHOW PERSONALITIES, CLICK HERE
TO RETURN TO THE MAIN MENU, CLICK HERE
*Popeye was a huge hit for TV stations all across the country. In 1957, The cartoon character's studio, Paramount, released a large library of Popeye theatrical cartoons produced by the Fleisher Brothers and Famous Studios. In 1961, over 200 new cartoons were produced. This package was seen on local TV stations well into the 1980's.