Seeing 'Red'
Lyle "Red" Koch on "3-D Danny," "Buggsie and Muggsie," and moving up the ladder in local and national TV
"Red" Koch died on November 3, 2002. This article is based upon an interview conducted with him back in June, 2002. We are fortunate to have spent time talking with Red, who was a great guy and an excellent example of the Channel 13 spirit.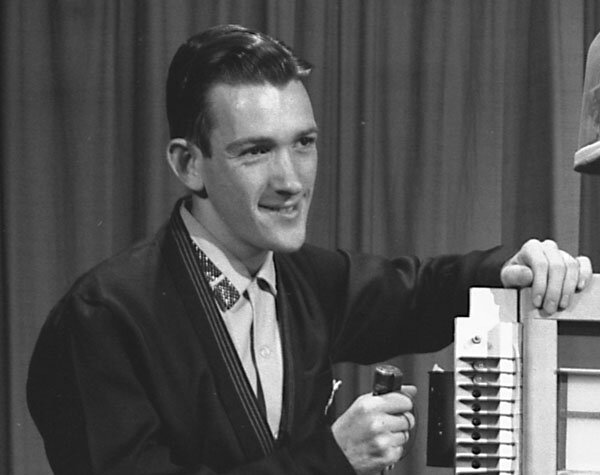 Red was originally from Pennsylvania, and moved to St. Petersburg with his Mom in 1954. He attended Boca Ciega high, and then majored in Speech at St. Petersburg Junior College. Red was also a fan of television, which had come to St. Petersburg in 1953.
"I got really interested in televisionhow do they do this? I became very fascinated with the behind-the-scenes part of it."
Red particularly liked variety shows such as Ed Sullivan. Another favorite was ventriloquist Paul Winchell, who had a prime-time show with his popular sidekick, Jerry Mahoney. Ventriloquism became Red's hobby, and he purchased a dummy and named it 'Clyde.' Red and 'Clyde' performed at parties and schools.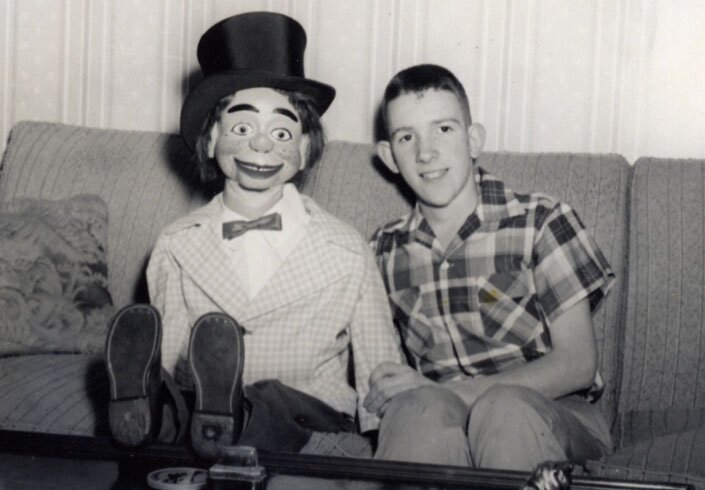 Red and 'Clyde'...ready to invade show business!
The lure of television finally inspired Red to try and get into the business.
"One day I took my dummy Clyde, drove my car over to Channel 13 in Tampa, walked inand spoke with Ken Smith. Ken saw my dummy, and set up an audition right away. I went into the studioKen brought a number of station executives into the control room. They pointed a camera at me, and I was just shaking in my bootsI was very, very nervous. I did my little act, and got a job. Not because I was a good ventriloquist, but because I could do a couple of different voices. They liked the voice of the dummy, and were looking for someone to play the robot on '3-D Danny'. I never did any ventriloquism on television.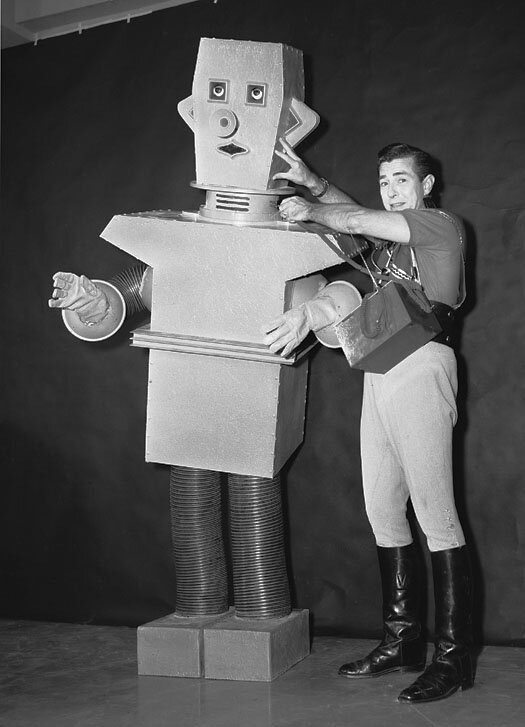 'Ruffnik' and 3-D Danny
The 3-piece costume consisted of the bottom with legs, the torso with arms, and the head piece. Red Koch's face is hidden behind the slits cut into Ruffnik's neck
I ended up getting in this silly robot suit, and doing the voice. They had this very bulky, fiberglass suit, and I had help getting in the costume, which was two piecesand tubing for the arms and legs. My eyes were hidden in the neck area. The suit was very awkward, and I fell all the time. Things went wrong often."
Despite the low pay, Red's enthusiasm for television was unwavering.
"They paid me $5.00 per show. I had my own car, and probably spent more on gas driving from St. Petersburg every day. Even though it was a long drive, It was a joy to get there and know we were going to do a show and be on TV and the kids would be watching."
"3-D Danny" was a live, five-day-a-week program. The adventures occurred for two or three minute segments between Warner Bros. cartoons. Red found that his improvisation skills came in handy.
"There were no rehearsals. It was pretty much fly by the seat of your pants. Ed Scott was just terrific to work with. He was very funny, and a good artisthe did these wonderful caricatures. On the show, Ed knew what kind of lines to feed me and I'd try and make jokes out of them."
Because Red was hidden inside Ruffnik, it meant an opportunity to do double duty.
"I could get out of the suit and play other characters, like the Lieutenant. I was very young, and Ed was older than I, so I was like his junior buddy."
"3-D Danny" became yet another success on the WTVT schedule.
"Ken Smith wrote the scripts, and the shows became a little more sophisticated and extremely popular. Kids would write letters to usesend in drawings of the robots and the puppets.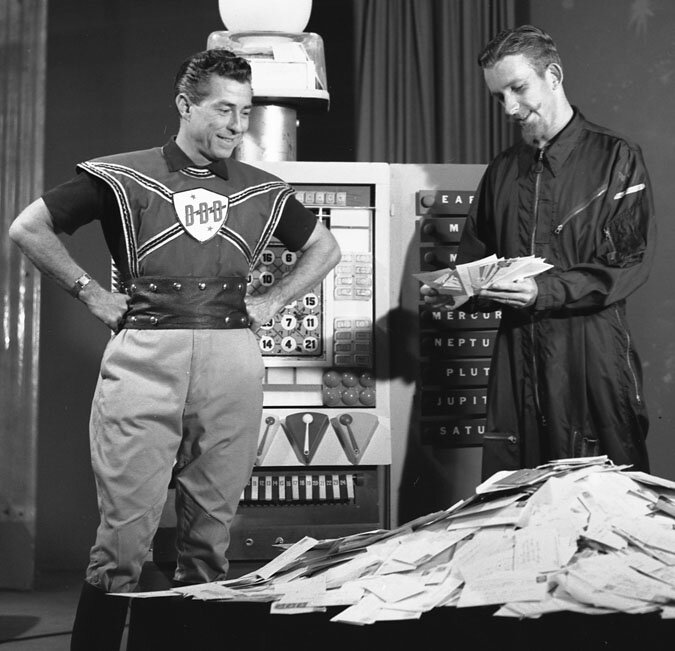 Ed Scott and Red read entries in a contest to name the robot
I did personal appearances in the robot suit with Ed Scott. It's 95 degrees out but I was dedicated to the craft, and they paid me about $10 per appearance."
Working in and out of costume for '3-D Danny' was great, but after a couple of years, Red felt the need to look towards his own future.
"I started thinking that I couldn't play a robot all my life. One day I was in a store and saw these two hand puppetsand I bought 'em. My hands are a little on the small side, so they fit into these kid-sized puppets. The puppet's sleeves weren't long enough for television, so I got some striped cloth to extend the sleeves all the way up my arm. I started playing around at home trying to develop personalities so they could have conversations. Muggsie was slow witted, and Buggsie was the wise guy."
Red took his new characters to Ken Smith, who immediately added them to the cast of The Mary Ellen Show.
"Mary Ellen would come over, like Kukla, Fran, and Ollie, and talk to the puppets. The puppets would misbehave and Mary Ellen would try to teach them some manners. We were on her show every day for a minutes...either they would talk to Mary Ellen, or do little bits themselves."
When WTVT's program director Bob Olson bought the 'Three Stooges' program, he named Buggsie and Muggsie as hosts. Red was given a raise to $37.50 per show, making him the highest paid puppeteer in the Tampa Bay area. He decided to try and break some new ground in television puppetry.
"I got tired of them being confined to a puppet stage. I talked to the director and told him I wanted the puppets to leave the stage and walk around the studio. Go into the news set, or into the hall or the control room. I told the cameraman to make sure he didn't shoot meto just keep the puppets in the shot. I crawled on my belly or my backa stool with wheels would have been a luxury. I had my lavalier microphone on, and we broke the rules for puppets on TV."
Buggsie and Muggsie's show lasted for a couple of years, and Red once again found himself in luck.
"Channel 13's promotion manager left and they asked me if I'd like the job. I said, 'yeah, now I can be a suit and wear a tie to work.' I continued Buggsie and Muggsie for awhile and was the promotion manager. I must have been around 21, and learned how to deal with the network, how programs are bought and sold. I got to go to department head meetings and help plan strategies. I was a very lucky young man."
Red married and became the father of a son. His career path continued upward and onward.
"I had been on the promotion job for two years, and got to go to New York to attend the CBS fall schedule events. They would throw a big party for the affiliates. Two years earlier I was wearing a robot suit and doing puppet shows, so I felt very, very lucky. Someone at CBS and I became fairly close friends, and he offered me a job with CBS's promotion department in New York. My head was in the cloudsI'm from a small town in Pennsylvania. To me, this was just unbelievable that this little kid who used to sit and watch television was now working in it behind the scenes. I met almost every celebrity who was popular at the time."
Red enjoyed the perks of being a CBS employee, such as attending broadcasts of "The Ed Sullivan Show," and visiting former WTVT newsman Ed Herbert at the CBS News Room, where he saw Mike Wallace and Walter Cronkite. But New York did not sit well with Red's wife, and he missed being part of a station like WTVT.
"I really like the environment of a local station. You're not the big cheese like at a network, but you know everybody and a local station did it allthe newssportskids' shows."
Red left CBS and after a difficult job search, took a position as the promotion manager of WKBW, a new ABC affiliate in Buffalo, NY. A week later, Red's job was in jeopardy when the station was purchased by Cap Cities. Red's luck held and he was not only retained, but promoted and given a raise. He eventually became program director, and two years later, WKBW was the number one station in the market.
"They were open to new ideasand wacky promotions. They loved doing local programming. We did kid shows, a lot of them stolen from WTVTwe did a space show with a robot."
Cap Cities moved Red to Houston and later to Hartford, CN. It was a happy 20 year association. Red later joined Hobby Broadcasting, and returned to Houston as the program director of their station. When the station was sold to Post/Newsweek, Red was out of a job and experienced the problem of being a 50 year old local-station programmer. After several interviews conducted by much younger executives, he decided to retire to Deland.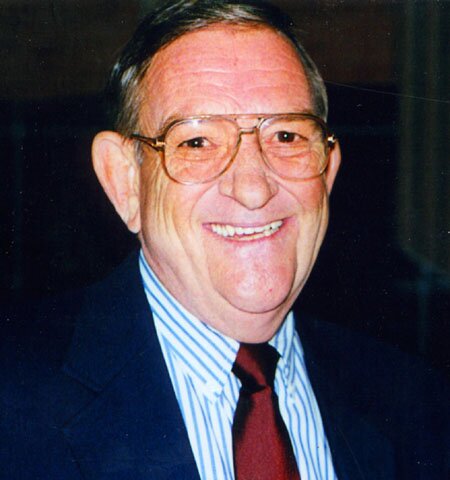 Red Koch (1998)
Red summed up his career with a nod to his beginnings at WTVT:
"WTVT was the beginning for me. I walked in off the street, and if Ken Smith hadn't taken a chance with me.It never would have happened. It was a great time, and the people at 'TVT were so welcoming to a kid like me. It was a magical time to be in television."
EPILOGUE: Red was in frail health from liver cancer and emphysema during the summer of 2002. During a vacation in the British West Indies in mid-October, he was returned to Florida by air ambulance.
I'd sent a package to Red containing a set of 'Buggsie and Muggsie' puppets and some photographs of him with 3-D Danny. Red's wife Linda surprised him with the puppets during a visit to see him in the hospital. She told me that Red was very happy to see his old characters, and they enjoyed looking through the pictures of him as "Ruffnik" the robot.
Red's condition worsened and when doctors could do no more, he was returned to his home on a lake near Deland, and died a few days later. His loving wife Linda and his sister Donna were with him at the time.
"BIG 13" thanks Linda and Donna for keeping us apprised of Red's situation. I'm sure everyone who worked with Red or watched his antics on television, are sad at his passing.
--Mike Clark
Lyle "Red" Koch
September 2, 1938 - November 3, 2002
To return to "3-D Danny," click here
To return to "Capt. Mac and Other Kid's Show hosts, CLICK HERE
To return to Main Menu, click here