Tommy Eure Studios
The Big Holdout on Big 13s City Block

Tommy Eure...WTVT's closest neighbor!
For 22 years, Tommy Eure Photography occupied the only real estate parcel not owned by WTVT on the full city block containing its television studio facility.
During most of those years, WTVT wanted Tommys property to complete the block that would eventually be exclusively the television stations home. Eure wanted to sell but at his price and on his terms.
Eure (pronounced your) bought the parcel at 1117 Memorial Highway, just west of what would become WTVT studios, in 1953 and opened a commercial and portrait photography studio. The land was cheap because at that time, 99 percent of the westbound traffic curved left at Henderson Boulevard, a block short of Eure's location, to head towards the Gandy Bridge. At that time the Gandy was the only route from Tampa to St. Pete other than through way-out-of-the-way Oldsmar.
Memorial Highway was a two-lane gravel road from Henderson right on west to the bay, the 83-year-old Eure recalls. The narrow roadway was lined with oak trees on both sides that met in the middle to make the trip seem like you were going through a tunnel. It was a beautiful drive.
There was an old shack house, a fish farm about where Westshore Boulevard is now, and Knights Grocery Store was on the north side about where Clark Street comes through today. It had two hand-crank gas pumps where people got their fuel at around 20 cents a gallon and you could always get your bread and milk sort of odds an ends there too. Other than those, there was only vacant land with lots of trees.
A new building went up next to Eure's shop, comprised of two square wings and fronted by a curved portico. A Greek restaurant was scheduled to open there in 1954. It was an exciting time, says Eure. I remember all the hustle and bustle in the weeks just before the scheduled restaurant opening. Workmen were delivering all kinds of big refrigerators, stoves, tables, chairsall kinds of restaurant equipment. It was never used even one day. The owner died of a heart attack just one week before it was to open. It was heartbreaking.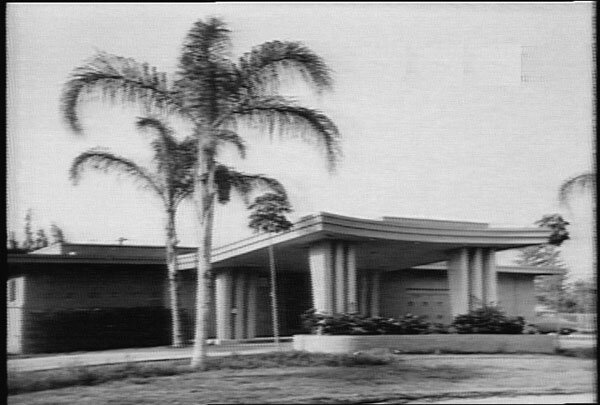 The Greek restaurant...future studios of WTVT
Eure remembers the building sitting vacant for more than a year, with vandals breaking most of the windows, looting any loose equipment and living inside at night.
The only other building on the block was a tavern at Bradford and Kennedy, immediately west of where the Gulf Service Station (now State Vacuum Co.) was. Bob Mashburn, the owner, had become disinterested about that time and jumped at the chance when approached by Walter Tison to purchase the property for a new television station, WTVT.

Tommy Eure and his smokin' '55 Chevy Nomad. In the background you can see part of the WTVT building and the single-masted tower.
(Photo Courtesy Tommy Eure)
Eure was elated when activity re-ignited next door at 1113 as the building was restored and retrofitted as a television station. He didnt have a lot of time to watch the action but it was, nevertheless, something he had long hoped for.
I could finally give my customers great directions to my placeI was right next door to Channel 13, Eure says. It did wonders for my business. And on occasion I would get calls from the station to do various photography jobsmostly when their own people were backed up with work.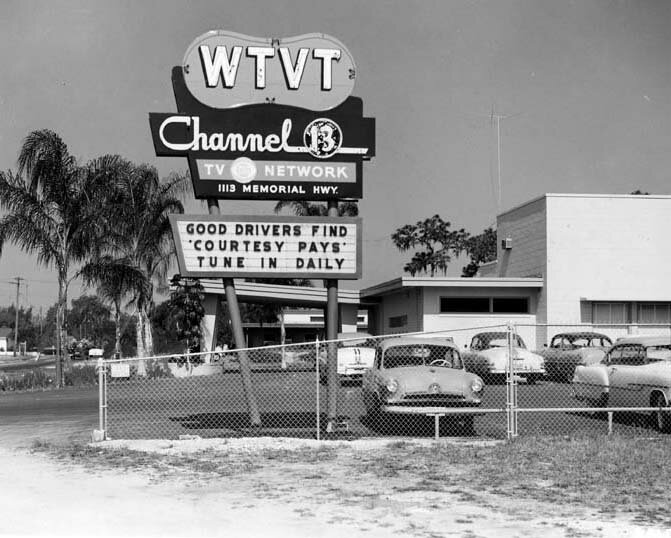 WTVT's studio attracted interest to Memorial Highway. Eure's studio is hidden behind the curved portico entrance
The station did wonders for the roadway. Its name was soon changed to Grand Central and commercial development quickly spread westward to Dale Mabry and more slowly on to Westshore Boulevard. In 1964, the street was renamed Kennedy Boulevard in memory of the assassinated president who had traveled it only four days before his death.


Nov. 18, 1963. President John F. Kennedy's motorcade passes by Eure's shop and WTVT's studios four days before the assassination
(Photo Courtesy Tommy Eure)
Eure owned two lots, one where his studio was and one to the west. In the late 50s, he sold the empty 50 X 140 lot that extended west to Lincoln Avenue to WTVT for $10,000, part of which is now the stations satellite dish field. But he didnt want to let go of his business location, even as WTVT expanded in 1957 and in later years almost completely surrounded his tiny studio.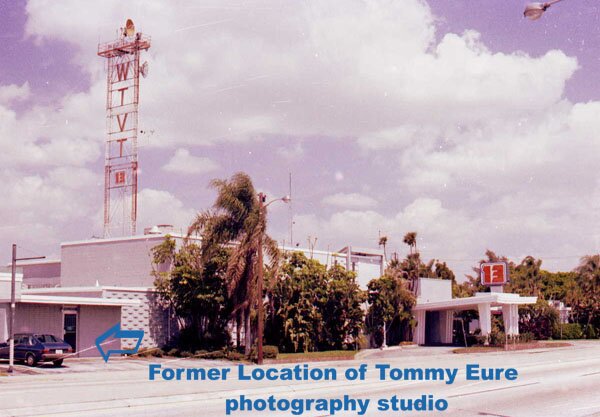 This 1987 photo shows the original location of Eure's studio. Big 13 had almost completely surrounded the Tampa photographer's studio.
In 1960, Channel 13 sports director Sol Fleischman invited me to go to lunch with the station manager at the Palm Ceia Golf and Country Club to talk about some business, remembers Eure. What came out of the meeting was that WTVT would buy the property directly across the street from me (where a strip mall now stands) and build an identical studio with some minor modifications and give me $20,000 for moving and other expenses. Both parties agreed to the arrangement.
WTVT bought the lot, hired an architect, secured a builder and was ready to proceed. Then one day I was in the general managers office and he advised me they were $5,000 over budget and asked me to make that much of a concession. I told him I couldnt and just walked out of the station.
Eures studio would remain a thorn in the side (literally) of WTVT for 12 more years until 1972, when an attorney representing WTVT and general manager Eugene B. Dodson approached the photographer about another deal.
This time it worked out. The agreement was that Eure would be paid $75,000 in installments and could remain doing business on the property for ten yearsthe end of the term being about the projected time the station would finally need it.
The price I got was a lot of money back in those days, Eure says. I didnt want it all at once, either. Tax laws were a lot different then and installments were very advantageous to me in that regard. WTVT was willing to accommodate in whatever way would make the deal happen.
Five years into the agreement, Eure decided he wanted to take his business in a different direction and approached the station about buying him completely out and letting him move away. That was no problem for an eager Dodson, who shelled out the balance of the mortgage and agreed to pay Eure $50 per month for the five additional years he would not be doing business there.
Months after the photo studio moved, WTVT connected it to its building and, ironically, made it the photography and graphics department, which it remained until the entire structure was torn down upon completion of the current modern studio and business offices.
For years before Eure departed, employees speculated on exactly how the station would ultimately get him out of its hair. Only a few at the top knew exactly what sort of negotiations and arrangements had taken place. The Eure property issue was endlessly discussed in gossip and the subject of speculation by almost everyone in the station until the day he moved out.
And now you know the rest of the story, as Paul Harvey would say.

-Story Contributed by Tony Zappone
PULSE EXTRA: Tommy has written a first-person account of how he planned and achieved the historic John F. Kennedy photo seen above. To read about it, link to Tampa Remembers John F. Kennedy
TO RETURN TO MAIN MENU, CLICK HERE