WTVT Weather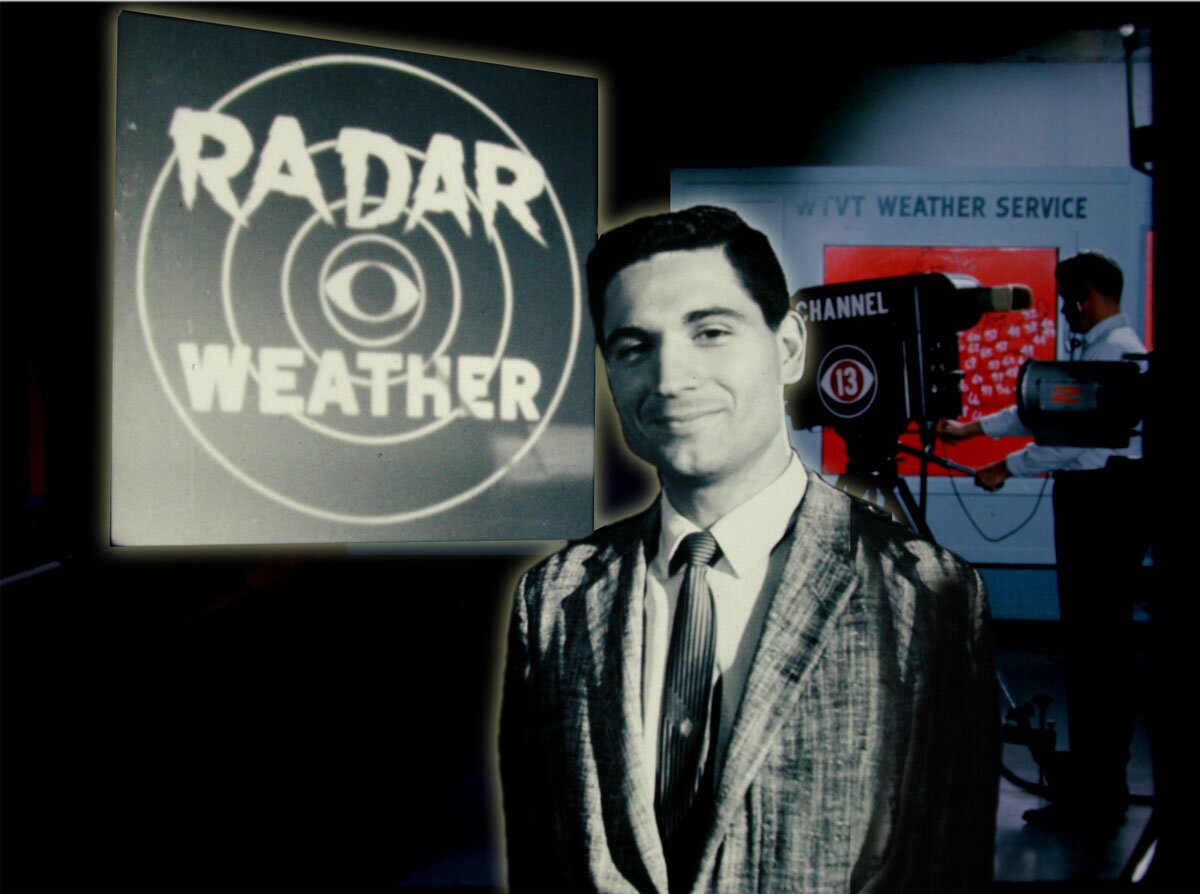 Roy Leep, Channel 13's veteran meteorlogist
Weather reporting is an afterthought at many television stations around the country. Not so at WTVT! Besides being known as 'the lightning capital' of the United States, the Tampa Bay area is vulnerable to hurricanes, water spouts, thunderstorms, freezing temperatures, and drought. On top of that, the tourist population wants to know 'how cold it is back home.' It makes visitors feel like they're getting their money's worth if the relatives back in Wisconsin, New York, or Toronto are treading through six feet of snow.
There was no weatherman on staff when WTVT signed on in April of 1955, but they did have an employee with some weather-related experience. Bill Stokes had worked at WIRK-TV in West Palm Beach, where he served as Continuity Director and on-air weatherman. Stokes was then hired as a Continuity Director and promotional writer by WTVT's Program Director Monte Gurwit.
Speaking from his retirement home in Central Florida, Stokes told BIG 13 what happened next: "One September Sunday evening I stopped off at Monte's house. He was in the back yard repotting orchids, which - along with a yappy parrot, were his passion. Monte casually asked me, 'Mr. Stokes, what's tomorrow's weather going to be?' I mumbled something about calling the Weather Bureau, and Monte suggested I do that, because I was the station's weatherman starting the following week!"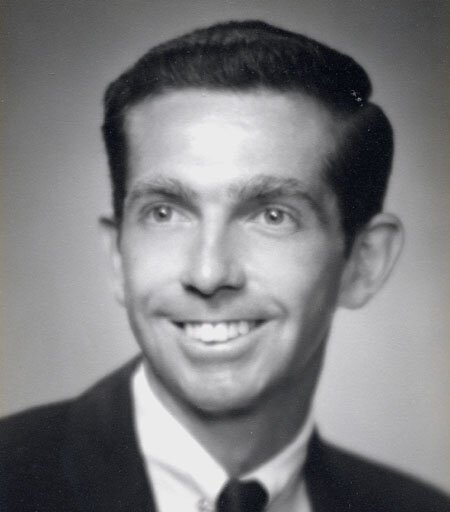 Bill Stokes
WTVT's first weatherman

Stokes delivered the Monday through Friday weathercast at 6:10 p.m. Having no practical weather-gathering equipment, Stokes' meteorological reports were compiled from information received off the National Weather Service teletype. A talented quick sketch artist, Stokes would stand behind a transparent weather map and draw the temperatures, weather fronts, and forecasts using a white marker. The trickiest part was that he had to draw backwards, so that the camera, and subsequently the viewers at home, would see the numbers and diagrams correctly through the transparent map.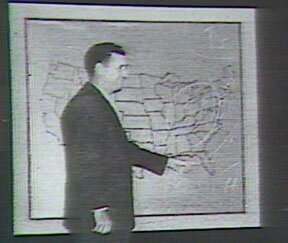 Charles Stump, WTVT's original
Chief Meteorologist
Once Gaylord Broadcasting purchased WTVT in 1956, it was decided to have a more qualified weatherman and Charles Stump replaced Stokes. Stump was Channel 13's first Meteorologist, which requires more certified training than a weatherman. Stump's weather department was in a closet-sized office. His only tools were two weather teletypes and a weather facsimile machine.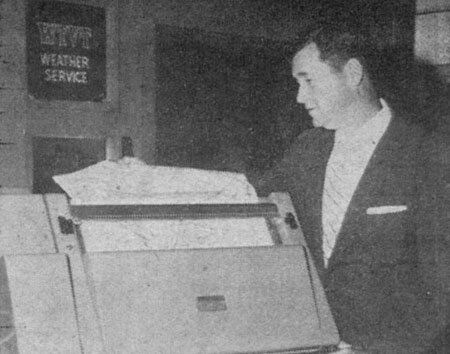 Charles Stump and his weather facsimile machine
There were no live satellites in space telling Stump where the high and low pressure systems were building, or where the next hurricane was forming. Stump relied on experience and government forecasts to predict the rapidly changing Florida weather. Stump left WTVT in 1959 and for a brief time was seen on WFLA, Channel 8 during the 11pm news block. His next move was to WESH, Channel 2 in Orlando/Daytona Beach.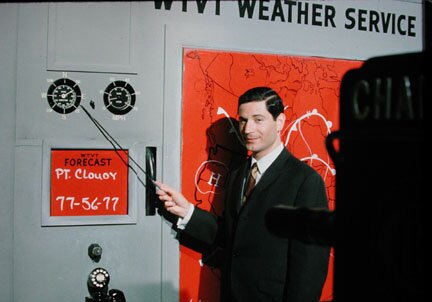 Roy Leep in 1959
(PHOTO COURTESY ROY LEEP)
In August of 1957, a young meteorologist named Roy Leep joined the weather department. Leep, who resembled a young Gene Barry, was earnest in his desire to educate the public on weather topics. He was destined to turn WTVT's weather department from a high-school science project into a leading edge facility.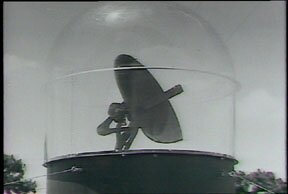 Roy's first radar, a Collins WP101 with a 3 foot dish, was protected from the elements by a Plexiglas dome. Originally installed on the roof of Studio B by Jack King and Ed Shaw, it was relocated to the apex of the 'twin-tower' antenna in 1961. The radar was so powerful it sometimes interfered with equipment at nearby MacDill Air Force Base
The transformation began in 1959, when Leep, taking over as the station's Chief Meteorologist, installed Florida's first radar unit used exclusively by a TV station. The radar was situated atop Studio B and later moved to the 'Twin Tower' antenna. For ten years, Leep's radar weather eye was the only such detection device in a Florida TV station.

(At right: Radar as scene through television camera)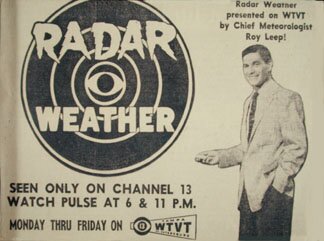 Radar Weather newspaper ad (1959)
Leep then formed a group of 30 individuals to become Severe Weather Observers...his eyes and ears throughout central Florida (the group had grown to 300 as of 1980).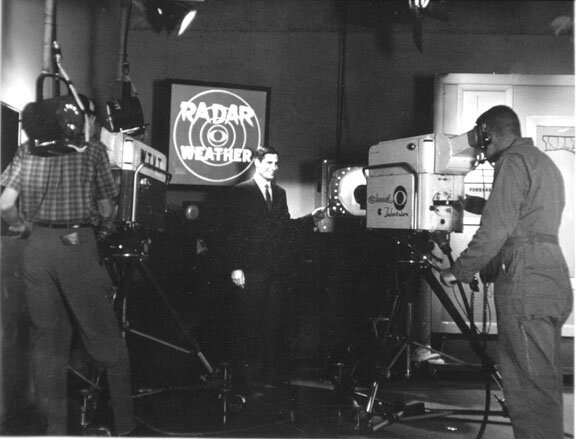 Roy Leep on the air in 1959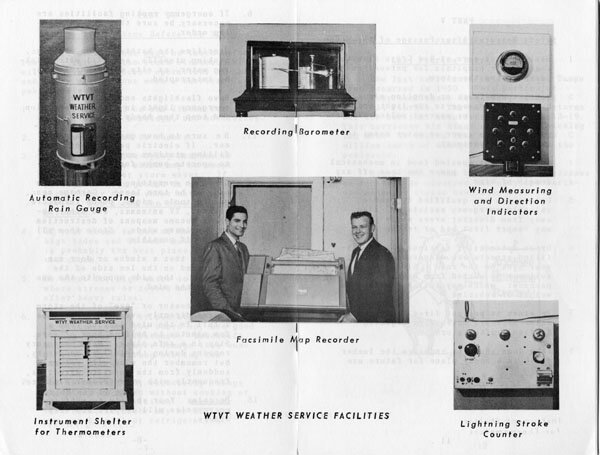 State of the art equipment at the WTVT Weather Service in 1959
Leep published an annual guide called "Hurricanes," so that observers and the viewing public could spot weather trends and track incoming storms.

"Hurricanes" was published yearly by the WTVT weather department.
They were loaded with weather information and maps.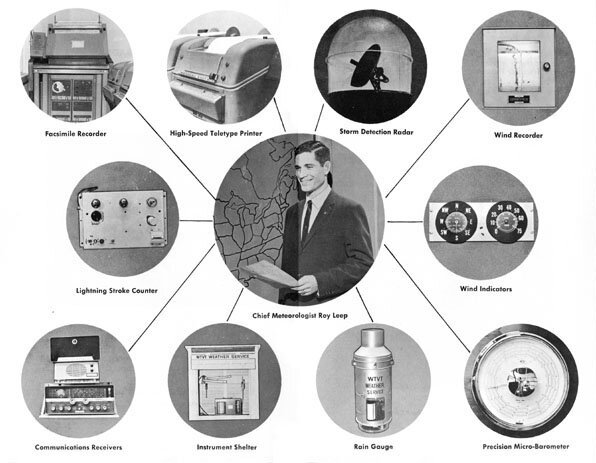 By 1962, Roy's equipment was more plentiful and sophisticated
Leep's interest in Florida weather eventually landed him inside a hurricane. Leep tested his own mettle more than once by flying with Navy crews into hurricanes, so that he could study their formation first hand.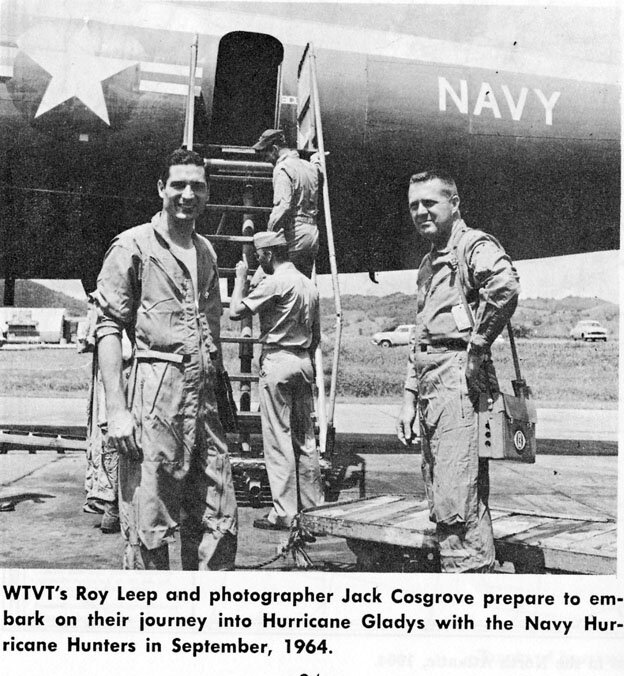 In 1965, the weather department was removed from the control of the news department, and Leep was appointed Weather Director. Under his reign, Leep supervised a staff of nine full-time meteorologists.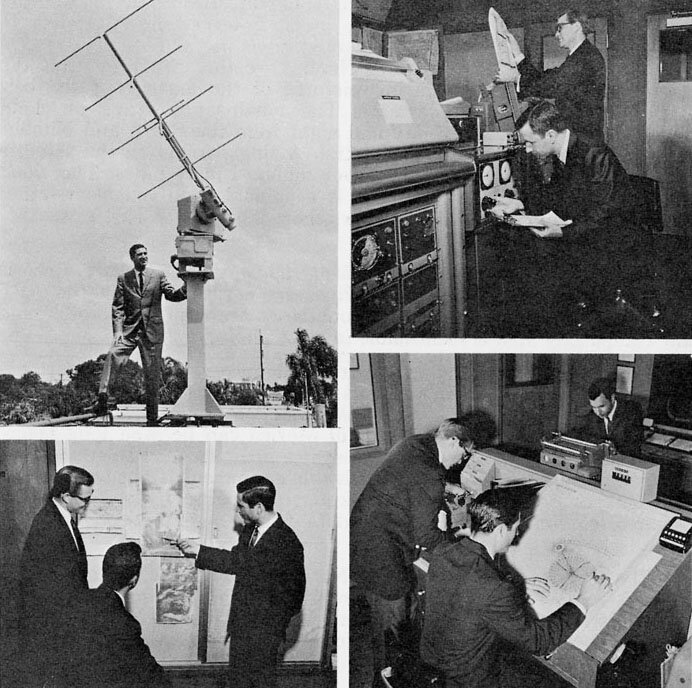 In many markets, weather is given two minutes at the end of a half-hour newscast. The weather guy is often a light-hearted soul who reads forecasts prepared by outside companies. At WTVT, Leep and his associates personally prepared all reports, and were afforded a full six to seven minutes of air time, and more if severe weather threatened. Leep was usually pretty serious with his on-air demeanor, and that set him apart from his competitors.
One cannot understate the relevance of Roy Leep to television in central Florida. Weather information is vital to the economy and the safety of its residents. Roy Leep was a calming presence...an eye in the storm if you will. Knowing that Leep was on the job watching out for the impending hurricane would give the viewer a margin of comfort that no other weather professional could deliver.

Leep's weather set was always located in the southeast corner of studio 'A'. The reason is that cables and controls for the various weather gathering instruments were all funneled to that part of the studio. In 1967, the weather report was broadcast in color but Leep was still using the same revolving map inherited ten years earlier from WKY-TV...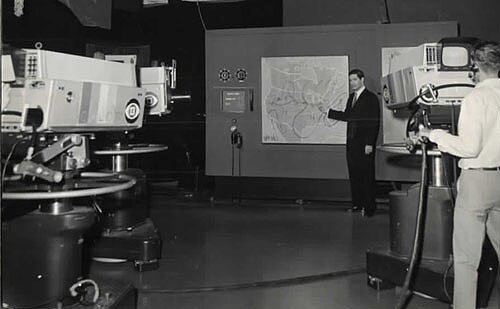 ...until later that year the set was given a modern facelift. Weather bulletins were issued directly from the weather office with cameras shooting through specially constructed windows.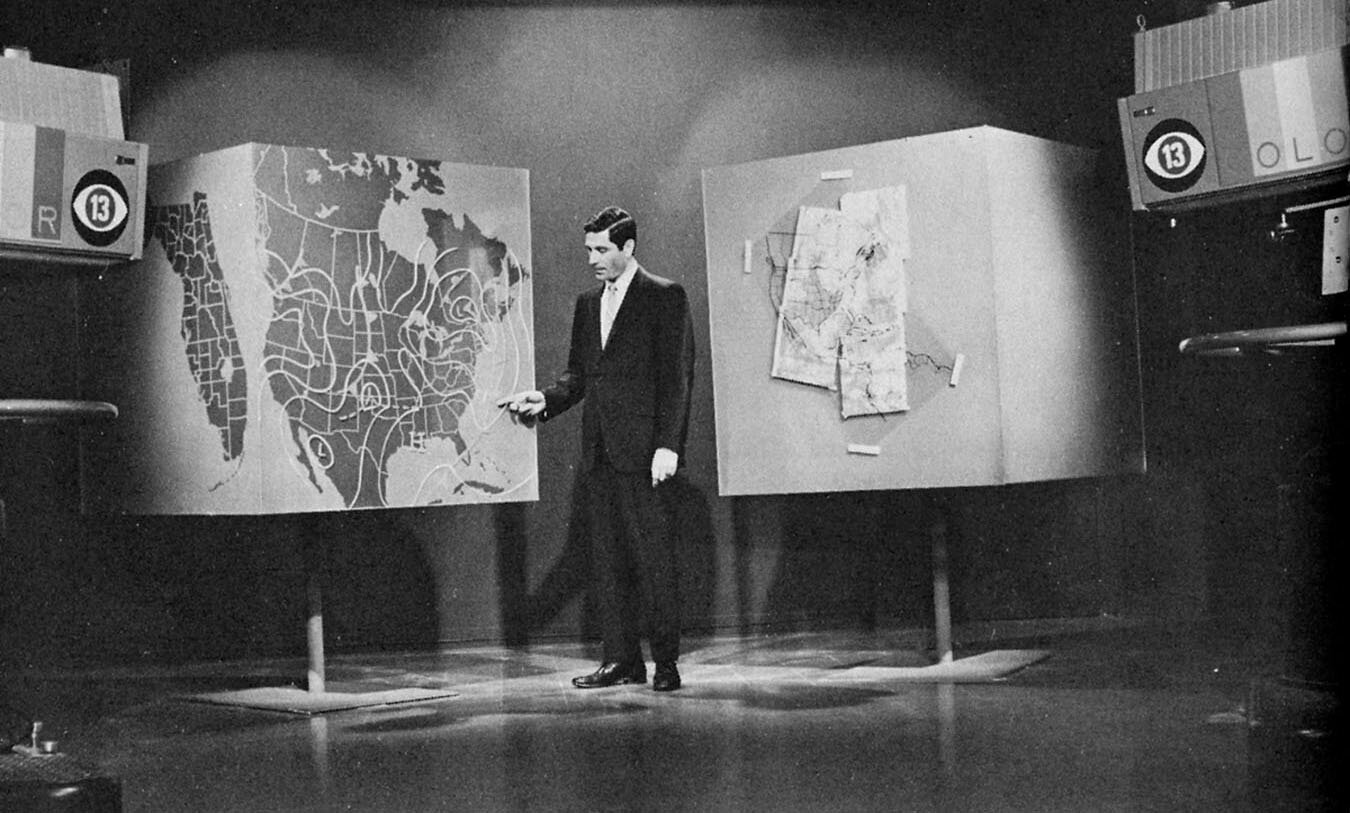 The new color weather set was used until 1971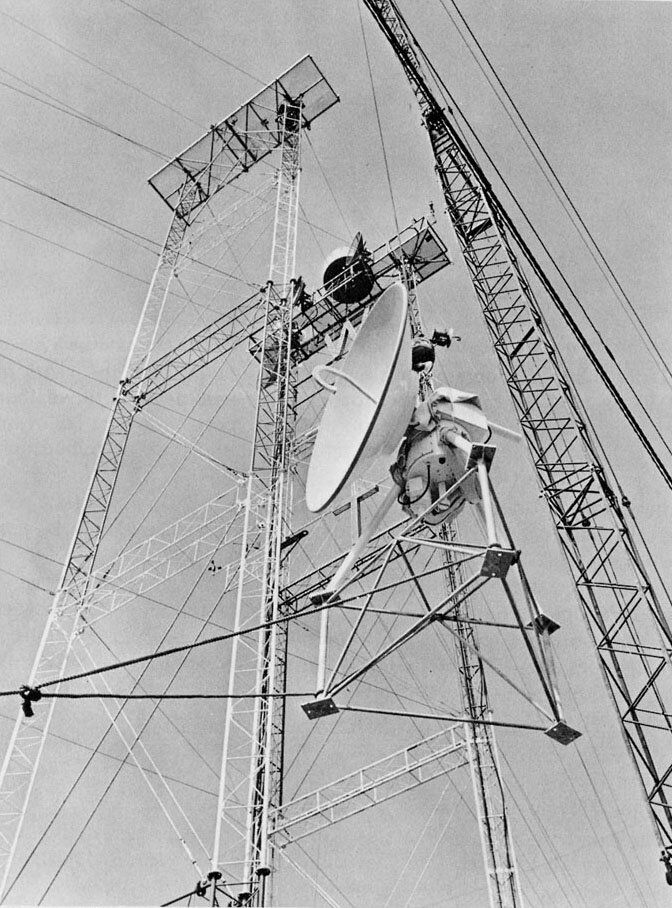 "Twin-Twin" tower. For a brief time in 1970, Channel 13 sported two twin towers.
The 1957 tower is seen here on the right, as Roy Leeps new radar,
four times more powerful than the original, is hoisted to its place on the new tower at left.
Other weather department innovations include satellite weather tracking in 1965, downloading of high resolution weather photos from the GOES satellite in 1975, color radar in 1976, Color satellite loops in 1979, and a gigantic satellite receiving station in 1979. Leep's design for the weather department's new headquarters in 1989 was astonishing. With a large scale, illuminated map of Florida centering a room filled with computers, satellite receivers, and gauges, the new weather center resembled a Pentagon war room.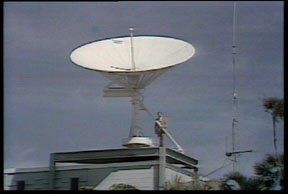 Roy Leep is dwarfed standing next to his satellite dish (1979)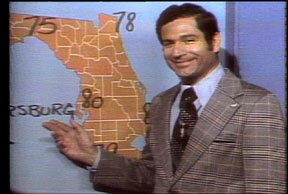 Roy and one of his color maps used prior to electronic graphics.
Using a simple paper map with temperatures applied via Magic Marker, Leep would recite local and national stats live and not miss a beat. His later electronic maps were always the most sophisticated, and controlled through the use of a dial carried in palm of his left hand.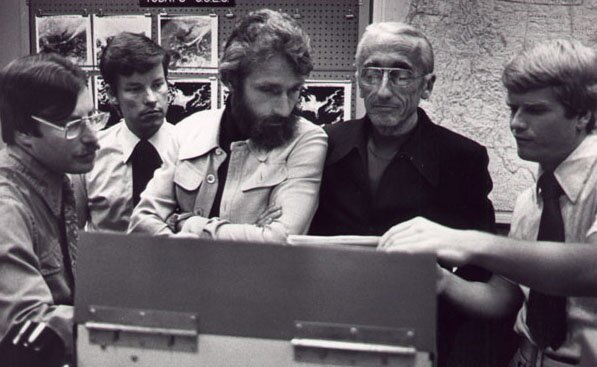 Following an appearance on Pulse Plus, Jacques Cousteau sees the
latest in Roy Leep's weather technology. (From left)
Howard Shapiro, Pete Johnson, Philippe Cousteau, Jacques Cousteau
Bill Kowal (PHOTO COURTESY PETE JOHNSON)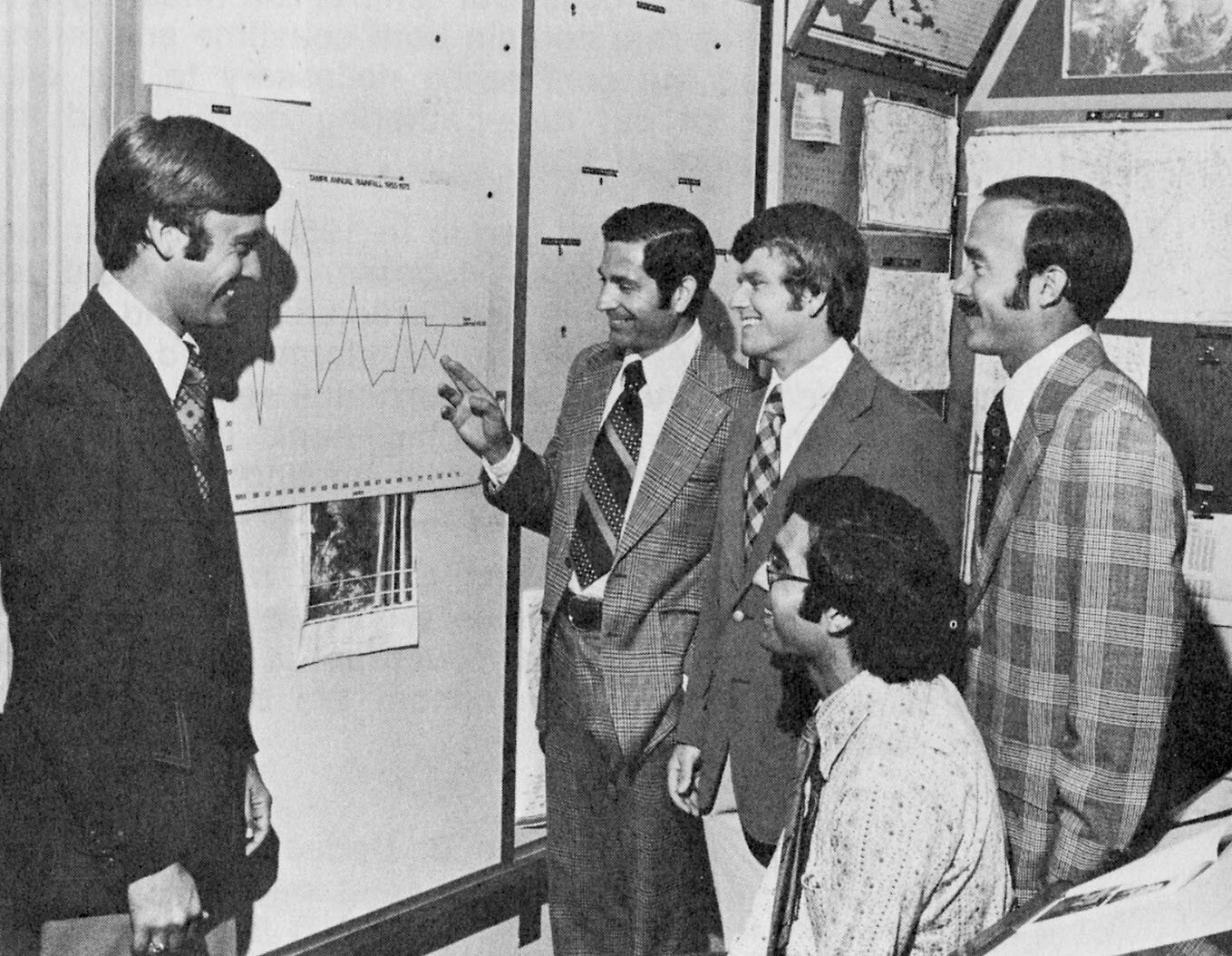 Leep's 1974 staff included (L to R)
Eric Meindl, Bill Kowal, Alan Motew, and Mark Schumacher
Leep was assisted by many meteorologists during his tenure at WTVT, including Jerry Peterson, Nelson Medina, Pete Giddings, Eric Meindl, Bill Kowal, Mike McCall, Teresa Varga (the first woman TV meteorologist in the area), Pat Wilson, Bob Breck, Carl Nichols, Alan Motew, Mark Schumacher, Howard Shapiro, and Andy Johnson (Shapiro is still with WTVT). Many of them have gone on to serve at other stations.
Leep's on-camera demeanor softened in later years, particularly when he included 'Scud' in his program. A Scottish Terrier who did not like being separated from her owner during weather casts, Scud became very popular with viewers and eventually appeared in several calendars. Scud lived for almost 18 happy years and was loved by many. She passed away on February 4th, 2003.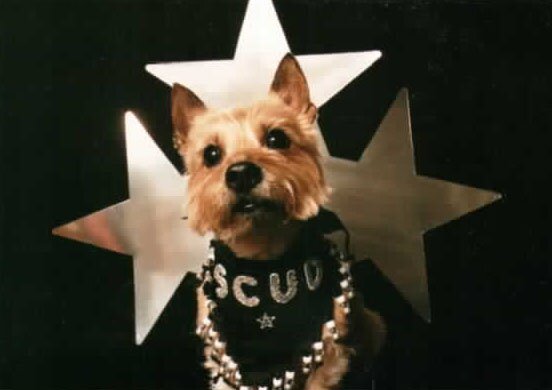 'Scud', Roy Leep's mascot and popular guest star
When WTVT built its new facility in the late 1980's, the most prominent feature is the concrete Skytower that dwarfs the height of the old twin tower. Sitting atop the new structure: Roy Leep's Doppler radar. In fact, it's the most powerful privately owned Doppler radar in the world.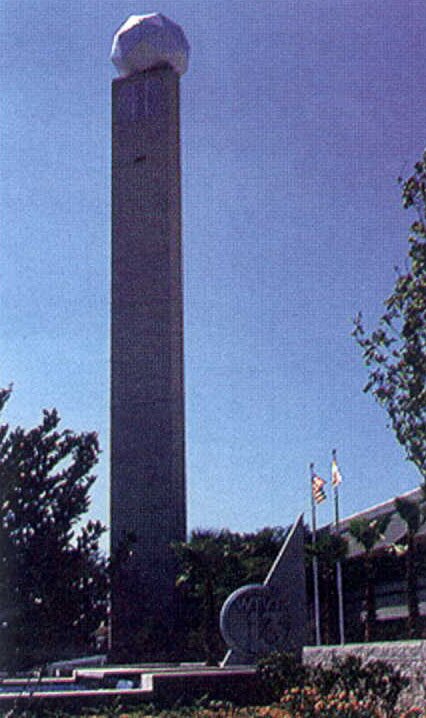 Higher than the 'twin-tower' radar, this Skytower radar
is the most powerful, privately owned Doppler radar in the world
Leep retired in 1997, and WTVT's newscasts on his final day were devoted to saluting his achievements. WTVT's new weather director, Paul Dellegatto, had some very large shoes to fill.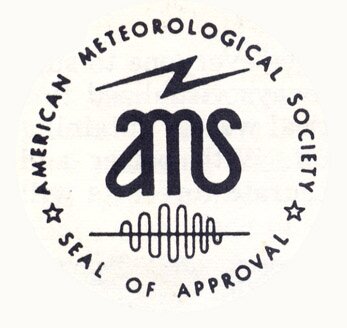 For forty years, Leep was proud to display his seal of approval (#10) from the American Meteorological Society. He now holds the title of WTVT Weather Director Emeritus. In 2003, Leep was presented with The Ernie in recognition of his contribution to weather broadcasting and to his long service with WTVT.
CLICK HERE TO LEARN MORE ABOUT ROY LEEP
For some personal memories of some of the above people, click here.