"Mr. 'TVT meets Mr. TV"
by Mike Clark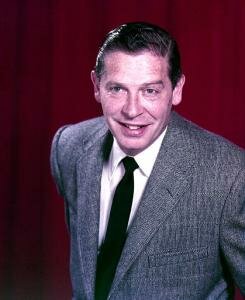 Milton Berle was already a television legend for 40 years when I met him back in 1987. My studio, Columbia Pictures Television, was syndicating a two hour special of Milton's classic television clips, titled "Milton Berle, the Second Time Around." Milton had produced the special and was taking an active part in selling it.
My assignment was to write wrap-arounds for Milton to deliver in a sales presentation. Imagine me, writing for Milton Berle! I've always been a big fan of the 'old school' comedians like Jack Benny, Bob Hope, and George Burns. Milton's stature in the history of television was unparalled...he helped sell millions of television sets back in the late 40's and early 50's. Milton was also the first television performer to sign a lifetime contract (with NBC) for a million dollars. With some trepidation, I started writing the presentation.
I tried to create a fresh, contemporary script while keeping in mind that it would be delivered by a 78 year old performer. I sent the script to Milton and scheduled a meeting a couple of days later. In 1987, Milton's office was in Beverly Hills in an aging two-story office building. He was across the street from the Friar's Club and spent much of his time there holding court amongst a shrinking collection of contemporaries like Red Buttons and Norm Crosby. Milton was one of the club's preeminent members (and a West Coast club founder as well).
Arriving at the appointed time, I observed that Milton's office was not lavish by any means, and the decor had never been updated from 1960. It kind of looked like 'Alan Brady's' office from the old "Dick Van Dyke" show. Milton's long time friend and associate Buddy Arnold greeted me and my Columbia colleague Doug Roth. Buddy, like Milton, always had a cigar in hand. Buddy lead us into Milton's office, and we were introduced to the star.
Wow! There he was. Milton Berle. 'Mr. Television.'
At that time, Milton was in his late 70's but very sharp and still able to deliver a punch line or a put-down. And here he was, facing a couple of 'baby boomers' who were in diapers when he was on top.
Doug and I had a seat while Milton told me what was lacking in my script. I had no qualms about changing my material, and only fought for points that were important for sales purposes. I let Milton massage the jokes, which he did. We also spent a few minutes watching clips of the special, and I asked Milton about how they did this or that. Milton told me he produced, directed, and helped write "The Texaco Star Theatre" and its next incarnation "The Buick-Berle Show," and finally, "The Milton Berle Show." From what I've heard about him, Milton ruled the roost in the early days of network television.
My favorite clip from the syndicated special was one with Milton, Jerry Lewis, and Dean Martin. It was word-funny and slapstick funny at the same time. Milton had another priceless clip of Elvis Presley, who was making his second network television appearance. "Milton Berle, The Second Time Around" was a great special with many highlights. The only sappy part was a song that Milton and Buddy had written for the opening. It was definitely old hat, but I was in no position to challenge them on it.
One thing I did ask Milton about put him and Buddy on the defensive. The entire special was made up of black and white kinescope recordings (16mm film shot off a television monitor). One of the clips showing Milton and Bob Hope in drag had a crisper, more modern look of video tape, and I realized that it was originally a color clip that had been turned into black and white. When I wondered aloud if anybody would have an issue with the de-colorization, Milton and Buddy were shocked that I'd noticed and defended their actions. I let it pass but it was pretty amusing that my observation had got their dander up.
I caught up with Milton again a few days later at his house in Beverly Hills. It was a huge mansion not too far from Santa Monica Blvd. Like Milton's office, the decor was from many years ago...shag carpets, heavy wood paneling, and such. Mrs. Ruth Berle showed us into the library where a camera crew from Rick Spalla productions had set up for recording Milton's sales pitch. I was 'directing,' but there's really no such thing as directing Milton Berle. I asked for some re-takes when his reading got a little shakey, but that was about all I contributed.
A few years later, I was asked by Bob Hope's daughter Linda to record an event her dad was hosting at The Beverly Hilton hotel. Besides Hope, I saw Red Buttons, Steve Allen, and hundreds of familiar faces, old and new. I met the future Governor of California, Arnold Schwarzenegger, and was surprised to discover that I was slightly taller than he.
Milton was chumming with Hope as I shot some 'behind the scenes' footage of the crowd. Suddenly, Milton saw me taking some video while he was enjoying an alcoholic drink. Milton, who remembered the days when celebrities weren't shown consuming alcohol, cautioned me not to shoot him when he was drinking. "Who cares?" I thought, but Milton did. I guess that was good enough for me. Later, as I watched Milton up on the dais, he seemed very old and frail. I thought he wouldn't be around too much longer...but he proved me wrong. In fact, Milton outlived his wife Ruth and married a much younger woman several years later. I returned to the Friar's club again to record Milton's birthday greetings for Bob Hope (Bob was six years older than Milton).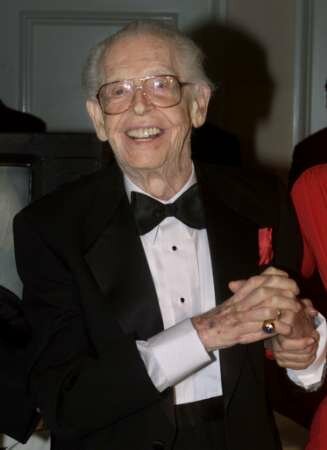 The last time I saw Milton was at Dolores Hope's 90th birthday party. I was shooting video and wondered whether I should approach Milton to say something on tape for Dolores. Milton was resting in a big, comfortable chair and looking very frail. I approached him carefully and asked if he wanted to say anything to Dolores. Milton looked as tired as a man could be, and told me that his wife would have to do the greeting. I powered up the camera, handed the microphone to Mrs. Berle...and then turned on light. The light must have awakened the performer instinct in Milton because he took the microphone from his wife, looked right into the camera, and delivered an eloquent birthday greeting. After the light went off, Milton sank back down in his chair, and became an elderly man again. With Milton, the show must...and did, go on.
Milton's health declined rapidly as a result of colon cancer, and it wasn't a surprise to learn of his passing. Still, it's always sad to lose a funny man, especially one who had such a profound influence on television.
Here's to you, Milton Berle, the man we'll remember as "Mr. Television."
TO RETURN TO MAIN MENU, CLICK HERE