Captain Mac and Other Bay Area Kid Show Personalities
WSUN (Channel 38)
CAPTAIN MAC'S
ADVENTURE TRAILS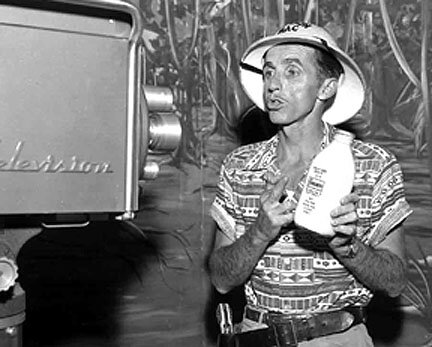 Capt. Mac (Burl McCarty) pitching Foremost Milk to his young viewers. He changed the dinner habits of Tampa Bay youngsters.

First on the air and first with a kid's show, WSUN was the home of Captain Mac, a jungle adventurer. The creation of Burl McCarty, Captain Mac entertained kids with Crusader Rabbit cartoons and action serials such as Flash Gordon. McCarty, who came from WSUN radio, created the character out of 'spare parts.' "I had my father's police special .38...he was a policeman in Hialeah," explained McCarty. "I had a pith helmet left over from the Soap Box Derby. And I had a Seminole-print shirt with riding breeches because I rode a motorcycle."
Since Channel 38 was the Suncoast's only TV station for two years, Captain Mac's show became extremely popular and influential. WSUN's small 35' X 46' studio only allowed for a daily quota of 10 youngsters, and eventually there was a six month waiting list to get on the show.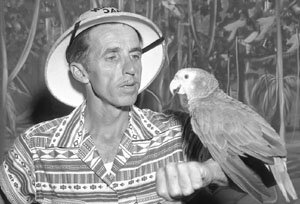 Poopdeck moonlighting? Nope, it's some other bird sharing a frank discussion with Capt. Mac
Captain Mac was renowned for giving his young studio visitors hot dogs, milk, and ice cream. With a 6 p.m. airtime, it was said that McCarty changed the eating habits of Bay Area youngsters.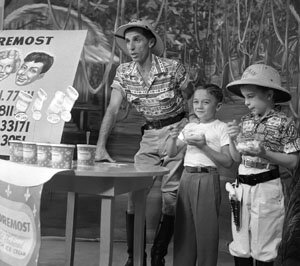 Time for a drink of Foremost Milk with Capt. Mac!
Fortunately, McCarty took his job as a role model seriously, and urged his young viewers to attend Sunday school, wash their hands, and put away their bicycles at night.
McCarty's decision to join the new WTVT station in May, 1955, caused much consternation with the management of WSUN. They had recently learned that sports director Guy Bagli was defecting to WTVT along with program director Monte Gurwit and several other WSUN staffers. Now, their biggest star was about to go from UHF to VHF.
Shortly after McCarty announced his resignation, WSUN stated that the character of Captain Mac would be re-cast and another person would play the popular adventurer. A legal challenge brewed to determine who owned the character...WSUN, or McCarty. The case never reached a judge and was settled out of court. McCarty was permitted to retain the name of Captain Mac and the characterization, but not the uniform or the show's format. WSUN could also use the name Captain Mac and retain the adventurer's uniform and show format. The new Captain Mac would take over as soon as McCarty departed for Channel 13.
The original Captain Mac at WTVT. Prevented from wearing his original uniform, Mac is wearing an Australian hat instead of the pith helmet.
18 competitors line up for auditions to fill the role of Captain Mac, but it was one of the station's on-air staff who lead the pack.
Fred Davy had originally worked as a booth announcer and substitute sports reader at Pittsburgh's WENS-TV. Davy moved his family to Florida in the early 50's and found work at an advertising agency and as a part-time announcer for WSUN radio. He later went full time at WSUN radio while hosting a morning kids show at WSUN-TV. When it came time to try out for the character of Captain Mac, Davy's audition included a pitch to make the show more interesting to its young viewers.
"I told management that I would teach the kids Seminole Indian sign language," explains Davy, who owned a book on the topic. "I think that contributed to my being hired for it."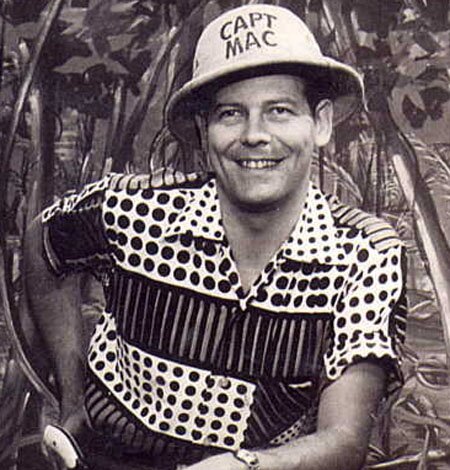 The other Captain Mac...Fred Davy
(Courtesy Fred Davy)
Was Davy uncomfortable about taking over a well-known character made popular by McCarty? "I didn't mind it too much," recalls Davy. "I was pretty much accepted by the adults and the kids. We looked a lot different, too...I'm tall, and he wasn't. I made up things and decided what to do on the air...some of them were similar to Burl. I invited the kids to bring their pets on the show. A couple of them brought in snakes...at the time, I didn't care much for snakes."
Now the Bay Area had not one, but TWO Captain Macs. McCarty, ensconced at Channel 13, wore an Australian hat instead of the pith helmet. Back at Channel 38, Fred Davy wore the familiar pith helmet, shirt, pants, and gun. At one point, a group of women and religious leaders gathered thousands of signatures and petitioned WSUN's owners, the City of St. Petersburg, to allow McCarty exclusive use of the Captain Mac character, on the basis of his past works for charity and other worthy causes.

The situation was resolved when McCarty apparently got homesick for WSUN and ended his association with WTVT six months into the gig. McCarty returned to WSUN and resumed the role of Captain Mac.
Instead of being chagrined for losing the role of Captain Mac, Fred Davy was actually relieved. "I was glad when Burl came back," says Davy. "Having four kids and then having to put with a bunch of other kids five days a week...that gets on your nerves a little bit. I was happy for Burl, too. He had a wife and family on the St. Pete side of Tampa Bay, and I know he was glad to be back." Davy remained at WSUN until 1959. After short stints at two Bay Area radio stations, Davy joined the staff at WFLA-TV as a booth announcer and assistant sportscaster to Milt Spencer. He retired 25 years later in 1985.
McCarty continued to play Captain Mac until leaving WSUN in December, 1959. This time, there was no attempt to replace him. "Burl created Captain Mac," said WSUN's manager Fred Shawn. "It is so associated with him that his retirement automatically retires the character. There couldn't be another Captain Mac."
In January, 1960, McCarty went to work as a public relations director for the City of St. Petersburg. In December, 1963, he returned to broadcasting as an announcer for WDAE radio and eventually became the station's news director. Eleven years later, McCarty joined the St. Pete police department as a press information officer, retiring at age 65 in 1975.
"The most rewarding time was the 6 1/2 years I spent with the youngsters," McCarty told the St. Pete Times. "I think it was good, clean entertainment."
McCarty, an avid fisherman and boater, moved with his wife Frances to Dunnellon in 1975. He died in a boating accident there ten years later.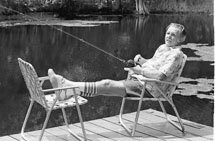 Burl McCarty retires to a house on the river
FUNVILLE with NICKY THE CLOWN
Captain Mac was a hard act to follow, and the task came down upon the rubbery shoulders of Nicky The Clown. A trademark 'August,' or happy clown, Nicky sported white makeup with a red putty nose and baggy pants. "I live in a dilapidated shack," explained the clown's alter ego, Nicky Francis. "My daughter Anita plays 'Lee Tucker', a neighbor girl who comes over to visit me. I get into different types of predicaments and she gets me out of them."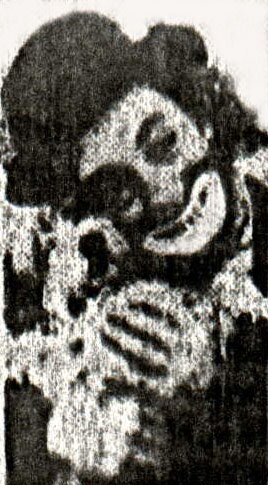 Nicky the Clown replaced Captain Mac in 1960
Nicky Francis, a fifth-generation circus performer, was born in France and went on the European stage at the age of 6 with his family, the Fratellinis. Eventually moving to the United States, Nicky appeared on TV's 'Super Circus', WBKB-TV in Chicago, and KSHO-TV in Las Vegas.
Funville continued showing the 10 year old Crusader Rabbit cartoons along with a new package of Rags the Tiger.
BONGO BAILEY IN JUNGLE LA
I remember the title but not the show. Somebody Email me if they have information about this series.
FIREHOUSE FROLICS
with Fireman Harry
'Fireman Harry' Williams actually lived around the corner from me in St. Petersburg. I remember that Harry had a family and drove them around in a spiffy 1957 Rambler. The only memory I have from Harry's 3 p.m. show was when he was training a new, female recruit. The title 'Firehouse Frolics' certainly didn't apply here. Harry rode the recruit roughshod, criticizing her every little mistake. He was so obnoxious, she could have sued him for harassment!
I guess Harry took his job seriously, but still!
WFLA (Channel 8)
UNCLE BRUCE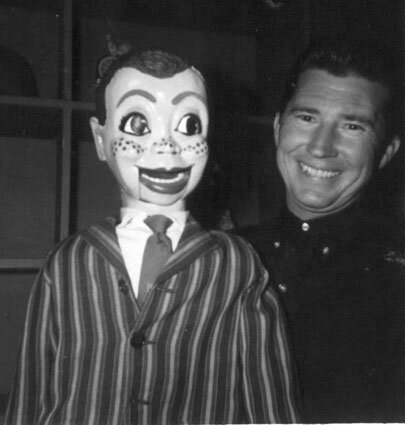 Uncle Bruce (Rodrick) and his dummy, 'Little Mike.'
I shot this photo on August 10, 1963.
Uncle Bruce was a great local kid's show. Hosted by Pastor Bruce Rodrick, the show had the usual peanut gallery of children and featured Mr. Magoo cartoons. The real draw was Uncle Bruce himself, a talented host who was also a ventriloquist. With his dummy, 'Little Mike,' and a cast of animal puppets including 'Bushy' the squirrel and 'Zookey' the crow, Rodrick promoted higher morals and behavior to the young viewers.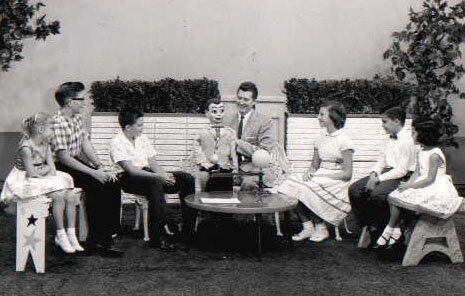 "Kids Bible Club" Sunday mornings on WFLA
Rodrick originally hosted a Sunday morning program on Channel 8 called "Kids Bible Club." The program's format included Bible drama performed by a cast of puppets, songs, and a Bible quiz. "Kids Bible Club" became very popular and Rodrick was given a weekday program called "Kid's Carousel," which was later re-titled "The Uncle Bruce Show." Rodrick continued to host the "Kids Bible Club" which taped every Tuesday evening, allowing him to be with his congregation on Sunday mornings.
Shortly after starting the daily show, the reality of working in the world of commercial television dawned upon Rev. Rodrick. "I had assumed that if you did your best and turned out a good show all was well," explains Rodrick, who is semi-retired and living in the midwest. "When I learned how competitive it all was and that my job depended on the ratings the whole thing took on a new atmosphere not to my liking. However, by the end of the first year, we captured first place and held it until the daily live programming was stopped for the very reason you described (see "The Mary Ellen Story"). Money!"
Uncle Bruce also had the unique opportunity to be broadcast in color for a day in 1963 when one of NBC's color mobile units set up shop at WFLA.
I had the pleasure of being on Uncle Bruce's show for my 11th Birthday, August 10, 1963.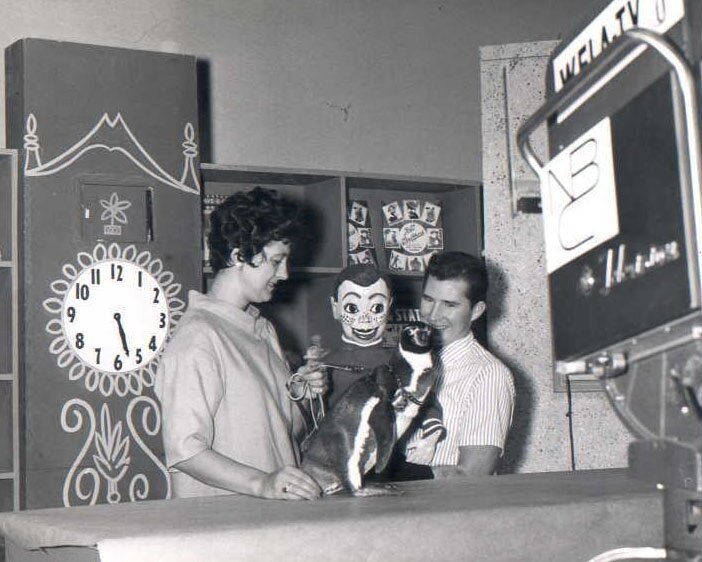 Uncle Bruce, Little Mike, and some frozen friends
Uncle ' B' had a little more production value and a better set than Mary Ellen's, and was based in Channel 8's large Studio A. Sitting in the peanut gallery, I was interested in seeing how one of the cameraman was using an unusual lens to change shots, instead of rotating a lens turret as I'd seen at WTVT. I learned about the Zoomar lens by talking to the cameraman between commercials. He seemed pretty amused that an 11 year old wanted to find out about his job. LITTLE DID HE KNOW!
After the show, Bruce was very patient with me as I took a picture of him and little Mike, and asked for permission to put my hand inside the dummy to see how he was operated. My Mom tested Bruce's patience by engaging him in conversation while he was trying to leave and prepare for a taping of 'Kids Bible Club.' Eventually, he begged off and hurried away.
I need to correct a story that I quoted from a children's show book about the reason for Rodrick's departure from Channel 8. The story said that Rodrick left television 'because he didn't like the language the crew used.' Not true, says Rev. Rodrick:
"I did not leave due to bad language from the crew at Channel 8. They were a great bunch and we had some glorious times together. After the daily "Uncle Bruce" show ended, we continued to tape our Sunday morning "Kid's Bible Club" and did the lead-ins for the Saturday morning lineup for a while. I went to a Christian Convention over on the east coast of Florida and there was a speaker on the program that really struck me, his presentation and the message that he gave. And I felt like I ought to go back to preachingthat was what I was supposed to do. Maybe it was the Lord speaking and he knew what the future held in television, because at the time I felt secure, but the way everything turned out later on I'm not sure it would have lasted. So, I think by God's grace I got out of there at the right time. I accepted a call with a church near Atlanta, Georgia. While there I also did puppets for a live Saturday morning show called "Funtown" on Channel 4. A few years later I worked with a nationwide TV ministry called "Revival Fires" where I did a children's segment using my puppets and ventriloquism."
My thanks to Pastor Bruce Rodrick for setting the story straight.
Pastor Rodrick graciously allowed 'Big 13' to interview him about his life and the times he spent at Channel 8. To get the full picture of 'Uncle Bruce' Rodrick, CLICK HERE FOR "SAY 'UNCLE'...'UNCLE BRUCE, THAT IS!"
Barney Bungelupper

Uncle Bruce was assisted with comic relief by a clown named 'Barney Bungelupper.' Barney was played by one of Channel 8's directors, Jerry Martin. Martin, who joined the staff of WFLA in 1958, directed Channel 8's news block that featured anchor Arch Deal, sports reporter Milt Spencer, and weatherman Al Duckworth. When Rodrick's show became a daily program, it was planned to add a clown character as a sidekick for Uncle Bruce. Rodrick noted Martin's upbeat attitude and thought he might be a budding performer.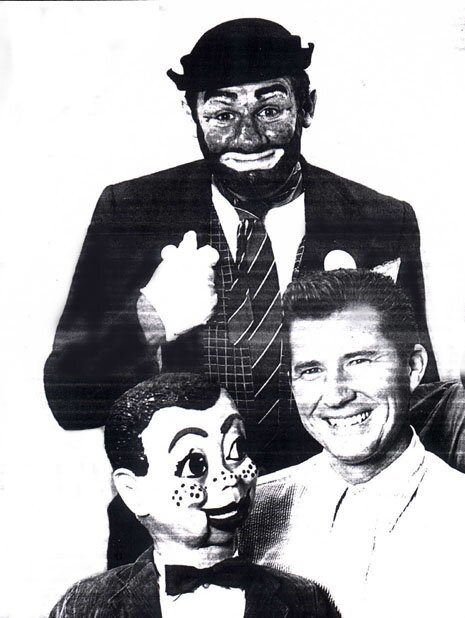 Barney, Uncle Bruce, and Little Mike
"Barney (Jerry Martin) was a floor director when I first met him," recalls Rodrick. "There was something about his mood and attitude that gave me the idea he would be great. I tried to pattern his character after "Freddie the Freeloader" on Red Skelton, and the great clown Emmett Kelley. I had that idea in mind and Jerry was incredible. He was a natural and a big boost to the show. We started filming the adventure stories, and it was about that time that the ratings started to shoot up."
"I didn't want to play the circus clown with big feet,' says Jerry Martin. "The clowns I admired seemed more like real people." Barney's costume came from a local Goodwill store, and was composed of baggy, plaid pants, a wild tie over a white tee-shirt, a red vest, black hat, and a black jacket covered with pin-on buttons with sayings and pictures. Viewers would send in pins and Martin would add them to his costume.
When Bruce Rodrick left Channel 8, Barney came into his own. His new co-host was "Hector Hambone," a freckled country bumpkin who served as Barney's straight man. Hector was played by another Channel 8 director, Jack Jarvis. It kind of makes you wonder who was left directing in the booth!

Barney Bungelupper and Hector Hambone
Martin's wife Faye also played a fairy princess named Marigold.
Martin was a very busy player at Channel 8, hosting their teen dance program "Hi Time," and a daily half-hour farm show "RFD Florida." Martin played Barney for nine years, and made many personal appearances with Hector around the Tampa Bay area. Both Jerry Martin and Jack Jarvis are still working together...at WCLF-TV in Clearwater.
Major Jack
I vaguely remember Channel 8's version of 3-D Danny, a spaceman named Major Jack. Played by one of Channel 8's announcers, Jack Stir, Major Jack had adventures in the studio and on location and was assisted by Master Robot. The fact that I can't remember more tells me that either Jack was on during the late 50's (when my family lived in Miami), or that he had a very short run in the early 60's. We'll keep our radio telescope on and hope for more information.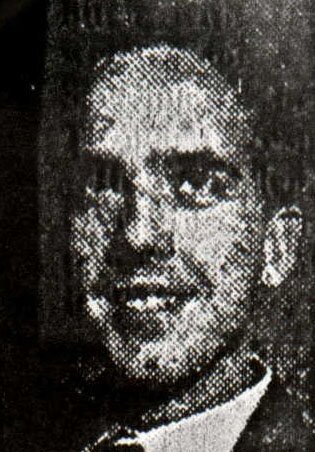 "Ground control to Major Jack..."
Jack Stir played Channel 8's spaceman.
Romper Room

Just about every TV market had a version of Romper Room, a pre-Sesame Street program for the kindergarten set. Created by Claster Television and licensed to TV stations, the Tampa Bay version started with Miss June Hurley on WTVT, which later moving over to WFLA. After several years, Miss Alice became the shows new host.
WLCY (Channel 10)
WLCY-TV went on the air in 1965, taking over the ABC affiliation from WSUN. Because of the synergy with their radio station (WLCY AM 1380), the host of Channel 10's first kids show, "Submarine 10," was morning disk jockey Don Jones. Unfortunately, Jones died in a motorcycle accident less than a year after Channel 10 went on the air.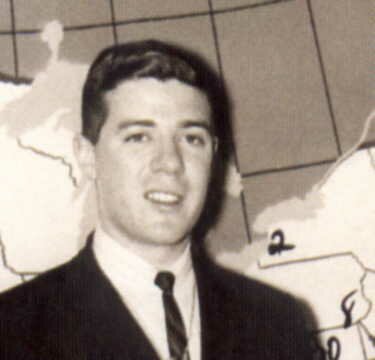 Dick Crippen became "Commander Astro" on Channel 10's SPACE STATION
The station's weatherman, veteran Tampa Bay broadcaster Dick Crippen, was designated to take over the time period. The new show "Space Station," was hosted by 'Commander Astro' (Crippen). In an interview with "Big 13", Dick Crippen says "It was interesting because we were closely tied with WLCY Radio at the time and it was 'king' over all Tampa Bay. A lot of the WLCY air personalities would come on the show and ad-lib. In fact, the whole thing was ad-lib right down to a talking rock. It was wild and I have to admit, a lot of fun!"
WTOG (Channel 44)
Dr. Paul Bearer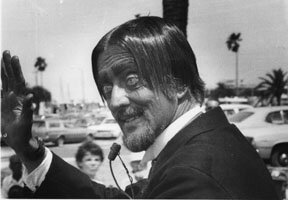 The 'eyes' have it! Dr. Paul Bearer makes one of
his frequent live appearances

Channel 44's host of "Creature Feature" and "Fright Night" was Dr. Paul Bearer, who premiered in 1971. Bearer had quite a long run, and made many personal appearances around the Bay area. The character was basically a pun-spewing, bad-joke-telling host who had a halting speech pattern. One typical joke starts with a close up of a hammer in Paul's hand. He strikes a package of Wrigley's Spearment several times with the hammer, then looks up at the camera and says "I'm just sitting here, beating my gums." His trademark signoff was "I'll be lurking for you."
Bearer was created and portrayed by Ernest R. "Dick" Bennick. At the age of 5, Bennick became fascinated with performing after seeing his first magic act. When he turned 18, the future horror host collected joined an illusion show and traveled the country as a magician's assistant. By the mid 1960's, Bennick was a popular North Carolina disc jockey and developed the Dr. Paul Bearer character for a local television station.

Paul was a little bug-eyed too, due to the loss of an eye in an automobile accident. His off-kilter look was accentuated by the glass eye, which did not exactly look in the same direction as the working eye. I saw 'Dr. Bearer' a few times driving his black Cadillac Hearse along Gandy Blvd. He would always acknowledge and respond to any hail from passing cars.
Bennick worked in Florida radio broadcasting for 25 years as a sales executive, and died in 1995 after heart surgery. Unfortunately, with Ernest Bennick deceased, there is no one at present to carry on the tradition of a Tampa Bay 'Horror Host.'
You can read an excellent biography and interview with Mr. Bennick by Ed Tucker. It's part of a web site called "Nolan's Pop-Culture Review."
TelePrompTer Cable TV (Channel 7)
CABLE CARTOONIES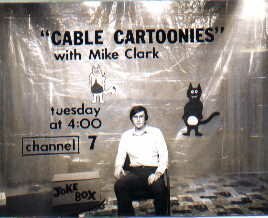 My only stint as a kid's show host.
The studio in Gulfport was barely wider than my set.
You could only see this program if you lived in Gulfport, South Pasadena, or Treasure Island from 1971-72. TelePrompTer had a small studio in Gulfport, and carried local programming on Channel 7. I was the host of Cable Cartoonies, a weekly half hour show that featured ancient black and white cartoons produced by Paul Terry, who later the created Terrytoon's 'Heckle and Jeckle' and 'Mighty Mouse'.
I would read some comic material out of The Joke Box, or take a phone call from someone doing an impression of 'President Nixon', and then introduce the cartoons. The show eventually drifted into original comedy sketches, a full 3 years before the premiere of Saturday Night Live. Remembering Channel 13's 3-D Danny, I created a new character named "Captain Spacey."

(Left) Capt. Spacey and his ship. (Above) Like Ch. 13's 3-D Danny, we used studio equipment as props. Capt. Spacey leans over a 4-bank
monitor and fires a squirt gun laser.
My hero, played by production assistant Terry Drymon, was a bumbling 21st century astronaut who also fought robots and aliens.
For the comedy sketches, my limited abilities as an actor were strongly supported by members of the local St. Petersburg Little Theater.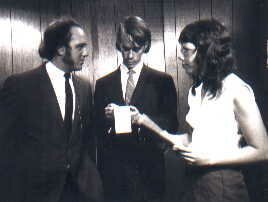 Bill Kirchenbauer, John Bisney, and LoRay Baun
in a takeoff of Dragnet.
One talented young SPJC student, Bill Kirchenbauer, often displayed comedic genius in the sketches. Kirchenbauer later went on to become a nationally know stand up comic, and eventually starred in his own series "Just The Ten of Us," on ABC. Another former 'Cable Cartoonies" veteran, John Bisney, has been a correspondent for CNN radio since the late 1970's. He's currently assigned to CNN's Washington bureau. I left the cable operation in September, 1972, to attend college at USF and join the staff of WTVT. I spent five years at Channel 13 before moving to Los Angeles and joining Columbia Pictures Television. In 2001, I created this web site and named it "Big 13."
The City of St. Petersburg
Policewoman Pat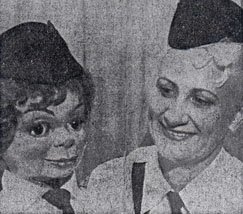 Policewoman Pat and Yabby, real friends to the children of Tampa Bay
Although Pat did not star on a daily TV show, she would often appear on Mary Ellen or Uncle Bruce. Pat, a volunteer for the St. Petersburg Police Department, would travel from school to school with her ventriloquist dummy "Yabby" preaching safety to the children of Pinellas County. Yabby's name was an acronym for "Youth Aid Bureau Befriends Youth."
Dressed in the green and white uniform of the St. Pete Police Department, Pat was very talented and always a pleasure to watch. Who knows how many kids' lives she and Yabby saved by telling them to "look both ways" and "don't accept rides from strangers"?
In real life, Pat Hutchinson was a local mom who had grown up in Detroit with vaudevillian parents. Her father, Ellis Bridge, was a ventriloquist who handed down the technique to his daughter. Only 7 at the time, Pat was already an accomplished ventriloquist and appeared with movie star Lupe Velez in a Detroit show. Pat was billed as 'the only child ventriloquist in the United States.'
After graduating from high school, Pat joined the USO and appeared around the country during World War II. Later, Pat performed on radio and TV in Detroit. She married a career serviceman and starting raising a family. By 1960, the family moved to St. Pete and Pat contemplated retiring from show biz. Occasional work at parties and clubs trickled in, and one night Pat was performing at an Altrusa Club fund raising event. After the show, Pat found herself sitting next to St. Pete Police Chief E. Wilson Purdy. Her talent and a willingness to promote education came up in conversation, and the Chief thought that Pat's ventriloquism might be a good way to reach the children of Pinellas County.
Pat's and Yabby's appearances before thousands of schoolchildren showed immediate results in a lower number of reported cases of molestation. Pat handed out literature to the students, appeared in safety films, and gained national recognition for her efforts.
In 1964, Pat's husband re-joined the military and the family moved back to Michigan. By 1975, Pat and the family returned to the Suncoast. Yabby was renamed "Gabby" and Pat resumed preaching safety. In a newspaper account from the time, Pat was also involved in real estate.
Us Suncoast 'baby boomers' owe Pat and Yabby a big 'thanks' for all their efforts on our behalf.
WTVT (Channel 13)
Mary Ellen
Mary Ellen wasn't the only kid's show personality at Channel 13, just the most popular. To read Mary Ellen's story, CLICK HERE
'Shock' Armstrong
To learn more about Shock Armstrong, The 'All American Ghoul,' link to the SHOCK page.
3-D Danny/Buggsie & Muggsie
To learn more about 3-D Danny and those two crazy puppets, go to "3-D Danny," Channel 13's Own Spaceman
Ernie Lee
Ernie also hosted cartoons on 13 after the departure of Mary Ellen. Look for Ernie's story in a "Channel 13 Personalities"