3-D Danny
Channel 13's own Space Man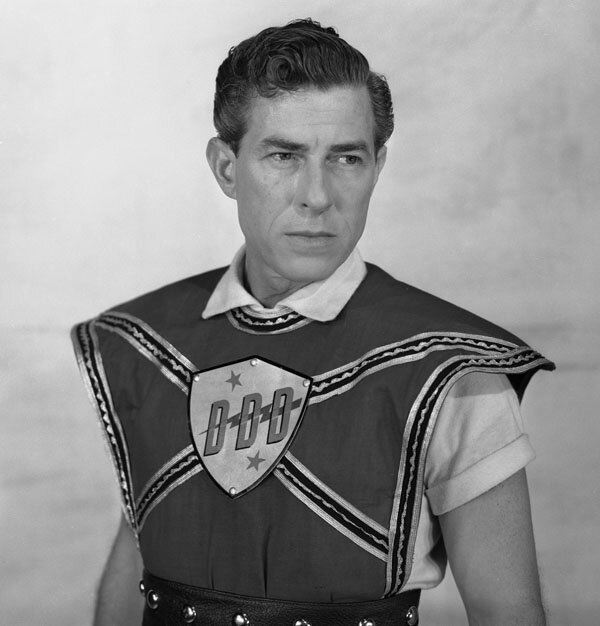 Ed Scott as "3-D Danny"
Did you remember 13's space man "3-D Danny?"Danny was portrayed by Ed Scott, a newcomer to Tampa from Minnesota.

Originally, "3-D Danny" was a character played by Danny Williams on WKY-TV in Oklahoma City, OK (see below for more details!). The show's format was copied for a version at WTVT and produced by Ken Smith. Smith also wrote scripts and directed the show, which premiered in 1959.
Danny dressed in the then-current style of space hero...a "V" patterned uniform blazoned with 3 'D's' and a lightning bolt on it. (What did those "D"s stand for anyway? See end of this article on that topic).
Helping Danny along in his star trek was a robot named 'Rufnik.'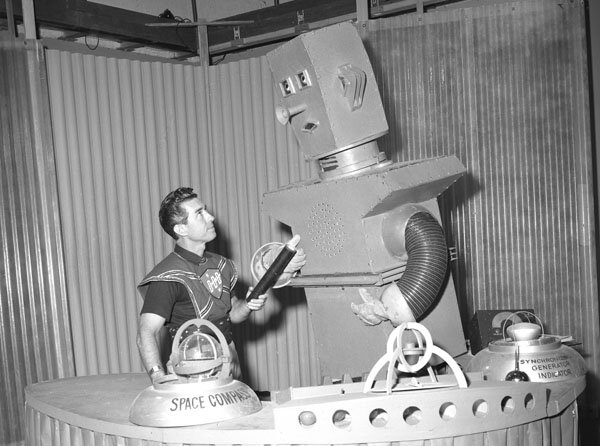 Danny and his robot "Rufnik"
"Rufnik's" name was a spoof of the first Russian space satellite "Sputnik." The question of who would operate the robot costume was answered when a young St. Petersburg Junior College student, Lyle "Red" Koch (pronounced 'Cook') showed up at the station with his ventriloquist dummy 'Clyde.'
"Ken Smith set up an audition right away," recalls Koch. "I went into the studiothey pointed a camera at me, and I was just shaking in my bootsI was very, very nervous. I did my little act, and got a job. Not because I was a good ventriloquist, but because I could do a couple of different voices. They liked the voice of the dummy, and were looking for someone to play the robot on '3-D Danny.' I never did any ventriloquism on television. I ended up getting in this silly suit and doing the voice."

'Red' Koch out of costume
For "Red," joining the cast of '3-D Danny' was his first break in show business.
"They offered me the job and $5.00 per show," states 'Red.' "I had my own car, and probably spent more on gas driving from St. Petersburg every day. There were no rehearsals. It was pretty much fly by the seat of your pants. Ed Scott was just terrific to work with. He was very funny, and a good artisthe did these wonderful caricatures. On the show, Ed knew what kind of lines to feed me and I'd try and make jokes out of them."
Danny's adventures occurred on board a flying saucer set built in the northwest corner of Studio B. It was a two-story high affair with the studio's catwalk forming the upper level. Corrugated panels, the fiberglass kind used for covering patios, were curved in a semi-circle to form Danny's set. For the control panel, a large desk was used and topped with levers and buttons. When Danny pushed a button, it would activate one of a series of lights built into the front of the desk.Danny would have felt right at home on the bridge of Capt. Kirk's starship Enterprise.

Mayhem on the set of 3-D Danny! This recently discovered still shows Ed Scott under attack while Lyle "Red" Koch slumps over the console. Note the studio walkway above the set.
The exterior of Danny's spaceship was 16mm stock footage purchased from the MGM film library...the same ship used in the classic SCI FI movie "Forbidden Planet," Galactic Cruiser C-57D.

3-D Danny's ship comin' at ya!
"3-D Danny" mixed Warner Bros. cartoons and adventure to make a daily half- hour show.
Danny would begin each show with a two or three minute-long scene setting up the day's adventure. Sometimes, one storyline would continue over several days. In an ingenious process of casting, Danny's adversaries were often played by local wrestlers. Their names on the show were "The Black Hood", "The Baron" (who had a black jumpsuit and moustache), and "The Count of Creton" who was bald-headed and wearing a robe. If nothing else, Danny was 30 years ahead of the WWF! The show required people for other small parts, and Ken Smith recalls that almost anyone in the WTVT building would be called upon to act in 3-D Danny.
When Danny's situation was turning sour and he was about to take a beating, it would be time to introduce a cartoon. After the cartoon, Danny's cliff-hanger would be resolved and the adventure would continue...for another two or three minutes.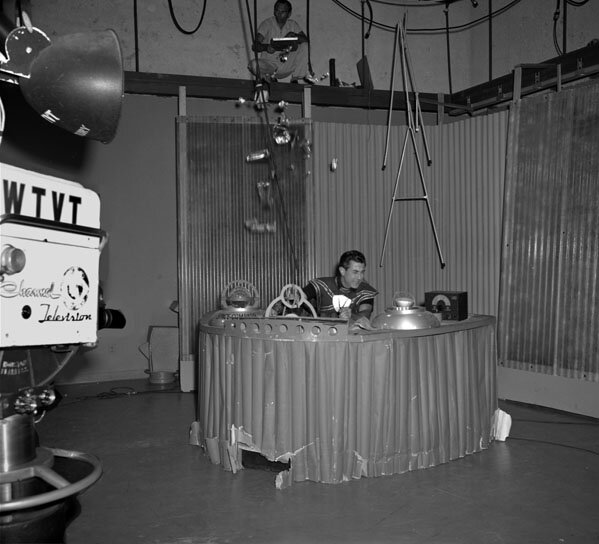 Damage Control! A technician drops debris onto Danny's set from the catwalk. Note 'meteor' damage to front of Danny's desk...probably the result of a collision with a camera pedestal
Since the show was live, special visual effects were kept to a minimum. WTVT's black and white cameras and switching equipment lacked the ability to Chroma Key (blue screen), and this forced the crew to keep things simple. By splitting the fader bars between two cameras on the control room switcher, it was possible to superimpose one image over another, like an 'evil eye' floating in space.
Having little or no budget for props, the WTVT production staff would use studio equipment as futuristic devices. A microphone on a stand would be able to paralyze an enemy robot, or a Mole-Richardson light would become a mind reader. Once, an ordinary brick was able to 'absorb' the evil, floating eye!
When the action called for location work, a 16mm camera was used to record adventures outside, a la Mary Ellen. Local quarries often stood in as the locations of distant planets. A man in a gorilla suit (usually Charlie Hampton, the station's public affairs director) became an alien menace, and so forth.
"Red" Koch managed to get out of the costume occasionally and play Danny's young Lieutenant sidekick. He remembers that the show improved as time went on.
"Ken Smith wrote the scripts and directed, and the shows became a little more sophisticated and extremely popular. Kids would write letters to ussend in drawings of the robots and the puppets. It was a joy to know we were going to be on TV and the kids would be watching."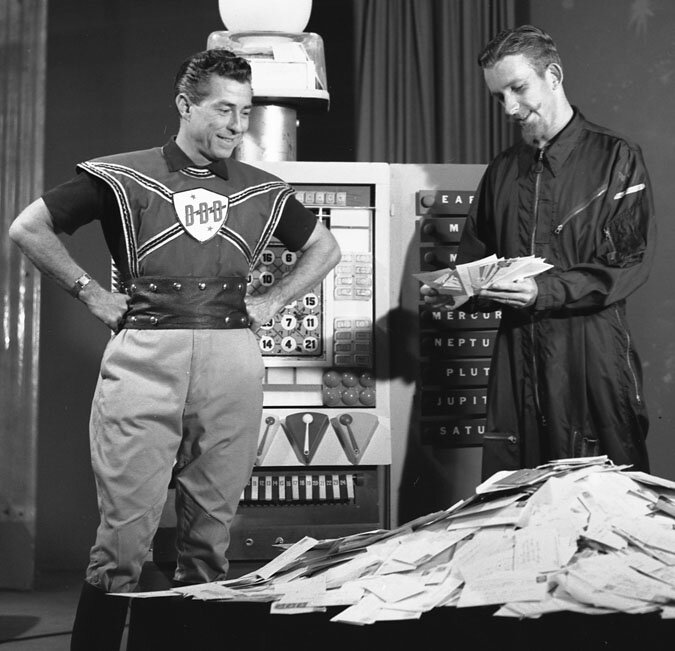 Ed Scott and Red Koch sort through viewer's entries in a contest to name the show's robot. The winning entry: Rufnik!
Years before the premiere of "Shock Theatre," Scott and his wife Peg served as co-hosts of Channel 13's weekly horror movie package called 'The Witching Hour.' They played an eccentric, spooky couple who live in a haunted house. Like 'Shock Armstrong,' they would introduce the scary movies and appear during the commercial breaks.
Their haunted house was fairly elaborate at that time and a chore for the crew to put up each week. Realistic cobwebs were created by diluting rubber cement and applying the webs out of a makeshift paint sprayer powered by a vacuum cleaner. It was a technique similar to that used by "The Munsters" a few years later.
"3-D Danny" lasted for almost two years. Station lore has it that the show was cancelled when Ed Scott returned from a filming with muddy boots. Management refused to replace the boots and Scott resigned. No alien had been able to get Danny, but his muddy boots did!
In the late 50's, Peg Scott had opened "Ed's Pipe and Tobacco Shop," which is still located on Henderson Blvd. near Channel 13. According to Scott's partner at the pipe shop, Franklin "Smitty" Smith, Channel 13's spaceman never returned to performing, and was content to run the store and its branch locations. Unfortunately, Ed and Peg Scott are deceased.
Now, about the question What did the three "D's" in Danny's name stand for? I asked Ken Smith, and here's what he said: "3-D" stood for "Dan-D-Dynamo." I think Danny Williams just made it up."
Mystery solved? You bet...and there's more! I've been in touch with the ORIGINAL 3-D Danny, Mr. Danny Williams of Oklahoma City, OK.
Mr. Williams is a broadcasting legend in Oklahoma. He can be heard on KOMA radio's number one rated morning show every weekday. I was surprised and pleased to learn that Mr. Williams still proudly banners his 3-D Danny character. In fact, William's company is named "Dan D. Dynamo Enterprises, Inc."! He even uses the old 3-D Danny shield as a logo. You can learn about the original 3-D Danny (complete with color photos) by going to Mr. Williams web site at www.dddynamo.com
PULSE EXTRA! Here's a 3-D Danny anecdote from Channel 13's former News Director and General Manager, Crawford Rice:
"I saw the shenanigans that went on with '3-D Danny.' 3-D Danny and Mary Ellen were both done out of the same studio, one right after the other, live. One day, Danny was right in the middle of one of his 'emotes.' He'd be down on one knee and somebody was about to zap him with a ray gun, and the studio door opened and Mary Ellen comes in with some live ducksall quacking. 'Quack! Quack!' Danny's there with his brow furrowed, and pleading for his life, and in the background you hear this 'Quack! Quack!' That's the beauty of live TVthings like that happened all the time."
PULSE EXTRA EXTRA!
Former Channel 13 cameraman Nick Stratman has sent an original 3-D Danny script! Here's an excerpt:

1959 3-D Danny script. Netscape users can 'Right click' your mouse to see a bigger image
To learn more about 3-D Danny, go to "Ken Smith on 3-D Danny and his 12 years at WTVT"
To learn more about Red Koch, go to "Red Koch"
BUGGSIE AND MUGGSIE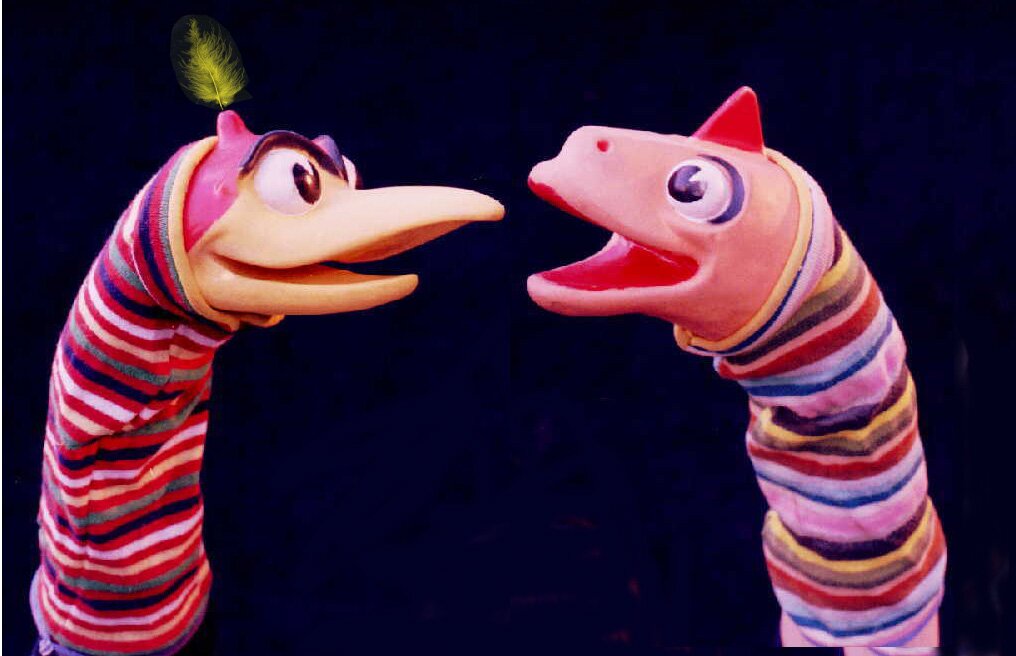 Buggsie and Muggsie, two of WTVT's most cost-effective stars...
only $1.50 each at Grand Way!
I have a weird fondness for these two characters, because their humor was almost Muppet-like (years before the Muppets had their own show). Buggsie had large, bulging eyes topped by curved, black eyebrows, a pointed, bird-like beak, and a feather emerging from the top of his head. Muggsie was a rounder, dopey-looking kinda guy who appeared to have some dinosaur in his family tree...he sported a single pointy scale on his head. Buggsie was the alpha male, totally in control and bullying poor Muggsie, who often won their bouts through passive-aggressiveness.
B & M were the creation of '3-D Danny's' "Red" Koch: "I started thinking that I couldn't play a robot all my life. One day I was in a store and saw these two hand puppetsand I bought 'em. My hands are a little on the small side, so they fit into these puppets made for kids. But the puppet's sleeves weren't long enough for television, so I got some striped cloth to extend the sleeves all the way up my arm. I started playing around at home trying to develop personalities so they could have conversations. Muggsie was slow witted, and Buggsie was the wise guy. I showed them to Ken Smith and he put me on with Mary Ellen. She would come over, like Kukla, Fran, and Ollie, and talk to the puppets. The puppets would misbehave and Mary Ellen would try to teach them some manners."
When Channel 13's program director Bob Olson bought the syndicated '3 Stooges' program, he named Buggsie and Muggsie as hosts. "Red" got a raise to $37.50 per show, and decided to break the 4th wall of television puppetry.
"I got tired of them being confined to a puppet stage. I talked to the director and told him I wanted the puppets to leave the stage and walk around the studio. They could go over to the news set, or into the hall or the control room. I told the cameraman to make sure he didn't shoot meto just keep the puppets in the shot. I crawled on my belly or slid on my backa stool with wheels would have been a luxury. I had my lavalier microphone on, and we broke the rules for puppets on TV."
Buggsie and Muggsie were designed by the legendary puppeteer Bil Baird and manufactured by Ideal Toys. The upside of "Red's" decision to buy off-the-shelf puppets is that any child could own an EXACT replica of B & M if he wanted! I picked mine up at my father's Grand Way store on 34th street for about $1.50 each.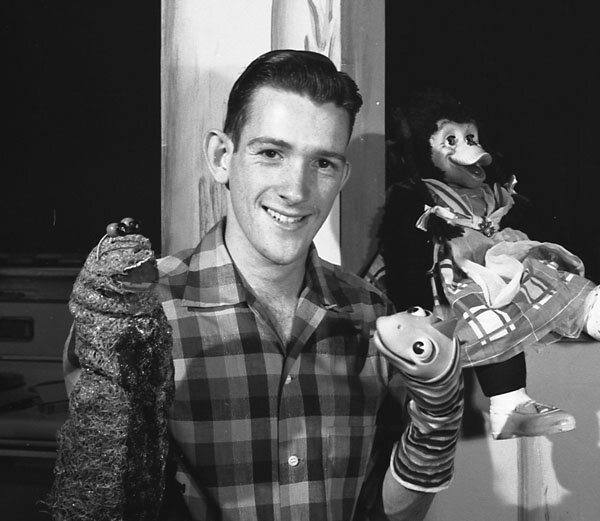 Lyle "Red" Koch was the man behind Buggsie and Muggsie.
PULSE EXTRA: "Red" Koch talked with "Big 13" in more detail about his time at Channel 13. To learn more about Red, CLICK HERE
To return to "Capt. Mac and Other Bay Area Kids Show Hosts"click here
To return to main menu, click here