TelePrompTer Cable TV (Channel 7)
CABLE CARTOONIES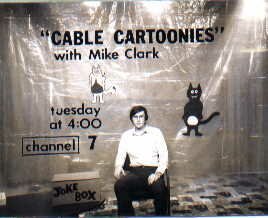 Big 13 web master Mike Clark's only stint as a kid's show host.
You could only see this program if you lived in Gulfport, South Pasadena, or Treasure Island from 1971-72. TelePrompTer had a small studio in Gulfport, and carried local programming on Channel 7. Mike Clark, who is the web master of the BIG 13 site, was the host of Cable Cartoonies, a weekly half hour show that featured ancient black and white cartoons produced by Paul Terry, who later the created Terrytoon's 'Heckle and Jeckle' and 'Mighty Mouse'.
Mike would read some comic material out of The Joke Box, or take a phone call from one of his regulars doing an impression of 'President Nixon', and then introduce the cartoons. The show eventually drifted into original comedy sketches, a full 3 years before the premiere of Saturday Night Live. Remembering Channel 13's 3-D Danny, Mike created a new character named "Captain Spacey."
| | |
| --- | --- |
| | (Left) Capt. Spacey and his ship. (Above) Like Ch. 13's 3-D Danny, we used studio equipment as props. Capt. Spacey leans over a 4-bank monitor and fires a squirt gun laser. |
The hero, played by production assistant Terry Drymon, was a bumbling 21st century astronaut who also fought robots and aliens.
Mike's somewhat limited abilities as an actor were strongly supported by members of the local St. Petersburg Little Theater.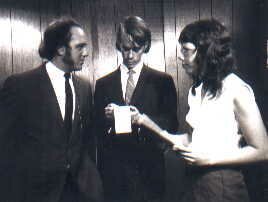 Bill Kirchenbauer, John Bisney, and LoRay Baun
in a takeoff of Dragnet.
One talented young SPJC student, Bill Kirchenbauer, often displayed comedic genius in the sketches. Kirchenbauer later went on to become a nationally know stand up comic, and eventually starred in his own series "Just The Ten of Us," on ABC. Another "Cable Cartoonies" veteran, John Bisney, attended the University of Missouri's journalism program with Channel 13 alumni John Ferrugia. Bisney became a correspondent for the RKO Radio Network, and since 1996, has been heard on CNN radio. John, who reported from the 2003 Gulf War, is currently assigned to CNN's Washington bureau.
Mike Clark left the cable operation in September, 1972, to attend college at USF and join the staff of WTVT. He spent five years at Channel 13 before moving to Los Angeles and joining Columbia Pictures Television. In 2001, Mike created the "Big 13" web site.