Arrr! A WTVT cameraman covers the Gasparilla Invasion
in 1960. But there's more to the story...see the
newspaper clipping below: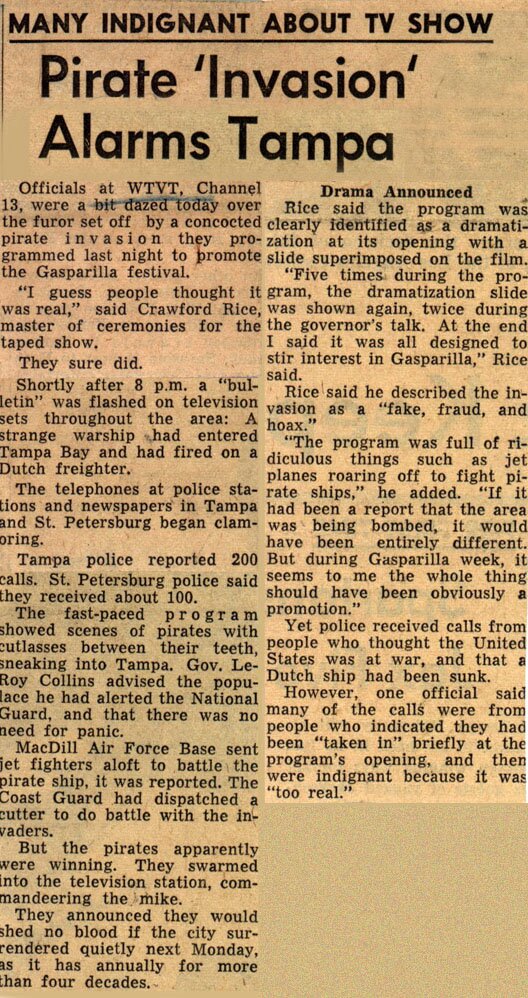 To learn more about WTVT's Gasparilla snafu, visit
"A Conversation with Crawford Rice"

A remote with Carol Burnett. A WTVT cameraman is
positioned to shoot Gary Moore and Peter Lawford
on location at Cypress Gardens.
In the bottom photo, Alan King, Carol Burnett, Gary Moore,
and Peter Lawford relax in between takes.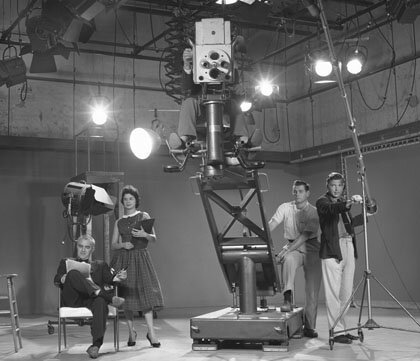 A publicity still for WTVT's "The Big Movie."
Director Bill Rennie is assisted by Ann Pelligrino.
The rarely-used Sanner crane is used to create
a dynamic portrait of behind-the-scenes Hollywood.
(Circa 1957)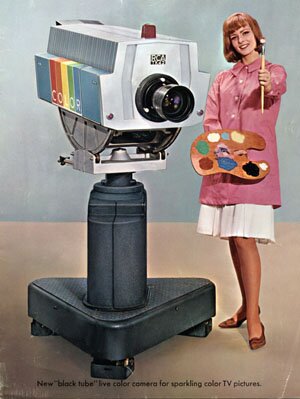 Celebrating 50 years of color television!
1954 marked the first year of broadcast color TV.
Gaylord Broadcasting's WKY-TV in Oklahoma City
was among the first to receive color cameras.
WTVT received their RCA TK-42 color cameras
in 1966. To learn about Channel 13's transition
from black & white to color, click here

Happy 40th Anniversary!!
WTVT Production Manager Jim Benedict started on
March 15, 1964. Former chief photographer and now Satellite Truck
Supervisor Mac McKinen showed up
20 days later on April 5th. Take a bow, guys!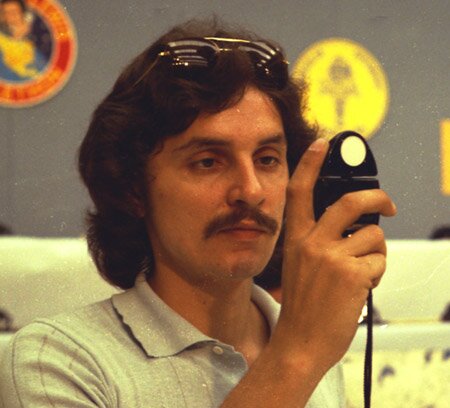 Lighting Director Gil Muro checks the setup
on a remote (1976). Gil is now with NBC, NY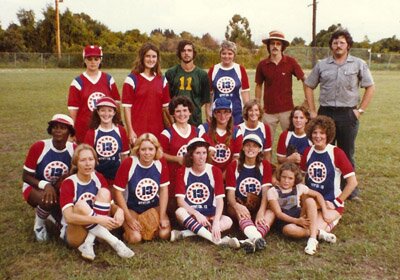 Spring Training!
The 1976 WTVT softball team takes to the fields!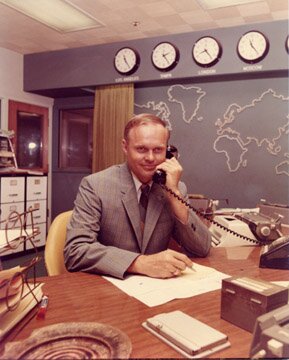 News Anchor/Assignment Editor Charles Allen
takes a call in Pulse's Color Communications Center
(1968)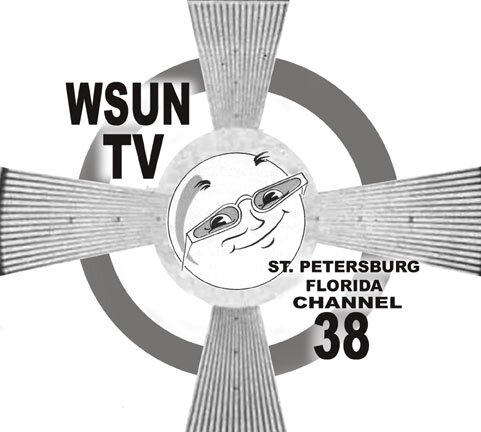 Happy Birthday WSUN-TV!
51 years ago on Memorial Day weekend,
WSUN became Tampa Bay's first television
station. After losing its ABC affiliation in
1965, Channel 38 became independent and
eventually went off-air in 1970. We still
remember WSUN programs like "Captain Mac,"
and you can read about them by
CLICKING HERE
Oh, and do YOU know what the call letters WSUN spelled out?
Answer: "Why Stay Up North"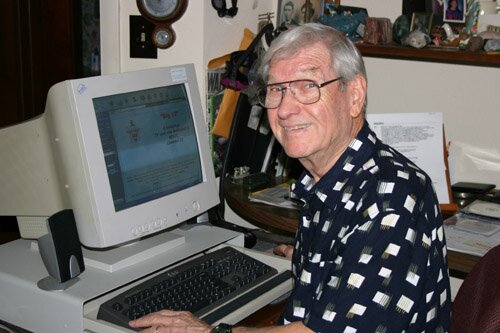 Producer/Director/Writer Bob Gilbert is featured in
our newest BIG 13 profile. Bob not only brought Ernie Lee to
to the Tampa Bay area, he produced the popular PULSE EXTRA
mini-docs and also...well, there's a lot to tell and you
can read it by clicking here!