THE NEXT GENERATION
Compared with our current action-packed news programs, stories covered by WTVT in the late 50's tended to be more on the soft side. The goings-on in city hall, crime (a gangland slaying once in a while), human interest, and news from 'back home' for the tourist population was the bread and butter of the news department. Rice was always on the lookout for feature-type stories to use as filler on slow news days.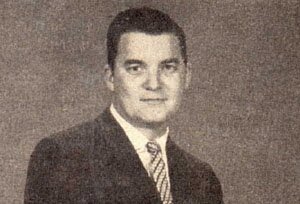 Crawford Rice, News Director and Anchor for the 6 p.m. News
Channel 13's news program had been titled "Newsroom," and for good reason. Windows were placed between the studio and the actual working area that the reporters and news director used to assemble their reports. A camera shot through a window directly into the newsroom where anchor Rice or Loughlin would deliver the news.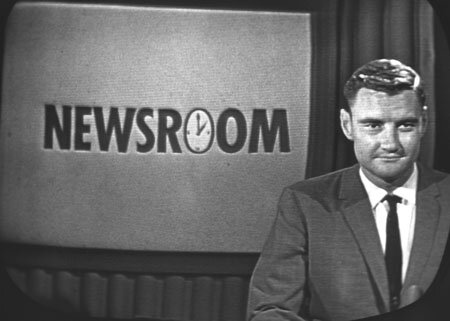 Newly hired anchor Joe Loughlin on the set of NEWSROOM
Scripts were hand-typed and read directly off the paper...no teleprompter. In fact, the director had only a format sheet and would rely upon the newscaster to cue a film roll using a foot pedal concealed under his desk. When a film cue was called for, the pedal would be pressed and a bell would ring in the control room and the film projection room.
At a time when the CBS network news (with Douglas Edwards) was running a paltry 15 minutes per evening, WTVT shook the broadcast industry by producing a 45 minute local news, sports, and weather block. Combining it with the Edward's 15 minutes allowed WTVT to become the first station in Florida to run an hour-long news block, starting in November, 1958. Word went out to employees that a new title was needed for the news and Film Director Jayne Boyd submitted "Pulse," winning a $15.00 bonus.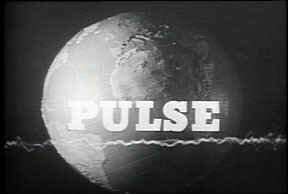 "This is Pulse...the heartbeat of a changing world.."
That spectacular announcement signaled the beginning of WTVT's 60 minute news block. A 16mm film showing a globe of Earth was fronted by the waveform of the announcer's voice, "pulse-ating" as he spoke. This familiar icon was updated several times in the 60's and 70's, and Pulse remained the title of WTVT's news program until the late 1980's, when it became "Eyewitness News."
Pulse Midday at 12 noon brought a half-hour of news, weather, and information designed for the female viewer. Al Moffatt was newsman, Roy Leep handled the weather, and features on fashion, cooking, and home management were the realm of Jean Phillips.
Channel 13 was the second station in the country to introduce daily editorials on October 20, 1958. Originally written and delivered by Crawford Rice and lasting about one minute, the editorial was researched and later co-written by Cy Smith. Smith continued as editorial writer for WTVT into the late 1970s.
Don Harris was a booth announcer who longed to get into the news arena. Harris was offered the chance to be a correspondent for 'Pulse Extra', a nightly feature story scheduled during the news program's final moments. Directed by Bob Gilbert and filmed by Chief Photographer Jack Cosgrove, 'Pulse Extra' was sometimes a hard-news look at local problems such as poorly run hospitals and segregation. Other times, it was a 'Charles Kuralt' kind of soft feature that eased the viewer into the network news. In the 70's, Harris gained prominence for his earthquake reports from South America, and later joined NBC network news. Harris died in 1978 while filming a story on cult leader Jim Jones in Jonestown, Guyana.

Pulse Extra's crew on location (L to R)
Jack Cosgrove, Don Harris, Bob Gilbert
To read an interview with 'Pulse Extra' cameraman Jack Cosgrove, CLICK HERE.

To read an interview with 'Pulse Extra' producer/director Bob Gilbert,
CLICK HERE
WTVT scored a national scoop in 1959, when Earl Wells traveled to Cuba with photographer Marvin Scott to cover Castro's overthrow of the Batista government. Wells, who got Castro's first interview after the coup, later returned there to report on the trials and executions that followed. It was Wells who first uncovered and reported on Castro's "School For Guerillas."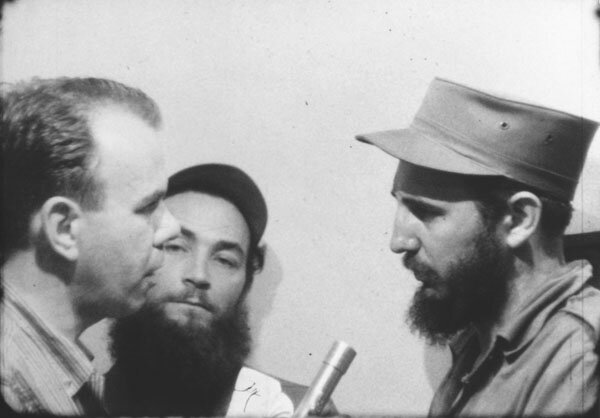 WTVT Reporter Earl Wells face-to-face with Fidel Castro (1959)
Channel 13's efforts did not go unnoticed. In March, 1960, Pulse was selected by TV Radio Mirror Magazine as the 'best TV news program in the Southern United States.'
"The home audience gets a sense of immediacy and participation because of the excellent pacing of the show," stated TV Radio Mirror. "There is a sparkle of spontaneity, and there is cohesion of all the parts."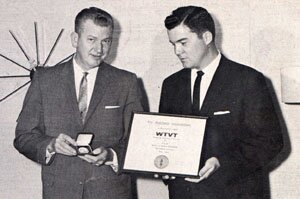 General Manager Gene Dodson and News Director Crawford Rice
with TV Radio Mirror's award for
"Best TV News Program in the Southern States"