Ernie Lee
Glad To Meet You...

Just give me Dixie...where folks are smilin', and all the while
invitin' you there...where friends will greet you...
say 'I'm glad to meet you'...sunshine is everywhere....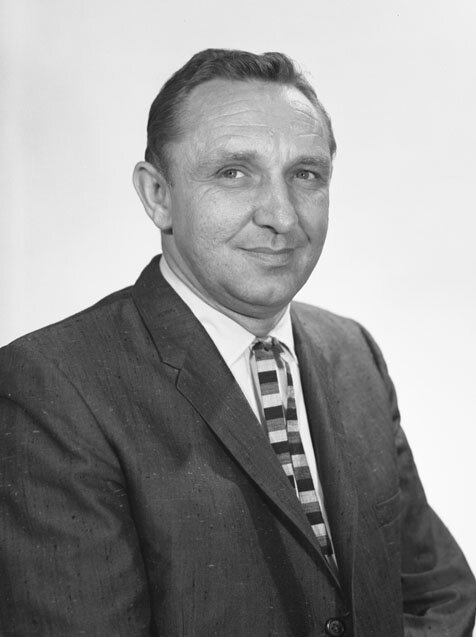 Ernie Lee...WTVT's southern gentleman
Ernie Lee was Channel 13's mainstay for a generation. When the transmitter was turned on in the morning, Ernie was there to greet viewers and gently get the day going with tunes like "Just Give Me Dixie" and "Hominy Grits." Viewers loved Ernie's laid back style, and the station employees loved his southern manners and sense of humor. But Ernie's story really began 800 miles north....
MY OLD KENTUCKY HOME
Born in Berea, Kentucky, on April 12, 1916, Ernest Eli Cornelison starting picking the guitar at age 13. His father was employed as the town's jailer and young Ernie learned the instrument from inmates. "There was always some poor fellow in jail that knew the guitar," explained Ernie.At the age of 24, Ernie joined a country music radio program called the Renfro Valley Barn Dance, which was broadcast from Berea and heard regionally in the Midwest on WLS radio. His debut took place on the night when singer Red Foley was unable to appear on the show. Ernie sang "The Yellow Rose of Texas."
The "Barn Dance's" producer, John Lair, made Ernie a regular and teamed him up with another young performer, steel guitarist Jerry Byrd.
Ernie followed Jerry Byrd's move to Detroit in 1945. Another Renfro Valley performer, Bronson 'Barefoot Brownie' Reynolds, also relocated to the Motor City, joining Lee and Byrd on stage and in clubs.

Ernie moved on to Cincinnati in 1947, and for the next seven years appeared on stage and starred on his own WLW radio program.

When commercial television came to the area in 1948, Ernie was one of the first to appear on the new medium. He became a star performer and emcee on WLWT's "Midwestern Hayride."

Some of Ernie's songs were made available on 78 and 45 rpm records. Tunes such as "My Old Kentucky Home" and "Hominy Grits," written for Ernie by 'Smiley' Burnette, were heard on the RCA Victor and M-G-M Records labels. Ernie never had a big enough hit to put him in the leagues with Hank Williams, but he was a steady seller and welcome performer in the midwest.
When Ernie's health deteriorated in 1954, his doctor recommended moving to a warmer climate. Ernie placed a long-distance call to his former WLWT 'Hayride' director Bob Gilbert, who made the journey south two years earlier to help put WSUN-TV on the air in St. Petersburg. Although Gilbert could not offer a salary commensurate with what he was getting in Cincinnati, a deal was struck and Ernie, his wife Jean and three sons, moved to St. Pete. Ernie was impressed with the facilities of WSUN, saying it 'was like being on the network.'
SONG OF THE SOUTH
Ernie's health improved in the Tampa Bay climate and his career was rejuvenated as well. But the area offered other diversions besides the sunny beaches and warm temperatures...fishing! Ernie became an avid fisherman and would often tell audiences 'You should go fishing because IT'S GOOD FER YA!'
WSUN put Ernie's talents to good use. For the younger audience, Ernie hosted a weekly 30-minute show called "Riddle-Dee-Dee with Ernie Lee." The show's format was built around riddles sent in by viewers to test the wits of a panel of children.
'Ernie Lee and the Florida Ranch Boys,' was first scheduled for 15-minutes on weeknights at 6:45, then moved to 10 pm, and then evolved into two twice-a-week half-hours, Tuesdays at 9 pm and Thursdays at 8:30 pm.

Viewers could also see him in other programs such as 'The Beach Club with Reba Fox and Ernie Lee.'

BIG 13 BOUND
Ernie's legendary stint at WTVT began on April 14, 1958.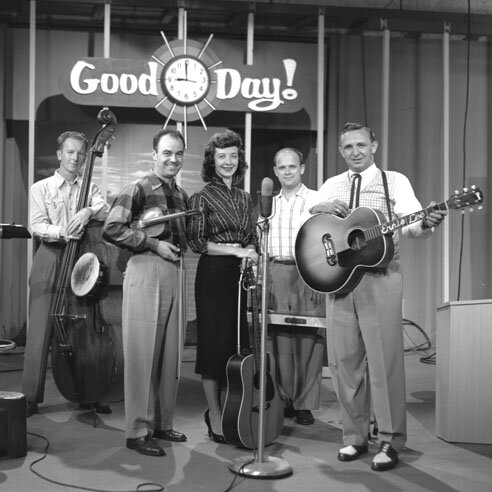 First, there was the 'Good Day' show starring Ernie and his musical friends from Ohio, Herb and Kay Adams. Herb played bass fiddle while Kay supplied rhythm guitar.Backing up Ernie, Herb, and Kay was 'Barefoot Brownie' Reynolds on bass fiddle and Jerry Bird on keyboard. By 1959, Ernie's rotating musical team included Don Stringfeller, Mose Edeker, Merle Abner, Red Herron, Horace Floyd, and Chubby Howard, with Florida native Dewey Tew coming on board in 1961 and J.D. Renney shortly after. Channel 13 management loved the ratings for the 'Good Day' show, which often beat the competition on WFLA...'The Today Show' with Dave Garroway. Ernie also hosted his own 15-minute show at 12:15 during 'Pulse Midday.'

Ernie's day began at 4 am in his St. Petersburg home. Rocketing across the Howard Frankland bridge in his Lincoln Continental, Ernie would arrive at WTVT's Grand Central Avenue (later renamed Kennedy Blvd.) studios about 20 minutes prior to 'Good Day's 7am start. In later years, the daily commute would occur earlier when the show aired at 6am.

Ernie's troupe appeared regionally on stage and to responsive audiences
at the Florida State fair.
| | |
| --- | --- |
| | Ernie cut his only long-play LP record album in 1965. "Ernie Lee's BIG 13," was a title that saluted Ernie's WTVT home-base (and incidentally, now the name of our web site!). J.D. Renney and Dewey Tew, both playing electric guitar, joined Ernie, Herb and Kay on the "BIG 13" album. |
With the departure of popular WTVT kids show host Mary Ellen in 1964, the job of introducing Popeye cartoons was given to Ernie on a program titled "Cartoons With Ernie." In the late 1960's, Ernie's morning program was retitled 'A.M.,' and then 'Breakfast Beat.' Ernie found another fishing buddy in farm reporter Bruce Hutchcraft, whose high-pitched laugh caused many a crew member to break up as well. Ernie often appeared solo on 'Breakfast Beat,' the result of a tighter budget for the morning program. His long-time friend 'Barefoot Brownie' continued to appear twice a week. In the late 70's, Ernie was joined by another veteran of the Renfro Valley Barn Dance, "Dynamite Jim" Eidson, who was one of Tampa Bay's most renowned guitarists.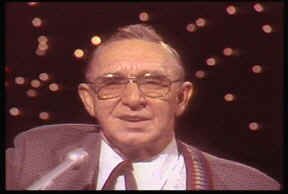 Ernie in the mid 1970s

'Breakfast Beat's' new anchor in 1973 was a 23 year-old newscaster from Milwaukee, Scott Shuster. Shuster spent his earlier years at WMIL radio and served as emcee at the station's country and western shows, where he learned guitar technique from legendary musician Earl Scruggs. Shuster and Ernie Lee spent many hours jamming and singing together, but always off-camera.

THE SUNSET TRAIL

In 1982, Ernie was feted with a special 'Breakfast Beat' on his 25th anniversary at WTVT. Hosted by anchorman Alan Wendt, Ernie received visitors from his past, recalled career highlights, and sang some classic songs with his comrades Kay Adams, 'Barefoot Brownie,' and Bobby Lord.

Ernie had served Tampa Bay area viewers for a total of 37 wonderful years when age and ill-health began taking its toll. Ernie's live appearances on "Breakfast Beat" were becoming more rare. When Ernie was able, the crew would tape several songs to be spread out over the following weeks.

The United State's involvement in the 1991 Gulf War knocked "Breakfast Beat" (and most other daytime programming) off the schedule as WTVT carried feeds from CNN (War coverage was of special interest to the area with the military's Central Command based in Tampa). When 'Breakfast Beat' returned, Ernie was sadly no longer part of the program. He died several months later on May 23, 1991, and was honored at a memorial service at Mirror Lake Christian Church, which was attended by many of his fans and co-workers.

Even if you weren't a fan of country music, Ernie's smooth voice and gentle charm would turn you into one. It's pretty hard to resist lyrics like this:

Wish I was a teddy bear...

not living or loving or goin' nowhere

and I wish that I hadn't fallen in love with you.

At the end of each program, Ernie would address his wife on camera and say "Put on the coffee pot, Jeanie. I'm comin' home."

POSTSCRIPTS



The BIG 13 web site honors present and former WTVT employees with an 'Ernie,' named after Ernie Lee. The 'Ernie' is an expression of appreciation for extraordinary service to the station.
To see a list of 'Ernie' honorees, CLICK HERE

* * * * * * * * * * * * * * * *

Ernie Lee fans have not heard his music in a long time, and BIG 13 is doing something about it! With the help of rare-record collectors across the country and some judicious bidding on EBay, we are proud to announce that a new CD collection of Ernie's music is in the works. We're very close to a final version, once Ernie's signature tune "Just Give Me Dixie" is located. Believe it or not, no commercial recording of Ernie's signature "Dixie" tune was ever issued! But we're still looking. When the CD is complete, an announcement will be made on the site's home page regarding availability.

TO RETURN TO MAIN MENU, CLICK HERE

TO SEE OTHER WTVT PERSONALITIES, CLICK HERE