ALL GOOD THINGS...
After being on the air continuously for 12 years (including the time spent in Ohio) and hosting five or six shows a week, Mary Ellen left Channel 13 in the spring of 1964. When the St. Pete Times caught up with her later that year, she stated that the show ended so that she could spend more time with her family. "I've worked all my life." she said, "This is the first time I've been able to sit back and let someone else take charge. I loved working, never thought I could be happy without it. But I have neither desire no plans to return to television. Some time I might consider doing one show a week, but no more."
Mary Ellen added that her children were now teenagers who are glad to have a full-time mom. "It's much nicer for everyone now that I'm less nervous and irritable. Besides, my husband has wanted me to leave television for years. He appreciates having his meals on time when he's home."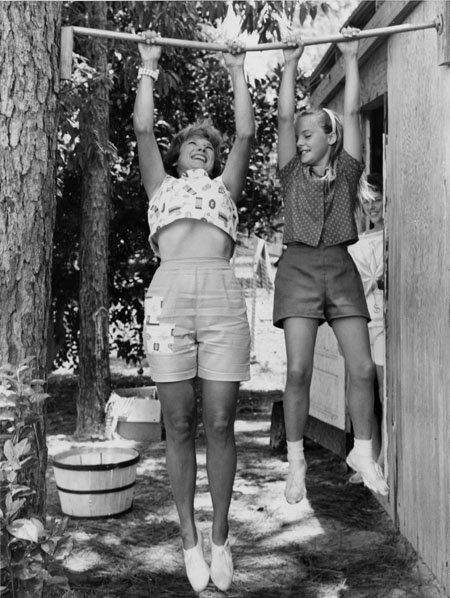 Hangin' with mom. Robin enjoys having Mary Ellen at home...live, and in color!
Several years later, Mary Ellen gave a more candid interview regarding the end of her show. "They told me they were taking the show off the air because we were trailing 'The Mickey Mouse Club' by a rating point, but that's pretty good, really."
When not attending to her family, Mary Ellen was publicity chairwoman for the Tampa and Silver Lake Women's Golf Association. An avid Golfer, Mary Ellen walked away with several trophies.
Mary Ellen and her family lived on 8 acres of land in northern Tampa, with two acres covered by fruit trees. It was the third home that Clyde had designed and built for them since their arrival in Tampa in 1957. Clyde was in the process of building them a new home, and they would soon be moving a few miles north to Quail Hollow. After that, a new development in Pebble Creek was planned by Clyde, who moved the family again and also managed the golf course.
WHERE DID EVERYONE GO?
With Mary Ellen gone, Channel 8 had a clear field for Uncle Bruce, who spent years following Mary Ellen on the TV schedule. But Uncle Bruce also disappeared from TV screens shortly after (although his Sunday morning "Kid's Bible Club" remained for a while).
The departure of Mary Ellen, Uncle Bruce, and just about every other local kid's show personality across the country has more to do with economics than with the personal wishes of their hosts.
Companies like Hanna-Barbera would format a half hour cartoon show that needed no live host to introduce it. It freed the station from hosting a live audience of children every weekday and the production needs that the program required. The money a station would pay for a local host would instead go into the bottom line...i.e., higher profits. By the late 60's, local kid show hosts were mostly gone in favor of syndicated cartoons, talk shows, and game shows. National legislation limiting the participation of local hosts in hawking products to children also contributed to the end of kids shows.
It's rather sad that a youngster growing up now has no local personality to be his 'television friend.' Someone he could see live at by attending a studio show or a personal appearance. Local personalities helped define a station and connect to their audience. It's a bygone era, and TV viewers are much the less for it.
"I only know that almost all small children are good," said Mary Ellen in parting. "Only those who are too-spoiled are unmanageable. As for teenagers, I'm afraid I haven't yet learned to handle my own."
Mary Ellen was the cream of the crop, and talent like hers is not likely to come this way again, or if it did, be offered the chance to entertain and inform our young viewers.
One of the most frequently asked questions directed to the BIG 13 site is whether any tapes or films of the Mary Ellen Show survive. Unfortunately, the answer is no. Mary Ellen was a live program, and even though certain air checks (recordings) were made over the years, they have either been discarded or lost. It's unfortunate but not an unusual situation in local TV.
MARY ELLEN UPDATE: FIND OUT WHAT HAPPENED AFTER HER SHOW ENDED BY CLICKING HERE
FOR A LOOK AT OTHER BAY AREA KID SHOW PERSONALITIES, CLICK HERE
TO RETURN TO THE MAIN MENU, CLICK HERE
*Popeye was a huge hit for TV stations all across the country. In 1957, The cartoon character's studio, Paramount, released a large library of Popeye theatrical cartoons produced by the Fleisher Brothers and Famous Studios. In 1961, over 200 new cartoons were produced. This package was seen on local TV stations well into the 1980's.