Photo of The Week Archive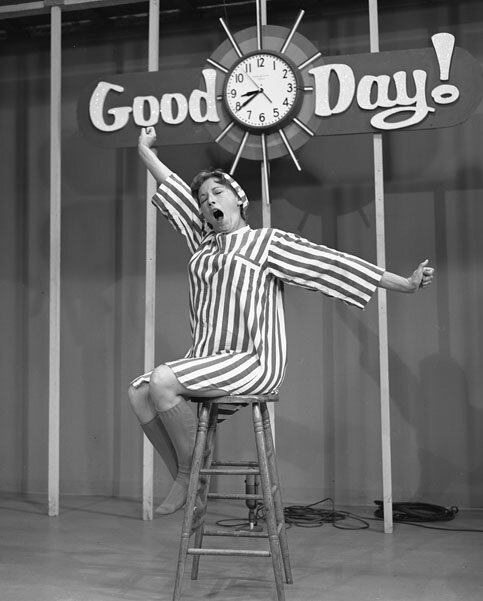 Rise and Shine! It's time for Good Day with Ernie Lee.
Can you guess who this sleepy lady is?
It's none other than WTVT's Mary Ellen!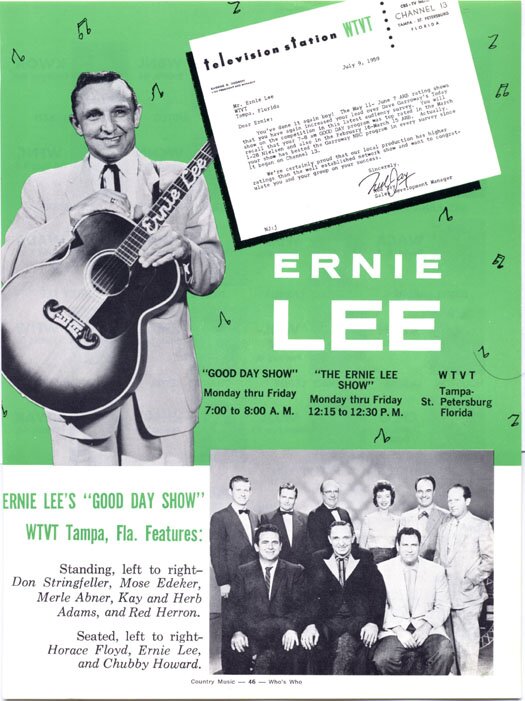 Good ol' Ernie Lee in a 1959 trade ad. 'Ern was on WTVT
for over thirty years!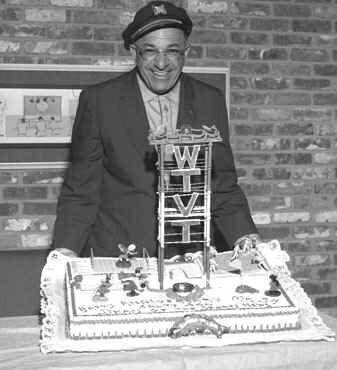 "Salty Sol" Fleischman celebrates another year with WTVT.
Circa 1962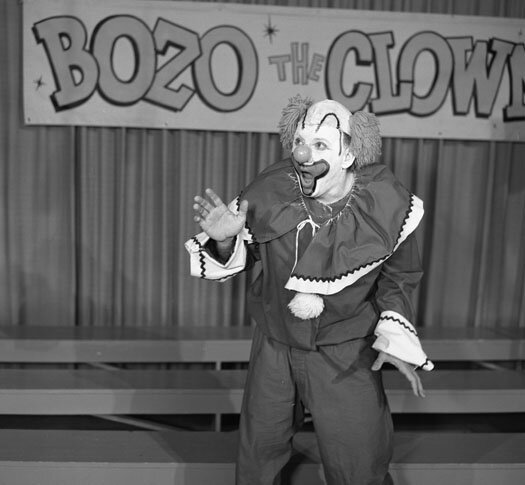 Always keep 'em laughing!!
Channel 13's own Bozo, as portrayed by Paul Reynolds.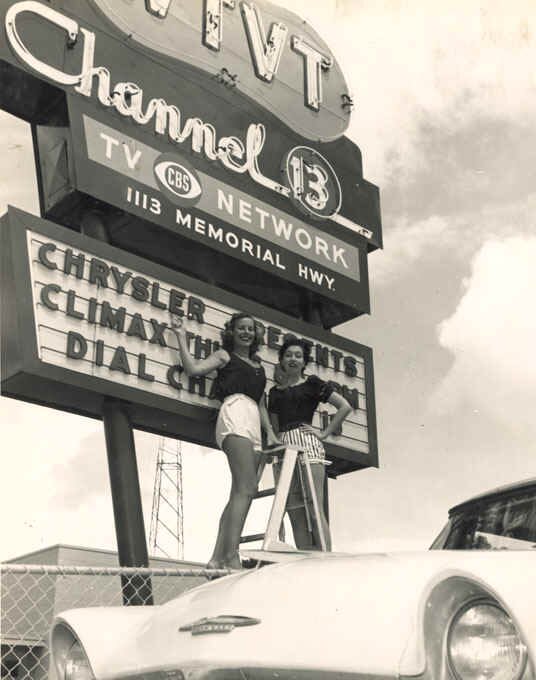 "Chrysler presents CLIMAX".
Pat Harris and Doris Ann Duval help draw attention
to "Climax," a weekly drama, in this 1956 photo taken in front of WTVT's
original marquee. Note that the address still lists Memorial Highway.
In the foreground is a sleek new '56 Plymouth.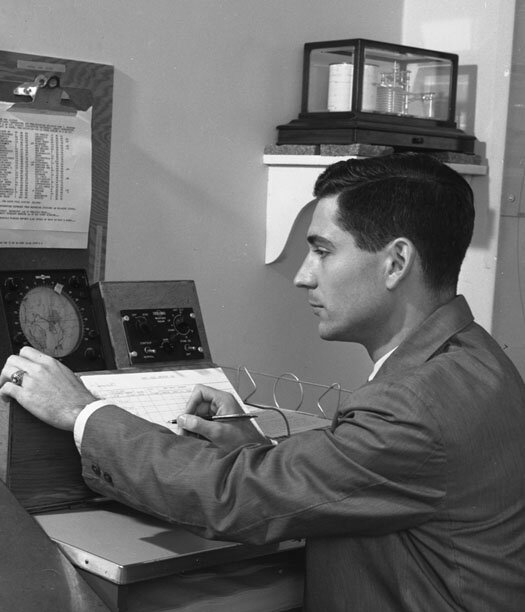 June 11, 1959, and Channel 13's Roy Leep prepares his next
weathercast. Leep would rein (yes, it's a pun!) over the WTVT
Weather Department for the next 28 years.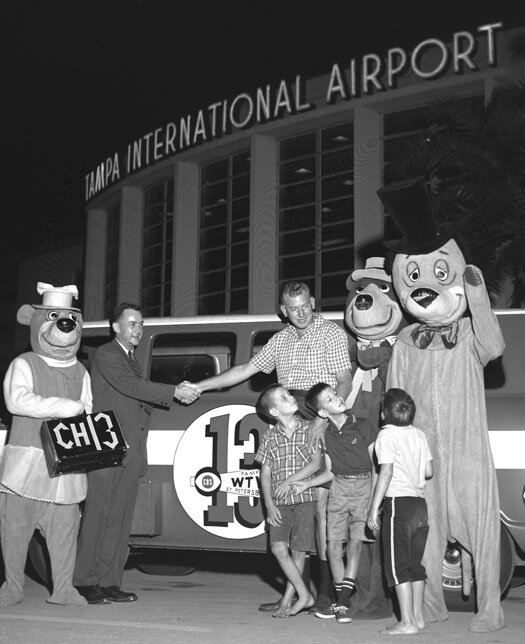 Celebrities spotted at Tampa International! (Circa 1958)
Yogi Bear, Booboo, and Huckleberry Hound are welcomed by
WTVT General Manager Gene Dodson and a gaggle of
youngsters. The unidentified man at left might
be from Screen Gems, the syndicater of Hanna-Barbera properties.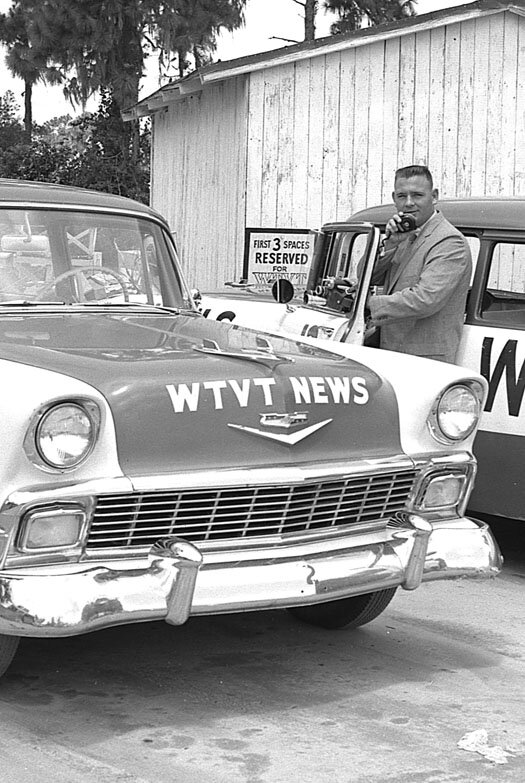 Chief News Photographer Marvin Scott poses next to WTVT's
brand-new 1956 Chevrolet newswagons. Just for the record, the cars
are painted red and white, and are equipped with state-of-the-art
shortwave radios.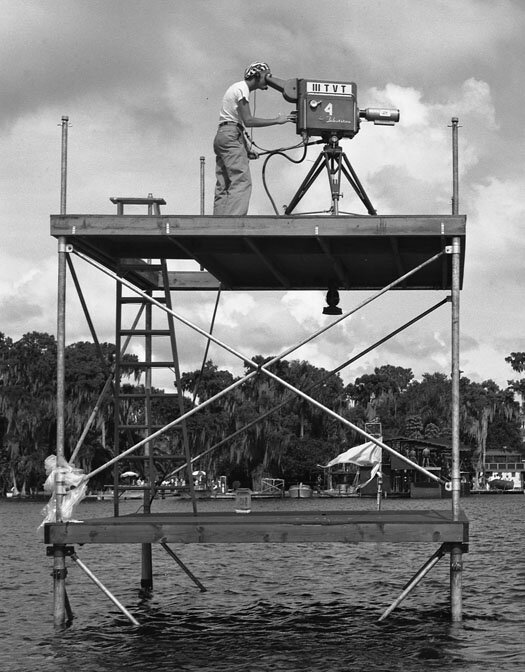 Cypress Gardens remote in the late 50's.
As one of Florida's premier attractions passes into history, we'll remember the luxurious gardens and spectacular water shows.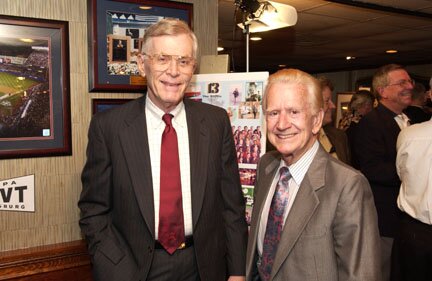 Hugh Smith and Arch Deal
at the BIG 13 WTVT/WFLA reunion dinner,
held May 1st, 2003 in Tampa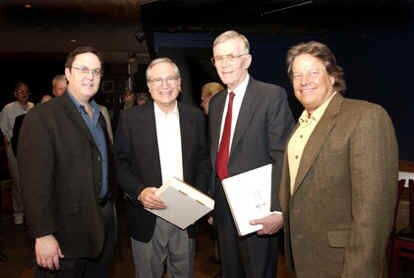 At the May 1st, 2003 WTVT reunion in Tampa
Mike Clark, Roy Leep, Hugh Smith, Pete Johnson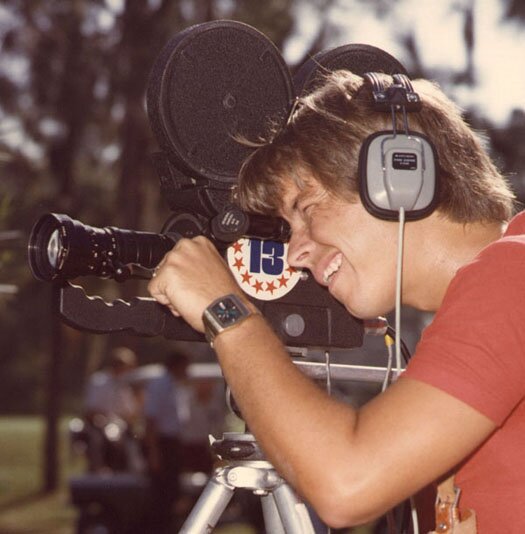 Sports reporter Pete Johnson likes what he sees
through this sound-on-film 16mm camera (Circa 1976)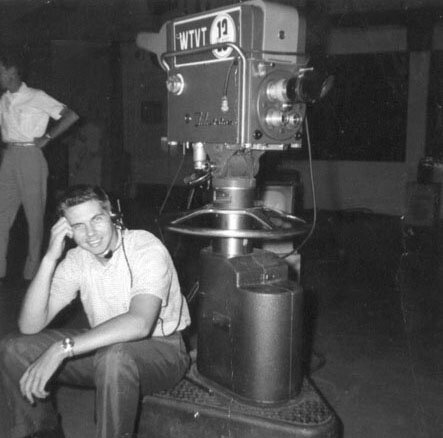 Cameraman Bob West takes a break on the set of
The Mary Ellen Show (Aug. 10, 1962)
Photo by Mike Clark, age 10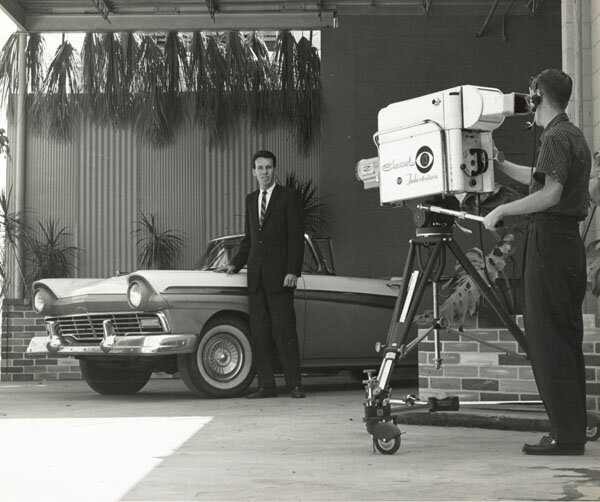 Don Harris pitches a 1957 Ford convertible in a unique patio setting
behind Studio B. Operating the camera is Lyle "Red" Koch.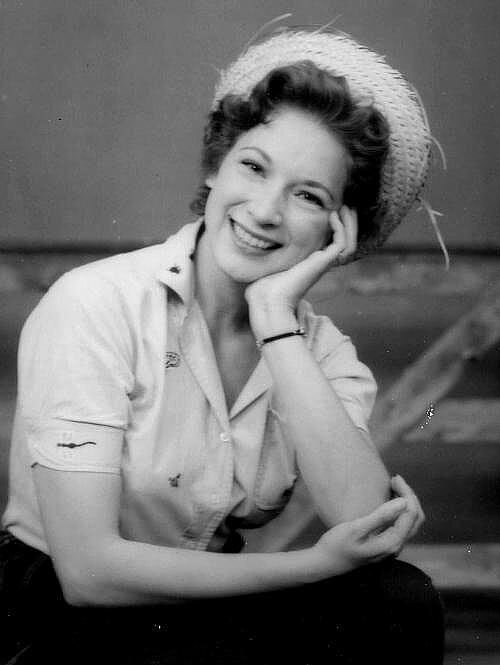 Mary Ellen on the set of her first WTVT show, "Fun Farm." (1957)
A few weeks later, "Popeye Playhouse with Mary Ellen" premiered and she donned a sailor hat and striped shirt AND gained a co-star...Poopdeck the Parrot.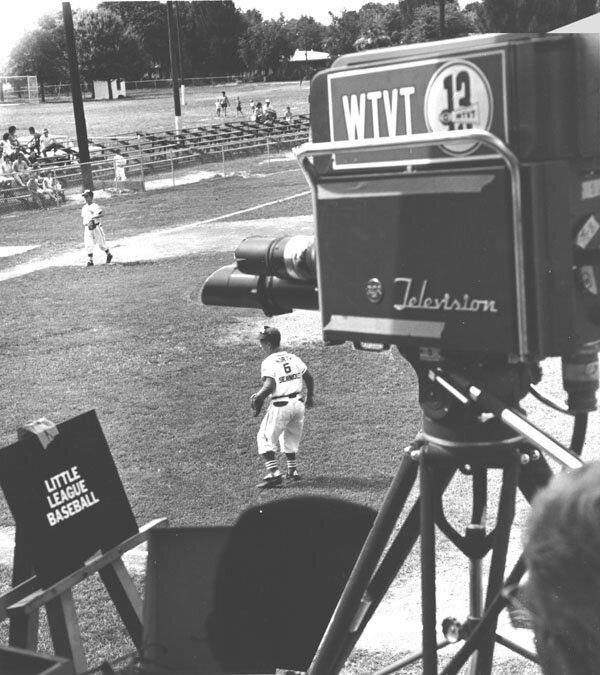 "The Boys of Summer" (1962)
WTVT cameras cover the Tampa Little League

Look what came in the mail for 3D Danny! His new robot, Ruffnik. Together, they would star in 3D Danny adventures for three years. Danny was played by WTVT announcer Ed Scott. Ruffnik was brought to life by Lyle "Red" Koch. See their profiles below under "3D Danny."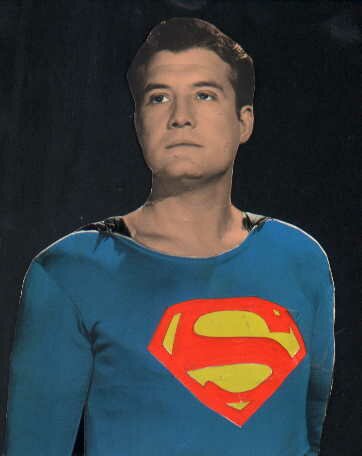 It's a bird, it's a...well, you know it's Superman!
George Reeves starred as the classic DC Comics
character in a series produced during the 1950s.
The show got a second life in 1966, when color prints were made available to WTVT.

But that's not all, folks! Here I am with Superman's leading lady, Noel Neill. This photo was taken 8/17/03 at the TV Land convention in Los Angeles.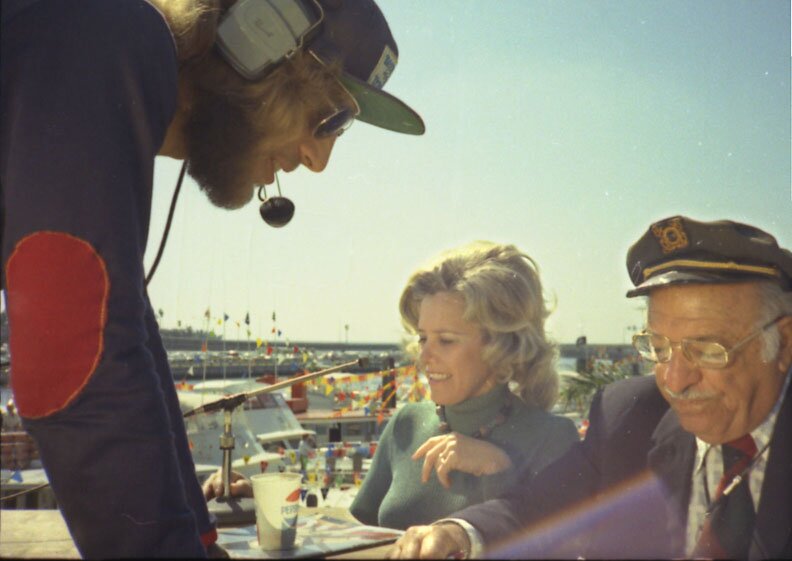 Floor manager Joe Puleo confers with Gasparilla Parade
co-hosts Pat Colmenares and 'Salty' Sol Fleishman (1974)

Demonstrating how 'cool' he can be under pressure,
reporter Ray Blush prepares a script prior to shooting
a stand-up intro to an oil fire (Feb. 1971).
Note the manual typewriter and 70's style logo on
Blush's red Chevy Malibu. To read the story of Ray Blush,
and how he came to BIG 13 to become a reporter, anchor,
host of "High-Q," producer/anchor of "Project 13" and
eventually News Director, click here:
big13.net/rayblush.htm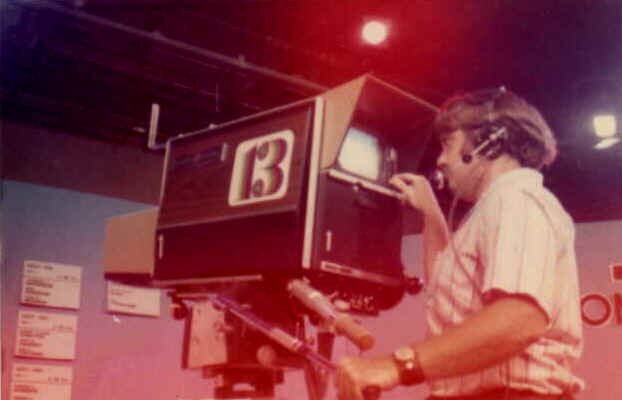 Richard Bozeman operates a G.E. PE-400 during the November,
1972 Florida elections. To learn more about WTVT's engineering
and technical facilities, click here:
big13.net/Facilities/facilities_main_page.htm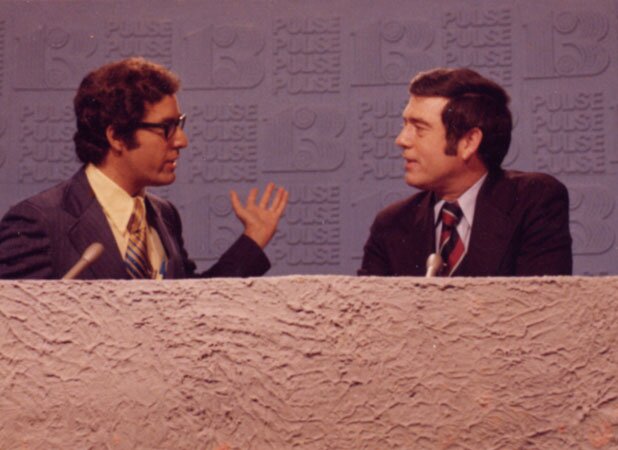 Pulse Plus! anchor Scott Shuster with Dan Rather (1975).
Rather was still the weekend anchor of CBS News.
To read about the amazing career of Scott Shuster,
click here:
big13.net/Scott%20Shuster/scottshuster1.htm

John Sizemore in Studio 13 at the controls of a Norelco PC-70.
(1976)
John has been with NBC for twenty years now as a cameraman
and technical director on "Days Of Our Lives."

Jule McGee, Doug Ibold, Jim Benedict, and Mak Makinen
enjoy a reunion at WTVT studios in October, 2003.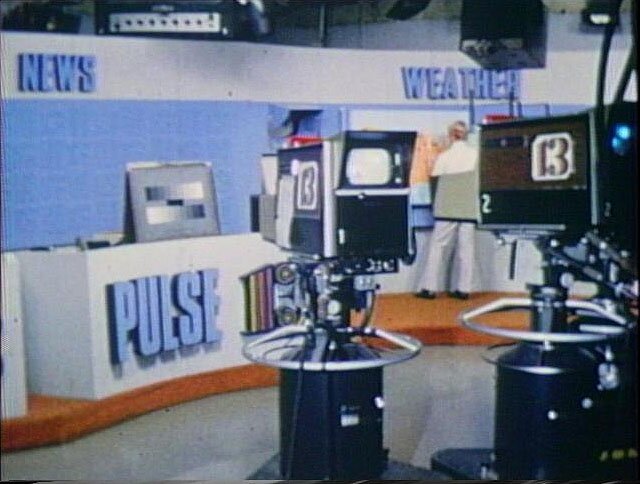 The good 'ol "Chip Chart." Three General Electric P.E. 400's are
being aligned for the six o'clock "Pulse" news by engineer
Emmett West. It usually took about 20 minutes to check
the cameras for registration and color balance.
Lighting was a bright 250 foot candles! (1975)
For more information about WTVT's cameras and technical
facilities, CLICK HERE

"Mr. Green Jeans," played by Hugh "Lumpy" Brannum on remote at
Tampa's Busch Gardens for CAPTAIN KANGEROO (1976).
Cameraman Gil Muro aims a Hitachi HL-33 at the action.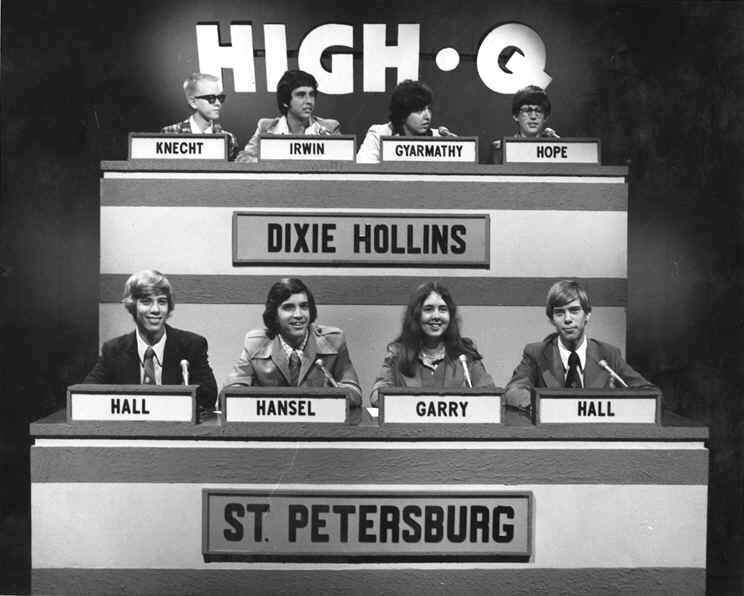 Two local schools faced off in a fast-moving
game of knowledge. Hosted by Ray Blush, High-Q
was one of several public service programs
produced under the tutelage of Public Service Director
Charlie Hampton.

BIG 13 feature writer Tony Zappone, former Congressman Sam Gibbons, and Kathy Fountain on the WTVT set of "Your Turn" on November 21, 2003. The subject was the 40th anniversary of John F. Kennedy's visit to Tampa, which included showing many of Tony's photos that appear in our section called "Tampa Remembers John F. Kennedy". You can also read personal accounts of JFK's trip by WFLA's Arch Deal and photographers Tony Hamilton and Terry Drymon. Click here to see "Tampa Remembers John F. Kennedy"

Former FSU QB Vic Prinzi, Sports Director Andy Hardy,
and movie star Burt Reynolds provided commentary for
a Bucs game in August, 1978.


This classic Pulse news logo was seen in
several forms for almost 30 years.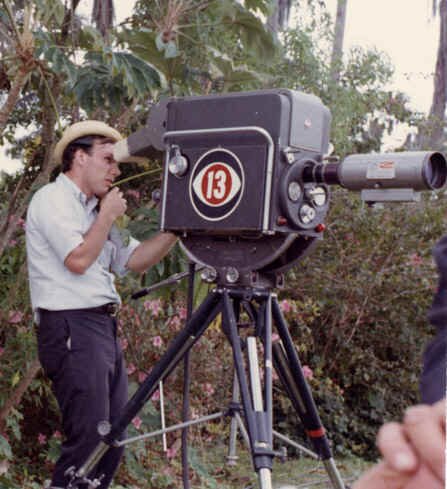 Joe McDaniel operates an RCA TK-30 during a remote
at Cypress Gardens (1967).
Thanks to Lurleen McDaniel for this shot.