The Scary Tale
of
SHOCK THEATRE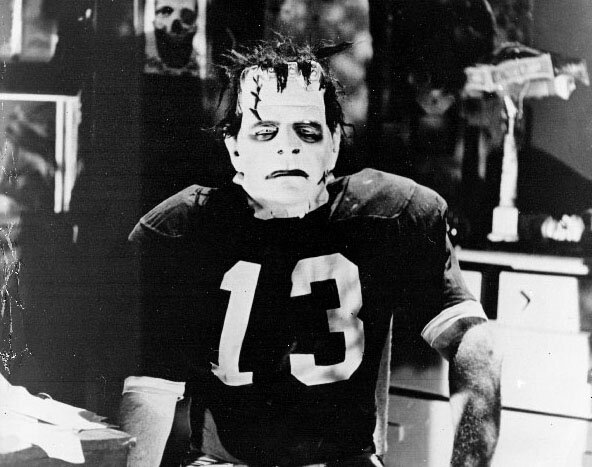 'Shock Armstrong' The All-American Ghoul
Just about every local station worth its salt had a late-night horror movie presented by a 'horrific' host. The country's most famous horror host, John Zacherle, broadcast out of New York. Vampira, the infamous female host who appeared in Edward D. Wood's Plan Nine From Outer Space, was seen in Los Angeles. Elvira, also of Los Angeles, was a riff on Vampira and still is popular to this day. In the early 60's, Channel 8 had 'Terminus...the Theater of Science Fiction,' but no live host...only a somber announcer and a slide showing the Terminus name over an amorphous blob. In the 70's, Tampa Bay had Dr. Paul Bearer on WTOG, Channel 44. Bearer was pretty funny and had quite a long run, but the grand-daddy of Tampa Bay horror hosts, however, is --

'Shock' Armstrong, the All-American Ghoul.

This is his (shudder) true tale!
w w w w w w w w w w w w w w
Friday nights at 11:30 were dullsville on WTVT. In 1964, anybody with a brain was watching 'The Tonight Show' on Channel 8 where Johnny Carson, the hip young host, was two years into his thirty year gig for NBC. CBS and ABC provided no real competition for Carson, leaving it up to local stations to counterprogram against NBC's juggernaut.

WTVT's management must have noticed the strong ratings for late-night horror programming in other parts of the country, and decided that something more was needed after Pulse on Friday night than reruns of Highway Patrol.
'Shock Theatre' was originally seen on Channel 13 in 1959. The show's title was probably based on a 1957 horror movie package sold by Screen Gems, a subsidiary of Columbia Pictures. The package was called 'Shock,' and offered a plethora of titles from the classic Universal Studios library. The package was so successful another one called 'Son of Shock' was introduced a year later. The name 'Shock Theater' was already in use by several markets around the country by the time Channel 13 got in the game. The extensive library of titles included such classics as "Frankenstein," "The Wolfman," and more recent fare "This Island Earth" and "Creature From The Black Lagoon." Hosted by Ed and Peg Scott as a creepy duo in a spooky mansion, the original 'Shock Theatre' ended around 1961, leaving a vacuum in local horror programming.
3 years later, Bob Olson, who was largely responsible for local programming on Channel 13, put a new 'Shock Theatre' on the fast track.
To secure the perfect 'horror host,' Olson didn't have to cast his net very far...he summoned veteran Channel 13 announcer Paul Reynolds.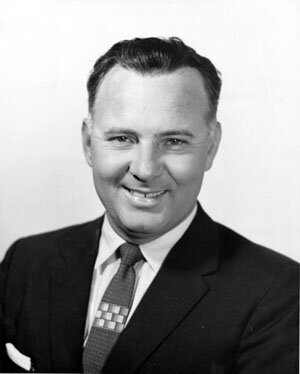 Paul Reynolds
Channel 13's 'Do It All' Guy
"Bob Olson summoned me to his office and announced I was going to host 'Shock Theatre'" recalled Reynolds. "Bob wasn't much help. He simply handed me an old University of Tampa football uniform with a '13' on it and a Frankenstein mask, and said 'Paul, you're a teenage ghoul.' From that, I made Shock's personality, which is basically an exaggeration of my personal frustrations. For instance, a mother who always wanted the room cleaned...a nosy neighbor next door who thought he could meddle in my affairs...and a general mistrust of all authority figures."
The crew provided a suitably trashed bedroom set. "Maybe that's why the kids identified with Shock so fast," suggested Reynolds. "He doesn't clean his room." Indeed, young people made up most of Shock's audience. "This wasn't supposed to be a kids' show!" stated a 'shocked' Reynolds.
Reynolds had long been Channel 13's 'do it all' guy.
The puckish broadcaster was born August 28, 1927 in Tampa. His interest in broadcasting was sparked when a friend involved him in producing a weekly church radio program. The future 'Shock' Armstrong would often take a newspaper to his bedroom and read it out loud to perfect his reading and presentation skills. Reynolds graduated from Hillsborough High and in 1946 joined WDAE radio, where he became an associate of another future WTVT legend, 'Salty' Sol Fleischman. Reynolds left Florida to major in speech and languages at Northwestern College while also acting as chief announcer for the school's radio station, KTIS. It was there he met his future wife Connie, who worked in the school's cafeteria and delivered meals to Reynolds during his air shift. "He was a very outgoing personI don't think he ever met anybody who didn't like him," says Mrs. Reynolds, now living in suburban Atlanta. "People just seemed to enjoy him. He was very witty and had a real sense of humor."
Returning to Florida a married man, Reynolds worked briefly for WPIN radio and then served as sports director and disk jockey at Nelson Poynter's WTSP radio station in St. Pete. Paul and Connie started a family, eventually having two daughters, Carol and Alice ("A.J.") and a son, Daniel.
He's no 'shock' jock!

Paul Reynolds spins records at WTSP radio.

He also helps put Channel 13 on the air and serves loyally for the next 15 years.
By the mid 50's, Reynold's "Million Dollar Bandstand" show, heard at 8 pm Monday through Friday, was the top-rated disk show in the Tampa Bay area. Reynold's quick wit, likeability, and a talent for voices were always a winning combination. In his spare time, Reynolds displayed a flair for music and played tympani with the St. Petersburg and Clearwater symphony orchestras. At one point, when Reynolds was holding down the 11pm to 4 am night shift at WTSP, he was anointed "Night Mayor" of St. Petersburg by then-Mayor Samuel Johnson.
"That's 'Night Mayor,'" stated Reynolds, "not 'Night Mare!'"
In March, 1955, Reynolds got the call from WTVT just days away from their April 1st premiere. "He was ambitious when it came to going from radio to TV" explains Paul's daughter Carol. "Someone told my Dad that he was too ugly for TV. He had his teeth fixed and bought some of the earliest contact lenses that covered the whole eyeball. He worked very hard to get into television."
| | |
| --- | --- |
| Reynolds 'before' shot... | Reynold's 'after' shot |
Connie Reynolds remembers that Paul's voice signed WTVT on the air April 1, 1955. "He went in initially as a booth announcer," she recalls."Only a few days later, they wanted him to do on-the-air commercials, and his first commercial account was for Maas Brothers. He would get paid extra for appearing on camera or making a personal appearance." Reynolds spent part of his time as a sports reporter, and eventually became one of the west coasts best known television personalities.
Rock and Roll music was going mainstream when Reynolds hosted "RECORD ROOM" Monday thru Friday 5-6pm (5:15-6pm on Friday) beginning October 31, 1955. Yes, this was over a year before Dick Clark hosted "American Bandstand." Reynolds would interview teens, take song requests, and let them admire "Kitty 13," the show's feline mascot. "Paul got in trouble with Kitty 13," recalls Connie Reynolds. "The cat got in some of the equipment racks and did something. Paul had to keep a closer eye on 'Kitty 13' after that." The show was re-named "OPEN HOUSE" In November, 1955, and continued until October 10, 1956. This show was designed for teens and housewives, featured beauty tips by Del Russo, cartooning by Bill Stokes, and a weekly dance clinic. Paul and "Open House" returned for a Saturday afternoon slot from April 19, 1958 to June 18, 1960. Seen from 4:30 to 5:30 pm, the show was renamed "TEEN PARTY" and sponsored by RC Cola.

Hosting teen music programs must have been a odd fit for Reynolds, who preferred the classics and was no fan of rock and roll. He even ranted against some new kid who sang while shaking his hips...Elvis Presley! When it came time to interview a famous folk group, Reynolds turned to his daughter Carol for help. "Dad had to interview Peter, Paul, and Mary" explains younger daughter A.J. "He wasn't into folk music, so he had Carol write down questions for him to ask them."
The hard-working Reynolds continued his night owl ways at WTVT, hosting "Two On The Aisle," a late-night feature starting at 11:30 pm on Fridays, Saturdays, and Sundays.
Reynolds and TV clicked and he settled in for a long run. "TV is great...radio is great. But they have their differences," he explained. "With radio, you're behind a mike, unseen by your listeners. No camera antics are necessary. Radio is still the best medium for news and music. On TV, now you're in the big leagues. You're competing with big names like Berle or Gobel. You've got to make people like you. On a disk show like mine, you have to figure out what to show the viewers while a records spinning...that's a problem."
The versatile Reynolds was also a fill-in host for vacationing Mary Ellen. Only then, he was usually under makeup as "Bozo The Clown." This might be the reason that Olson thought of putting Reynolds into costume for Shock Theatre.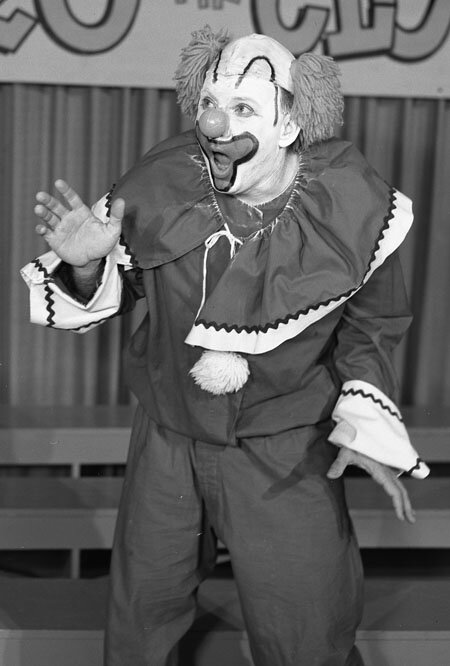 "Always keep laughing!" says Paul Reynolds as Bozo The Clown
Channel 13 producer and director Joe Wiezycki was placed in charge of getting 'Shock Theatre' into shape. Joe's son Larry recalls that when the program debuted on September 24, 1964, the Armstrong character was not an immediate hit: "The first couple of episodes, 'Shock' didn't say anything..he just moaned and groaned," recalls Larry. "There was no mention of the movieit was kind of like 'Shock's' own little show. For instance, he would prepare himself breakfast. He'd start to chop up a banana for the cereal and would use a bayonet instead of a knife. Then, the bayonet is not sharp enough so 'Shock' decides to whack the banana with it. He hits the banana so hard he busts the table. He was like a big klutz. 'Shock Theatre' didn't really take off until 'Shock' started talking on the third or fourth week."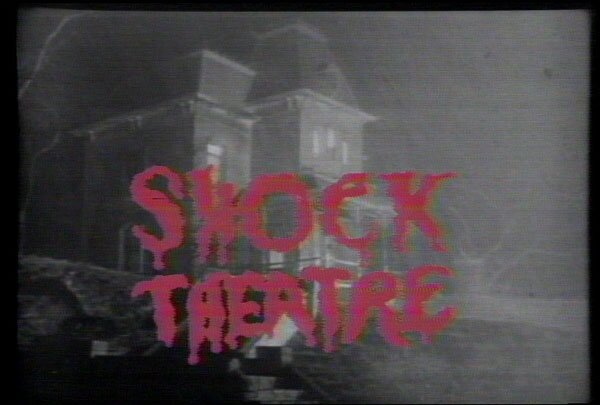 A typical 'Shock Theatre' begins with a clip from "Dracula," one of the higher profile Universal movies in the package. As Dracula (Bela Lugosi) glides menacingly amidst a fog-shrouded forest, the "Shock Theatre" logo is superimposed. Wolves howl as spooky, dramatic music reaches a climax when Lugosi transforms into a bat and flies away while lightning flashes blaze across the screen. The Dracula films cuts to an old, spooky mansion (Looks like The Munster's home...and probably is) as lightning flashes and rain pelts the shabby exterior. The scene shifts live to Studio B, where the viewer peeks through a window into Shock's bedroom. Cutting inside, we see Shock asleep in his coffin. Shock's alarm clock, which is wired to the bolts in his neck, chimes out Big Ben's thunderous bells. Shock would stir, rise out of the coffin, kiss Lamby-pie (a stuffed Wolfman doll) and get into his routine from the attic of his haunted house. Offering a few morbid jokes and observations, Shock performs running gags or small skits between the night's double feature. His long suffering, off-camera mother is represented only by a recorded scream (AHHHH AAHHHHH AHHHHHH!!!) that always sounds exactly the same.

Shock hosted a double-feature package, with his twisted antics leading into and out of commercial breaks.

Armstrong's high jinx include:

*Smashing an old TV set

*Taunting his neighbors

*Bedding down in a coffin

*Cuddling a tommy gun to his chest

*Brewing a batch of nuclear dishwater, spraying it on passersby, pouring it down a trap door onto his mother (recorded scream AHHHH AAHHHHH AHHHHHH), and venting the goo into the city's sewer system.

At the end of the double feature, Shock would retrieve Lamby-Pie and return to his coffin.

"I've never been on a show that's caught on quicker," said Reynolds, whose nine year old daughter A.J. became known around school as 'The Daughter of Shock.' "Dad was going to visit my elementary class in his 'Shock' costume, recalls A.J." He got a little lost and peaked through the window of my classroom. One of the kids became hysterical and ran to the back of the room. I ran after her and said 'That's my Dad! He's just a man!" The other kids thought it was great."

Larry Wiezycki recalls helping his father Joe produce some special 'Shock' effects on several occasions. "My Dad had an idea that 'Shock' is going to save all the used Christmas trees that people throw out. Me and my buddies went around after Christmas collecting trees. The limbs and needles were all brown and dried out. It was a big mess and 'Shock' moved the trees into his attic, and somehow sets them all on fire. I remember that they made a fire between the camera and the trees so it looked like the place was an inferno." Larry revealed to BIG 13 that Joe played a recurring part on 'Shock Theatre'. "My Dad was 'Mr. Wilson' next door. You never saw himyou only heard him yelling at 'Shock' for playing his records too loud or whatever."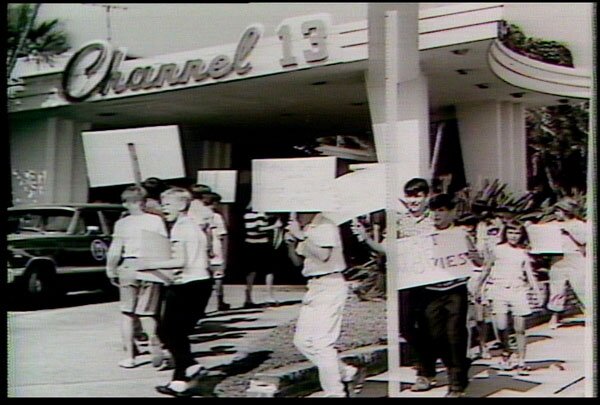 "We want our Shock!"
Protestors picketed to bring back Shock
Reynolds happily hosted Shock Theatre for three years, until management decided to replace it with the new Joey Bishop talk show in April, 1967. Bob Olson wasn't ready for the fan reaction to the news of Shock's cancellation. Protestors appeared at Channel 13's doorstep with placards demanding the return of Shock Armstrong. Noting the crowd's feelings, and having nothing better to program at 11:30, Reynold's was back in costume and 'Shock' was back on the air until 1968. After 13 years at BIG 13, Reynolds left the station and moved to Atlanta to work as an early consumer ombudsman for WXII-TV, and later WAGA-TV. Unfortunately, Reynold's 'Shock' costume and 'Bozo' outfit were stolen from the Reynold's near-vacant Florida house while they were apartment hunting in Atlanta.
Reynold's career flourished in Atlanta, and viewers back in Tampa Bay consoled themselves with memories of his zany antics on 'Shock Theatre.' Reynolds, who delighted audiences in Florida and Georgia for 50 years, died in 1996.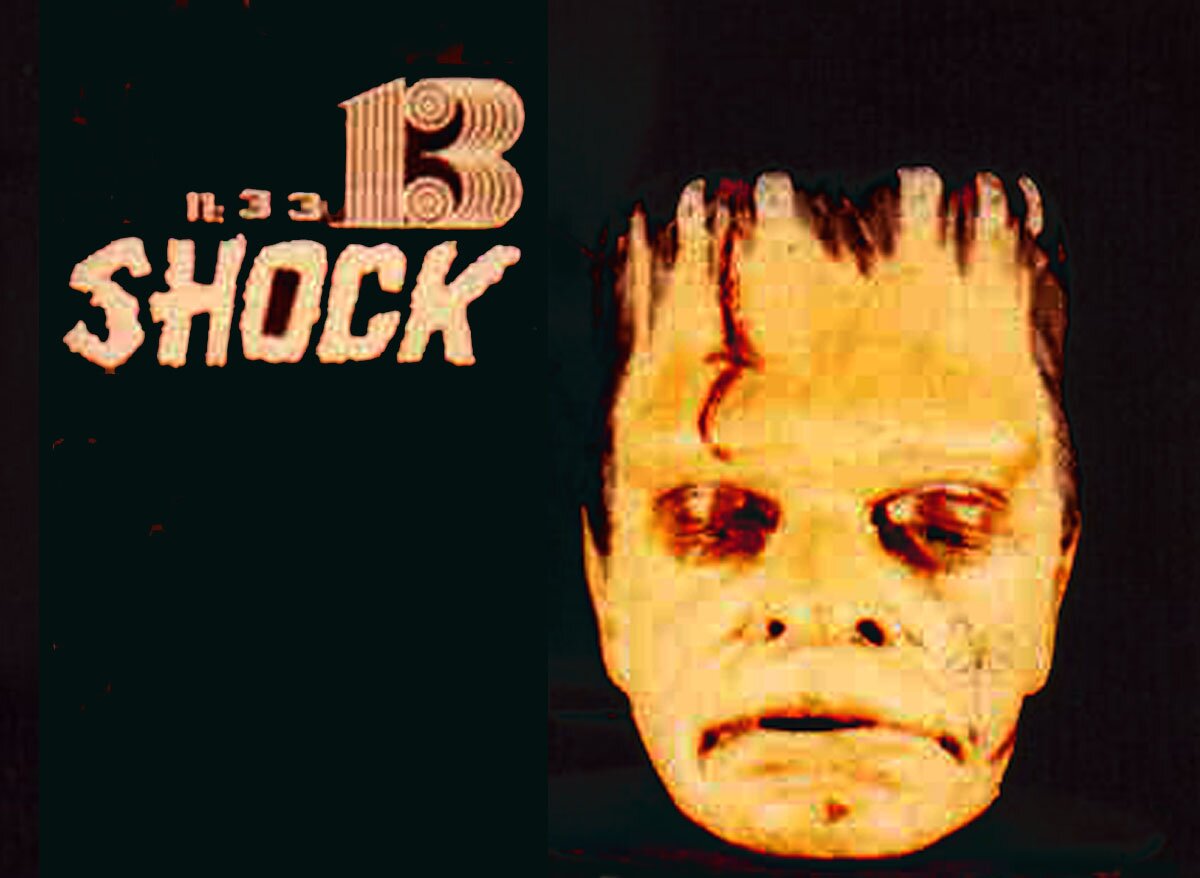 'Shock Theatre' continued but without a live host. A plastic Frankenstein head (originally a Halloween candy receptacle), was ghoulishly painted a sickening yellow-green by the station's art director. The Friday evening studio crew would put the Shock head in place of the PULSE News rotating miniature globe, and apply the SHOCK THEATRE logo over the PULSE logo. It was a deft satire of the PULSE logo that somehow didn't ruffle the feathers of the news department. But 'Shock' somehow had that effect on everybody...you had to love him.
Shock Theatre finally ended in 1974, to be replaced by CBS's many attempts at late night programming.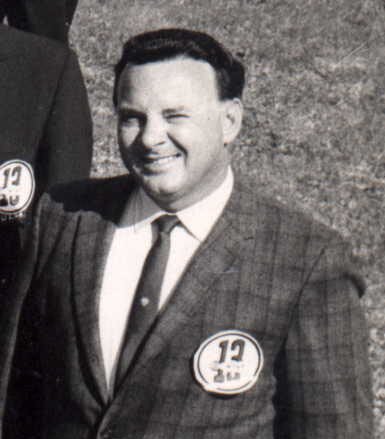 Paul Reynolds posing in his Channel 13 blazer, circa 1963.
They don't make 'em like Paul Reynolds anymore...witty, likeable, but most of all, a real broadcaster.
"BIG 13" thanks Connie Reynolds and daughters Carol and A.J. for their memories of Paul Reynolds.
WANT TO SEE MORE 'SHOCK' THEATRE PHOTOS? CLICK HERE!
* * * * * * * * * * * * * * * * * * * * * * * * * * * *
'SHOCK'-ING TALES FROM LARRY WIEZYCKI, DOUG IBOLD AND GIL MURO
Those protestors in front of Channel 13 didn't just show up by coincidence. Larry Wiezycki admits to having a hand in their appearance: "I called some of my friends and mentioned that 'Shock' had been cancelled and that they should go and picket the station. Some other people had the same idea and a lot of kids showed up with placards protesting the end of 'Shock Theatre.'"
Doug Ibold joined Channel 13 as a cameraman in 1965. Two years later, he was directing the weekly "Shock Theatre" taping on Friday afternoons. Here's a story that we'll call "double trouble."
"We were getting cards and letters from the audience saying that 'Shock' was played by Paul Reynolds. Joe Wiezycki and Paul came up with a funny way of diffusing that perception. Paul pre-recorded all of Shock's dialogue, and then I dressed up as 'Shock' Armstrong and started hosting the show. I had cue cards and lip synced to Paul's playback. Then, we had Paul Reynolds come on as guest! So there was Paul and 'Shock' together on screen. As 'Shock,' I bereted and belittled Paul. It threw the audience into a tizzy, because here was 'Shock' talking to Paul Reynolds. Of course, the audience wasn't as sophisticated in those days. It was a lot of fun."
Gil Muro joined the station as a cameraman in 1968. When Paul Reynolds left for WXII, the crew would share duties for the weekly "Shock Theatre" openings.
"My involvement with "Shock Theatre" was on certain Fridays, a group of us would produce a silly audio track and play it during the intro to the first movie. We would set up the plastic skull 'Shock' skull and sometimes add special lighting. One week I used my own head lit up with bad lighting and sound effects.
Thanks to Doug and Gil for their 'Shock'-ing stories. To find out where Doug and Gil are today, see 'Where Are They Now?'
CLICK HERE TO RETURN TO MAIN MENU