Channel 13
Personalities
Pat Colmenares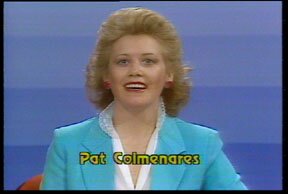 Pat was not only a fine singer, but interviewed celebrities and studio guests, and co-hosted special events like the annual Gasparilla Parade.
Pat's main duty was on Pulse Plus! at 12 noon every weekday. Viewers saw her from the early 70's to mid 80's. She then left broadcasting and became one of Tampa Bay's premiere real estate properties. After a twenty year battle with Lupus, she passed away in June of 2003.
Bruce Hutchcraft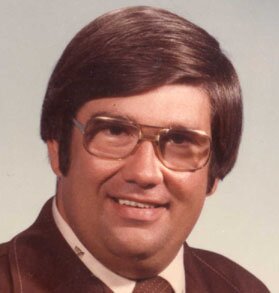 The late Bruce Hutchcraft was Channel 13's agriculture reporter. Central Florida is a vast farming area, with oranges, cattle, strawberries, and other crops abounding. Bruce mainly worked "Breakfast Beat" and often shared air time with Ernie Lee. Bruce was also a licensed private pilot.
Sandy Miller
Sandy was Pat Colmenares' predecessor on the noon time Pulse hour. She returned to the program for several years during the early 1980s. We're doing some research to fill you in better on Sandy's career at Channel 13.
Ernie Lee
CLICK HERE TO LEARN ABOUT WTVT's Southern Gentleman
Paul Reynolds
CLICK HERE TO LEARN ABOUT PAUL AND 'SHOCK THEATRE'
Mary Ellen
CLICK HERE TO LEARN ABOUT MARY ELLEN
Ed Scott
CLICK HERE TO LEARN ABOUT ED SCOTT ('3-D DANNY')
Jerry Krumbholz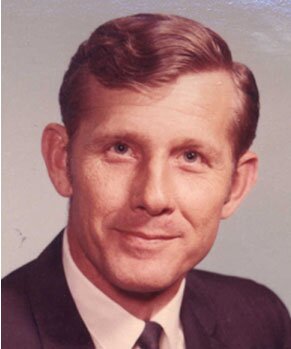 Jerry was a long timer at Channel 13, dating back to the 50's. He served as announcer, occasional on-camera commercial spokesman, and frequent in-house announcer for production service presentations. Jerry also hosted several anniversary specials for Channel 13. To read more about Jerry and learn about the special life of being a booth announcer, CLICK HERE
Dean Drapin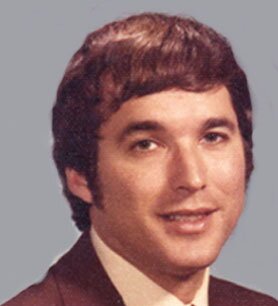 Dean also was a regular announcer at Channel 13. He also appeared on Pulse Plus! with a segment titled "Tampa Bay Topics." On High-Q, Dean was the announcer and play-by-play man: "Hillsborough High...Johnson!" Dean has one of those 'up' personalities...always a smile and a joke.
Charlie Hampton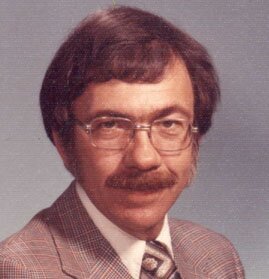 Charlie was WTVT's public service director, and a sweeter man you would never meet. Charlie was producer and host of "College Kaleidoscope," and his department was responsible for "Church Service," "Black Contact," and "High-Q."
Martha Mackey
Martha co-hosted 'Black Contact,' a weekly show spotlighting the minority community. News reporter Dale Greene was the other regular host.
Clarita Garcia

Appeared regularly on Pulse Plus! with tantalizing recipes and cooking demonstrations. When Clarita was partnered with Bruce Hutchcraft, pandemonium resulted, as told by former sports reporter Pete Johnson: "Comedian Marty Allen was on Pulse Plus!. During Clarita and Bruce's segment, Marty took over the show and things got wild. Our director, Joe Wiezycki, called me back to the set to help get control of the situation because all Bruce was doing was laughing the entire time and Clarita was totally flustered. It was hilarious!"
Father Desmond Daly
Serving the St. Petersburg Catholic Diocese, Father Daly produced the Catholic 'Church Service' every few weeks. Father Daly was a great guy and always a pleasure to work with.
Gordon Solie
Gordon wasn't on staff at Channel 13, but his 'Championship Wrestling From Florida' appeared on the station regularly in the 50's and 60's. Solie was the producer and play-by-play guy for wrestling in an era that was much simpler than today's WWF. Solie was adept at narrating the outrageous antics of the wrestlers and also interviewing them after the matches. Some of Solie's wrestlers also appeared as villains on '3-D Danny.' Gordon's daughter Pam is publishing his biography at the beginning of January, 2005...watch this space for news.
Manuel Biero from Valencia Gardens Restaurant
'Salude and Happy Days'! Manuel Biero would pack up a car-trunk full of food every week and make the short drive to Channel 13 for a commercial appearance with Andy Hardy. Biero, a little on the shy side, would let Andy do most of the talking. Every commercial began with 'Salude and Happy Days #_______". The count eventually got into the thousands, because it referred to the actual number of commercials Biero had appeared in. So, if you heard 'Salude and Happy Days' #1,500...Biero had been there 1,500 times! After the commercials were taped, the crew had a delicious (and free) meal.
Chick Smith
Chick Smith, a Ford dealer who appeared regularly on Channel 13, was noted for his high pitched, rapid delivery. The crew's hearing suffered every time Chick came into the studio and delivered his ear-splitting finale: "CHICK SMITH FORD...IN THE HEART OF SPARK-LING DOWN-TOWN CLEARWATER!!!!!"
Charlie Droughman
St. Pete's largest Dodge dealer wore a cowboy hat, but his tag line was "Nobody, but nobody....beats a deal from Charlie Droughman Dodge!" Mr. Droughman's dealership, Colonial Dodge, was located on US 19 in St. Pete [where Dayton Andrews Dodge currently stands]. On a personal note, Charlie's pretty daughter Cindy was a classmate of mine in the 5th Grade. She was a doll!
Jim Quinlan
A Bay Area G.M. dealer, Jim Quinlan probably bought as much television time as any dealer in the country. Quinlan was one of the earliest sponsors to use a remote unit to tape commercials at the dealership.
John Fruhmorgen
"Unclaimed Freight is great!" was a catchphrase heard for what seems likeI hundreds of times a day on the main bay area stations. In the commercials, John was loud and forceful and always signed off with the phrase "Unclaimed Freight is great." Eventually, John had his wife, his kids and his mother in law saying this at the end of some of his spots. In the late 70's, most Bay Area kids went around shouting "unclaimed freight is great" wherever they went.

John was the owner of Unclaimed Freight, although the outfit didn't actually sell any unclaimed freight. U.F. sold discounted furniture and started out with one big warehouse on West Hillsborough Avenue and quickly
expanded. Financial complications resulted in his move into one small building on south Dale Mabry.